A CPJ special report on the struggle for press freedom in the EU
Introduction
European Union countries have traditionally been considered among the safest and freest places for journalists in the world. Yet, as the European Commission noted in November 2021, "the number of threats and attacks against them [journalists] have been on the rise in the past years with the most tragic cases being assassinations of journalists."4
Since the publication of CPJ's 2015 report, "Balancing Act," journalists have been killed in EU countries. At least two, Maltese journalist Daphne Caruana Galizia and Slovak journalist Ján Kuciak, were murdered because of their work; Swedish journalist Kim Wall was killed on assignment, and the motives for the killing of Bulgaria's Viktoria Marinova, the Netherlands' Peter R. de Vries, and Greece's Giorgos Karaivaz, remain unconfirmed.
Many others in the media have been gagged, spied upon, harassed online, overwhelmed with disinformation, subjected to vexatious lawsuits, charged with revealing state secrets, beaten while covering street protests, banned from public meetings, or publicly criticized by politicians. The COVID-19 pandemic took a toll as some governments used the health emergency to put controls on the media, including restricting access to journalists and retaining public-interest information.5
In 2022, Russia's invasion of Ukraine added a new and dramatic dimension as journalists reporting on the conflict found themselves in the middle of a disinformation avalanche and partisan online harassment.
Maps of press freedom in the EU are also far from monochrome. Being an EU member does not mean all countries are on the same page on press freedom. In July 2022, the European Commission's Rule of Law report6 helped illustrate this mixed bag, urging 16 of the 27 member states to take measures to protect journalists, media freedom, and pluralism. It also recommended that eight member states "strengthen rules and mechanisms to enhance the independence of governance and editorial independence of public service media." The worst-rated countries present features, like media capture or cyber-surveillance,7 which bring them close to autocracies that would never qualify for admission to the EU,8 and which should be in principle held to task by Brussels.9
The European Union has enshrined press freedom in its foundational texts10 and its Charter of Fundamental Rights.11 "The freedom and pluralism of the media shall be respected," says Article 11 of the Charter. But the EU institutions were not really expected to be actively involved in shaping the media environment nor in adopting proactive measures to defend press freedom.12 These prerogatives were considered to be the preserve of the "capitals" (EU member states) or were in practice delegated to the Council of Europe,13 the Strasbourg-based human rights body, and its international court, the European Court of Human Rights, to which all EU countries must adhere. The EU stepped in only when media-related dossiers took a cross-European and internal market dimension that required coordinated action, like the strengthening of EU audio-visual policy with the adoption of the Television Without Frontiers (TVWF) directive14 in 1989, as well as the Audiovisual and Media Services Directive (AVMSD)15 in 2018.
Little by little, the EU had to stop pretending that press freedom was none of its business. In recent years, the European Project, the name commonly used to describe the long and incremental process of European integration,16 has been directly challenged by a number of crises17 or political developments like the rise of nationalist populist movements including, in some countries, to government. The EU has been forced to gradually assume more responsibilities in its defense of the liberal democratic principles on which it was solemnly constructed after World War II.18
Violence against the press, perceived as belonging to other parts of the world, also became a European issue. The 2015 Al-Qaeda-inspired attack on the French satirical weekly Charlie Hebdo,19 as well as the gangland-style murders of prominent investigative journalists, including Daphne Caruana Galizia in 2017 in Malta and Ján Kuciak in 2018 in Slovakia, shook the narrative on press freedom in Brussels. "These two assassinations were an additional painful wake-up call, following the Charlie Hebdo massacre which was, policy-wise, primarily seen through a terrorism lens. Killings of journalists, normally associated with third countries, could also occur in the European Union," David Friggieri, a European Commission official, told CPJ.
These developments created a new sense of urgency. The psychological pressure and clear danger to Caruana Galizia and Kuciak because of their work, along with situations such as the need for round-the-clock police protection for Italian journalists threatened by the mafia, showed Brussels just how vulnerable European journalists were. At the same time, verbal and physical violence from angry citizens or the police became common at public protests, like the gilets jaunes (yellow vests) crisis in France (2018-2020) or demonstrations against state-sponsored COVID-19 policies. "Journalists are being targeted simply for doing their job. Some have been threatened, some beaten and, tragically, some murdered. Right here, in our European Union…They all fought and died for our right to be informed. Information is a public good. We must protect those who create transparency – the journalists," said Ursula von der Leyen, the president of the European Commission, in her State of the Union speech in September 2021. This violence took place against a background of a worrying level of EU citizens' mistrust in the media in a number of EU countries, including France, Italy, and Spain.20
The EU was also confronted with governments or political parties bluntly declaring themselves "illiberal"21 and deliberately trampling on the rule of law and press freedom. "When a country starts rolling back press freedom, it never stops there,"22 U.S. journalist and author Kati Marton23 warned at the 2015 launch in Brussels of the "Balancing Act" report (at a time when Viktor Orbán's authoritarian rule in Hungary could no longer be dismissed as a trifling matter). The rise of these national populist movements had an additional geopolitical dimension as their leaders courted – or were endorsed by – Russia, a country that hardly veiled its attempts to undermine the EU through disinformation and influence-peddling.24
By the time of the 2019 European elections, the European Commission25 and the European Parliament26 were both regularly and publicly recognizing the role that journalists played in defending EU interests and values, but that the institutions, and the member states, were not doing enough to protect them – and that this had to change. Both bodies were more active than ever before: holding hearings or meetings, issuing statements or resolutions, or making country missions that drew attention to press freedom and the need for Brussels to uphold the rule of law.
At the same time, journalists also became much more conscious of the pan-European dimension of their work. Professional associations and press freedom groups built up stronger networks and coalitions that increased their profile and enhanced the status of press freedom within the European institutions. They pleaded for common EU policies to support journalism and guarantee their safety.27 The convergence of these trends built up a critical mass to address the issue of press freedom at EU level.
Weak legal arsenal
By the late 2010s Brussels officials and politicians were openly speaking of a blowback as illiberal democracies were threatening not only the legitimacy and credibility of the EU but also the functioning of its institutions. For the European Commission (then chaired by former Luxembourg Prime Minister Jean-Claude Juncker), it became obvious that the EU had to go to the front lines.28 Challenged by Hungary and Poland in particular, it slowly engaged in a fraught and delicate exercise aimed at safeguarding the rule of law in its member states.
The crucial question revolved around what the EU could actually do. The jurists who drafted the EU's rules and the politicians who voted them in perhaps underestimated the extent to which, once inside, some member states would backtrack on the Copenhagen criteria, the rules that define whether a country is eligible to join the European Union.29 They therefore did not provide for foolproof mechanisms to confront this kind of estrangement from the common norms and values that member states had pledged to uphold when they acceded to the so-called "European club."
The EU's legal arsenal was in fact quite weak, markedly shown by Brussels' failure to challenge backsliding in Hungary.30 The so-called infringement procedures31 – legal actions taken by the European Commission against a member state that fails to implement EU law – appear intimidating on paper as the country concerned can be referred to the European Court of Justice and forced to pay financial penalties, but in reality they are complex and long. The rule of law framework,32 in particular the triggering of Article 7 of the Treaty of the European Union, which provides for the suspension of certain rights in case a member state violates the rule of law, could sound impressive too, but the procedure is in part stymied by the so-called unanimity rule requiring that sanctions must be agreed by all member states,33 with the exclusion of the state concerned. If it ever came to a vote on sanctions – requiring unanimity – Hungary and Poland have pledged to support each other against other member states.34
But it was too little too late anyway. Despite the awareness of the danger that he had represented for the EU, Hungary's Orbán was mostly given a free ride, in large part as he benefited from his Fidesz party's membership of the center-right European People's Party (EPP),35 the largest political group in the European Parliament. Between his election victory in 2010 until Fidesz's suspension from the EPP in March 2019,36 Orbán was able to consolidate power. He was given the time to develop a political model that has been inspiring like-minded politicians elsewhere in Europe (and in the U.S.37) and challenging the traditional EU political consensus around liberal democracy and the rule of law.
The EU's foreign relations strategy for dealing with autocrats who violate journalists' rights often still lacks uniformity or clarity.
Press freedom was one of the first targets. "The public media and the regulatory agencies were put under his control, friendly oligarchs captured private media, foreign donors, publishers, and investors were squeezed out…until there were only half a dozen independent media left,"38 CPJ Europe Representative Attila Mong said in an interview. In the late 2010s there were stern warnings, recommendations, and rowdy hearings in the European Parliament about the so-called "Orbánization"39 of Europe as well as a number of infringement proceedings on the rule of law.40 In late 2019, after a mission to Hungary, CPJ, together with six other press freedom organizations, stated that "the Hungarian government has achieved a degree of media control unprecedented in an EU member state" and urged the EU to "take all available measures" to respond. "The construction of a pro-government media empire serves as a vast propaganda machine for the government of Prime Minister Viktor Orbán, insulating large parts of the public from access to critical news and information so as to maintain the Fidesz party's hold on power,41" the joint mission found.
Brussels' new mantras
Inaugurated on December 1, 2019, the new Commission, chaired by German Christian Democrat Ursula von der Leyen, could not shirk the challenges. In the wake of Brexit, the UK's decision to leave the EU – in part interpreted as a broader sign42 of anti-establishment politics and a growing distance between people and politicians43 – the threat to Brussels was clear.
Reaffirming the EU's commitment to democracy was imperative. Although it remained constrained by its limited powers, the EU pledged to give teeth to the Rule of Law Mechanism, including around making EU funds conditional on respect for the rule of law and finding creative ways to circumvent the legalistic juggernaut. Political will and retaking the initiative became the new mantras in the Brussels' European quarter.

A few months later, the COVID-19 pandemic further highlighted the urgency of protecting press freedom and journalism, in particular by combatting disinformation as well as EU governments' temptations to control the narrative and impose restrictions and censorship.44 In March 2020, then European Parliament President David Sassoli (now deceased) stated that "nobody can be allowed to use this pandemic to undermine our freedoms."45 Hungary again set the bad example. In March 2020, its parliament passed amendments to the penal code threatening journalists with prison sentences if they were found guilty of spreading false information about the pandemic.46 But Budapest was not alone: as a report of the Council of Europe Platform for the Safety of Journalists confirmed, a number of other EU member states (Bulgaria, Spain, Greece, and Romania) also adopted measures restraining the press's right to report.47
Flexing Financial Muscle
In 2022, the European Commission for the first time invoked the conditionality mechanism against Hungary because of rule of law concerns.48 This procedure allows Brussels to withhold EU funds to member states for rule of law breaches that affect the EU's budget.49 Although the withholding of funds from Hungary was made in relation to corruption and the use of EU funds, the move was important as it showed that Brussels was finally ready to flex its financial muscles.
Under the leadership of Commissioner Věra Jourová,50 the vice president for values and transparency, and with the support of Commissioner for Internal Market Thierry Breton,51 a more comprehensive plan to create an enabling environment52 for media freedom was hatched. While previous policies had been mostly ad hoc, reactive, and piecemeal, the European Commission proposed a strategy for its five-year term.53 The launch of the European Democracy Action Plan in December 2020 framed the overall objective. Standing up to challenges from illiberalism and strengthening press freedom were at the core of it. This plan was complemented by a European Media and Audiovisual Action Plan54 to help the sector recover from a series of crises (including the impact of the internet and the pandemic) and transform itself by embracing and monetizing the digital transition.55
Jourová was critical to this significant shift on press freedom. Visibly moved by her early engagement56 with the family of Caruana Galizia and shocked by Kuciak's murder, Jourová took it on herself to push Brussels to better protect journalists in Europe.57 Her own background played a key role. "She was born in a communist country (the former Czechoslovakia), she knows what lack of freedom of thought means, she also grasps the deleterious impact of propaganda," one of her close advisers told CPJ.
But there were other factors at work. Institutionally, the European Parliament assumed a bigger role. Its growing protagonism largely contributed to putting press freedom on the EU agenda as a number of members (MEPs) actively devoted themselves to freedom of expression issues.
Likewise, there was growing awareness that the EU was reaching a crossroads. European parliamentarians were realizing that Hungarian-style majoritarianism and restrictions on press freedom were creating conditions for flawed electoral processes that allowed illiberal governments to stay in power and continue undermining EU values and institutions.58 As Dutch liberal MEP Sophie in 't Veld told CPJ, the EU had to "finally decide what kind of creature it was: a purely inter-governmental entity or a community of values." In addition, Brexit meant the UK – the member state most opposed to the idea of the EU meddling in national media affairs – could no longer cause headaches. "British newspaper publishers had been the most robust in challenging Brussels initiatives. They interpreted them as a risk for press freedom," Aidan White, founder and honorary president of the Ethical Journalism Network, told CPJ.
The EU is typically seen as responding to questions about its passivity or impotence by highlighting its funding of a very diverse number of initiatives. These budgets clearly reflect the EU's priorities and its defense of quality and public-interest journalism. Its major objectives include the fight against corruption through the reinforcement of investigative journalism on EU-related issues, like the embezzlement of EU funds, the rollback of disinformation, and the monitoring of attacks on the press. The European Commission also supports press councils, fact-checking and media literacy projects, and the elaboration of business models and of innovation strategies.59 The European Commission also funds academic institutions, like the Florence-based European University Institute's Centre for Media Pluralism and Media Freedom (CMPF), which provides expert guidance on media-related issues and publishes the Media Pluralism Monitor, an essential tool to use objective criteria in discussions on media capture and media concentration.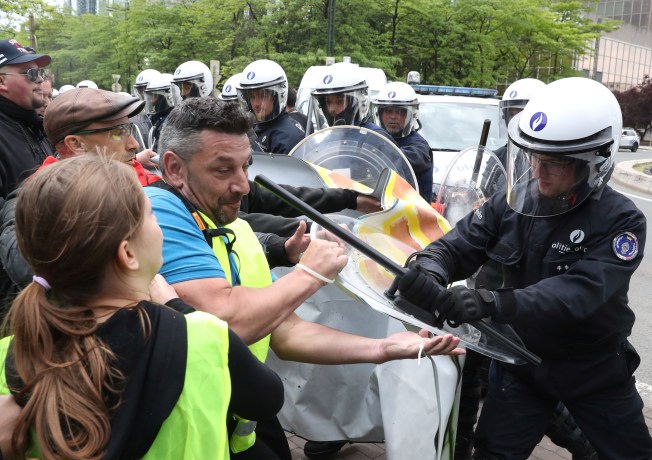 However, it became clear that throwing money at problems was no longer enough. The EU had to confront issues head-on – politically. The first annual Rule of Law Report was published in 2020.60 It was meant as a warning: publicizing the failings in a particular member state was expected to name and shame it into adopting necessary reforms. But it was also conceived as a more objective basis to justify real action, including on media freedom and pluralism,61 with the overall aim of preventing future backsliding. It provided a country by country assessment that included indicators on transparency of media ownership, regulation, and safety of journalists.
In September 2021, the European Union adopted a recommendation on the protection, safety, and empowerment of journalists,62 setting out concrete actions for member states to take. It sought to convince member states to address some of the underlying daily problems faced by so many European journalists: unresponsive law enforcement to threats, physical violence (including at protests), and online harassment, with an emphasis on female and minority journalists. The recommendation is not legally binding63 and, at the time of writing this report, Brussels had not publicly disclosed whether any member states had provided requested updates on their actions in this regard. Time will tell the extent to which some of the EU's more illiberal governments use smokescreens or obstructive tactics to avoid meaningful action or discussion on how to make journalists safer.
In 2022, the European Commission also issued a proposal for a directive to address what is broadly considered one of the biggest threats to independent journalists in Europe: Strategic Lawsuits Against Public Participation (SLAPPs). These civil or criminal suits are typically brought by individuals, institutions, or corporations to burden journalists and others with the distraction and cost of a legal defense – even if the plaintiffs themselves do not expect to win the case.64 The directive, taking on civil cross-border cases, strives to address the personal isolation and legal uncertainty faced by SLAPP victims. Alongside the directive proposal, the European Commission formulated another recommendation that identified a number of measures for member states to counter vexatious criminal and civil lawsuits – both texts followed sustained calls from SLAPP victims, journalists and civil society.
"The Commission's proposal provides for early dismissal procedures and shifts the burden on the claimant to prove the claim is not manifestly unfounded. It also obliges member states to ensure that the costs of the proceedings can be imposed on the claimants,"65 explains Maria Diaz Crego, policy analyst at the European Parliamentary Research Service (EPRS).
The directive could be adopted in 2023,66 but while it has been largely welcomed by groups like the Coalition Against SLAPPs in Europe (CASE) – of which CPJ is a member – it will apply only to cross-border civil cases – about 10% of all suits.67 "There was no legal basis [for applying the directive] for purely national cases, but it is a political signal that undermines SLAPPS generally," Nick Aiossa, Transparency International EU's deputy director, told CPJ.68 CASE reports, however, that the Commission was innovative in its thinking about what could be considered cross-border and has been pushing for the parliament and council to maintain as broad an interpretation as possible, rooted in public interest.69
Laurent Mauduit, co-founder of French investigative online outlet Mediapart, told CPJ that his website had faced about 300 lawsuits since its founding in 2008. Mauduit himself has received 12 legal complaints from a single bank. "We live in a judicial universe of litigation," he said. Matthew Caruana Galizia, son of the murdered Maltese journalist, has told EU institutions that his mother was facing 43 civil and five criminal libel suits at the time of her assassination70 – some of which her family are still fighting years after her death.
A March 2023 text agreed by member states indicates they want to water down key parts of the draft law, including the important provisions for cross-border cases and early dismissal. CASE cited the "compromise proposal" as "self-defeating" and "contrary to the purpose of the anti-SLAPP Directive and undermines its spirit."
The EU has also responded to pressure to rein in big tech, putting into effect the long-awaited Digital Services Act (DSA) and Digital Markets Act in November 2022 (to be applied in full by member states by 2024).71 According to digital-rights group Access Now, the DSA was the "first time in the history of EU platform governance regulation that people's fundamental rights are put at the forefront,"72 with both acts seeking to "create a safer digital space."73
The DSA covered the question of content moderation, which media representatives and organizations like CPJ had noted could potentially impact journalism through the removal of journalistic content or of sensitive yet legitimate source material.74 The reactions to the bill were nuanced. "The final bill avoids transforming social networks and search engines into censorship tools, which is great news," said the Electronic Frontier Foundation, a defender of free speech online. "It also retains important principles under the previous internet rules that helped to make the internet free, such as allowing liability exemptions for online platforms for the speech of others and limiting user monitoring. And it improves things as well, by imposing higher standards for transparency around content moderation and creating more user control over algorithmically-curated recommendations."
However, the EFF added, "the final deal isn't all good news… The DSA obliges platforms to assess and mitigate systemic risks, but there is a lot of ambiguity about how this will turn out in practice. Much will depend on how social media platforms interpret their obligations under the DSA, and how European Union authorities enforce the regulation."75 The future litmus test for the DSA will be the speed, transparency, and effectiveness of platforms' response to journalists' complaints, the extent to which platforms' risk assessments and mitigation measures handle media freedom concerns effectively and are trusted by journalists and the media freedom community, and the way that platforms' presentation of content promotes media freedom and pluralism.
Some media groups had asked for a media exemption, or the right to be warned by online platforms before any decision affecting their content was taken. Without it, "the boundaries of press freedom would no longer be defined by law, but by private companies,"76 warned Ilias Konteas, director of EMMA/ENPA,77 two organizations representing Europe's magazine and newspaper publishers. However, a media exemption was not included in the final version of the DSA,"78 with the European Commission's Jourová labeling it "one of those good intentions leading to hell."
The refusal was mainly due to tech companies' opposition, but also because of anti-disinformation activists' concern about the exploitation of the exemption in an environment where anyone with a smartphone and the ability to post on social media could call themselves a journalist or a publisher. "Granting blanket exemptions for the media sector would defeat the DSA's number one objective of ensuring the safety of users online," wrote tech expert Victoria de Posson, currently secretary-general of the European Tech Alliance (EUTA). "Free speech must be protected with exceptions for some specific content, instead of creating sector-specific exemption."79