A CPJ special report on the struggle for press freedom in the EU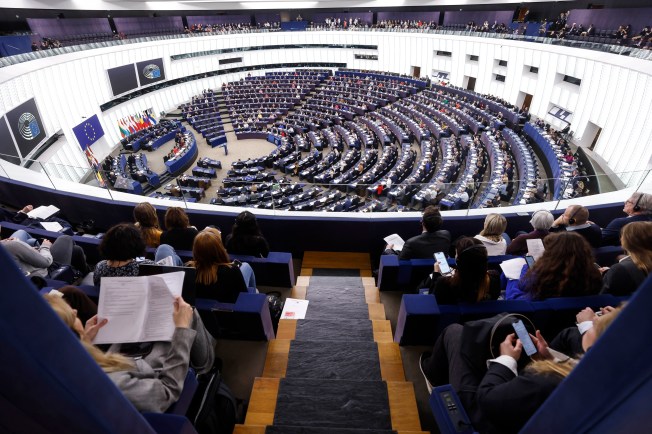 EU access and transparency
The press corps remains a major actor in Brussels in spite of a decline in the number of accredited correspondents as many legacy media downsized staff or began covering the EU from outside of Brussels. The European Commission's midday briefings are a key source of news. But some journalists question whether those briefings truly provide the information and context needed to report thoroughly on complex issues.
While a 2021 survey of EU correspondents by the Council of the European Union noted "a close and trusted relationship between officials and media professionals in Brussels,"141 many Brussels-based reporters are more nuanced about this relationship. "People are accessible, they respond to your calls," György Folk, of the Hungarian website EUrologus, replied to a CPJ question at the Brussels Journalism Symposium142 in November 2022. Folk's fellow-panelist Eric Bonse, correspondent for the Berlin-based left-wing daily Tageszeitung, disagreed. "It's more propaganda than information," said Bonse. "And conditions are worsening."
Marco Appel, former correspondent of the Mexican weekly magazine Proceso and founder of the Brussels-based online site Underground Periodismo Internacional, told CPJ that the communication of EU institutions is "amazing" compared to Mexico. "But it has become more complicated over the years," he said. Officials often insisted on speaking off the record without being named, "meaning that no one assumes the responsibility of the information" and that his requests were often stonewalled. "I was systematically refused the minutes of meetings on human rights in Mexico," he said. "Without mentioning the fact that most media from non-EU countries are very much down the line of attention."
James Kanter, a former correspondent for The International Herald Tribune and The New York Times, told CPJ that cautious official spokespeople frequently hid behind carefully tailored EU jargon. "If you depend on the Commission for a story you are nowhere," he said.
"Press relations officials were more amateur in the 1980s-2000s, they became more professional with the clear will to control the message," says Gareth Harding, director of the Brussels Program at the U.S.-based Missouri School of Journalism. "There is an inherent conflict between what the media want and the EU's communications strategies. Brussels is a city of compromise, very diplomatic, where the EU officials know they have to make sure they don't upset member states. It is all about process, long-winded negotiations. It does not make for dramatic journalism, while some journalists would like to sex it up."
Many correspondents refer to an increasingly controlled EU communications policy. "We are facing people, often very young, inexperienced, who are pure communicators," said Jean-Pierre Stroobants, a longtime correspondent for France's Le Monde. "It is difficult to have a follow-up to questions that have not received a satisfactory answer during the midday briefings. Specialists in the general directorates are generally out of reach." Stroobants also noted that the EU sometimes organized briefings with just "a few privileged correspondents," which meant excluding other journalists.
"The touchier the issue, like migration, the more laconic the spokespersons," Dutch-Italian correspondent Gian-Paolo Accardo, founder of the independent news website VoxEurop, told CPJ. The messaging on the war in Ukraine has also been tightly managed. "Throughout ten rounds of sanctions against Russia, the Commission has proven that it can keep sensitive information secret when it needs to. Parliament may not be able to say the same," wrote POLITICO's Jakob Hanke Vela in February 2023.143
"The EU is very self-protective. They don't seem to see that more transparency might help build trust."

– Helen Darbishire, executive director of Access Info Europe
Media downsizing has further complicated journalists' ability to probe beyond the official EU narrative. Other than those at major news organizations and wire services, most correspondents work alone in one-person bureaus to cover diverse and often technical stories. "Instead of having to follow two or three stories now we have 8 to 9 stories to cover at the same time. The priority is to flood the zone with EU messages all the time," Italian veteran Brussels correspondent Lorenzo Consoli, former president of the International Press Association (IPA), the association of Brussels accredited correspondents, told CPJ. "It is a system which favors the big media, like POLITICO or Bloomberg, which have specialized reporters. It also allows the Commission to sell more easily its messages since most journalists don't have the time to understand, check and contradict." Only 20% of Brussels-based journalists cover exclusively EU affairs; most use the city as a hub to cover NATO or other European countries.144
In December 2022, "Qatargate" exploded as one of the EU's biggest corruption scandals. Eva Kaili, one of 14 vice presidents of the European Parliament, and former MEP Pier Antonio Panzeri were among those145 accused of accepting money from Qatar and Morocco to paint a positive picture of the countries' poor human rights records. (Qatar and Morocco have denied the allegations.)
The ongoing investigation exposed how, under the current rules of the EU Transparency Register, a database listing organizations that try to influence the law-making and policy implementation process of EU institutions, MEPs were not obliged to make public their meetings with diplomats or agents of third countries – a gaping loophole in the right to public interest information and a blatant contradiction of the parliament's proclaimed vanguard role in combating foreign interference in the EU.
Five months earlier, the release of the Uber files – an investigation led by the U.K.-based Guardian and the International Consortium of Investigative Journalists (ICIJ) into European lobbying by the U.S.-based ride-hailing company – had revealed other documentation gaps in the Transparency Register, described by Corporate EU Observatory's Van Scharen as "often a black box." According to the investigation, Uber had 12 meetings with European Commission representatives that weren't publicly disclosed.146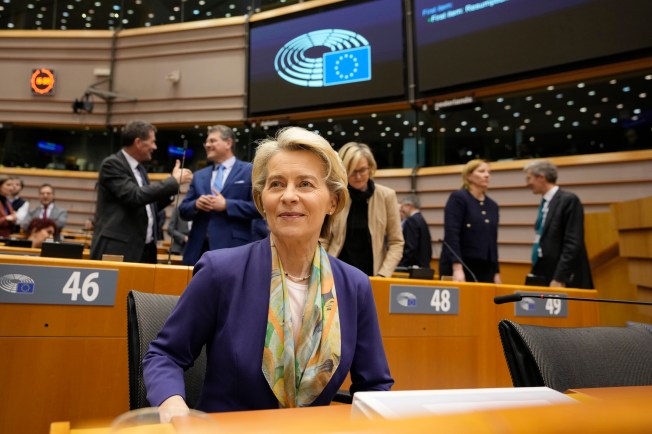 As CPJ noted in its 2015 report, transparency is essential for democratic accountability and for journalists to perform their duty as watchdogs. Yet while access to information over some EU negotiations has improved, it is clear Brussels could take further steps to enhance transparency, including by upholding its own legislation and developing administrative procedures. Overall, expert observers note that the EU doesn't always meet its own transparency requirements.
Former IPA president Consoli says that EU documents are more accessible than in most member states. "But the definition of what is confidential is questionable. [Take] the discussions with pharmaceutical companies during the COVID-19 crisis. This information is mostly classified although it is clearly in the public interest."
Helen Darbishire, the executive director of Madrid-based Access Info Europe, has been monitoring the "right to know" in the EU since Regulation 1049/2001147 – the EU law on access to documents – went into force in 2001. She told CPJ that the European Commission "is especially bad" about responding within the 15 working-day time frame after a request for information – a major problem for journalists working on time-sensitive news. "There is fear of criticism within the EU institutions, especially in the current populist context," she said. "The EU is very self-protective. They don't seem to see that more transparency might help build trust. It is not a technical question of access. It is about information that citizens need in order to understand what the EU is doing. It is a fundamental right." Darbishire noted that different EU bodies had different policies on releasing documents. "Frontex [European Border and Coast Guard Agency] for instance, is tougher. Some documents on the decision making or internal discussions in the council are hard to get."
Documents of EU commissioners' or MEPs' expenses for instance, are not released on the grounds of protecting personal data under the General Data Protection Regulation (GDPR) or other instruments on privacy.148 When a team of European investigative journalists joined forces in the #RecoveryFiles project to request access to documents about NextGenerationEU, a COVID-19 recovery package of 723.8 billion euros, they found that the European Commission "continues to seize opportunities" to keep records confidential. "Members of the team have faced delays, obstacles or outright obstruction when trying to exercise their European right to access documents related to the fund. While it pays lip service to the value of transparency, the European Commission is refusing to disclose hundreds of documents, using arguments deemed 'absurd' or 'sloppily elaborated' by experts,"149 two German journalists involved in the project wrote in February 2022.
Nick Aiossa, Transparency International EU's deputy director, believes the council has been "overzealous" in classifying documents. "Too many are limité [limited use] but when you read them, come on," he told CPJ. "The European Parliament is horrible in releasing administrative documents, for example on MEPs' general expenses." Corporate Europe Observatory's Van Scharen is equally skeptical about the EU's pledge of transparency. "Many documents are heavily redacted," he noted.
Stonewalling and the non-application of the EU's Court of Justice (CJEU) rulings is another challenge for transparency campaigners. In 2018, Italian lawyer and former European Parliament official Emilio de Capitani won in the EU's General Court a case about the transparency of three-way legislative negotiations known as trilogues. The case established that these procedures "are legislative in nature and therefore should be accessible to citizens," wrote POLITICO in January, 2023.150 Four years after the court ruled in his favor, De Capitani told POLITICO, "these legislative preparatory documents covering an essential phase of the legislative negotiations are still kept in the background and it is almost a 'mission impossible' for ordinary citizens to obtain them in due time — while lobbyists regularly get them." According to De Capitani, the parliament's plenary said in 2011 that these documents should be proactively published, but the Bureau, which determines the way Parliament's work should be organized, never implemented that change.151
EU communications using mobile phones, including in crucial discussions and negotiations about matters of public interest, are set to fuel ongoing debate around transparency. Alexander Fanta, who covers EU digital policy for the German website netzpolitik.org, requested access to text messages that the Commission's Von der Leyen exchanged with Pfizer CEO Albert Bourla in early 2021 to negotiate almost 2 billion COVID-19 vaccination doses. The Commission responded that it did not archive text messages because they did not qualify as documents.
The dilemma here is when the battle against disinformation crosses the line into censorship.
In January, 2022, however, EU Ombudsman Emily O'Reilly concluded that these text messages were documents to which the public could request access.152 However, the European Commission refused to budge. "Transparency campaigners and members of the European Parliament are aghast at the implications of this," Fanta wrote in POLITICO. "By exempting a whole category of content from FOI (Freedom of Information) legislation, the European institutions are creating a massive loophole. And a no-disclosure form of communication will be duly exploited by the likes of fossil-fuel lobbyists, arms traders and governments in Europe and beyond, all who want to keep their dealings with the EU a secret."153
The case has clear implications for press freedom. In February 2023, POLITICO reported that The New York Times had lodged a case against the European Commission the previous month on the grounds that it had a legal obligation to release the messages.154
On the positive side, some journalists' associations and newsrooms have praised the EU for its whistleblower directive, which came into force in November 2019155 and which member states must transpose into their national law. "It improves significantly the rights of whistleblowers in Europe,"156 said the influential French freedom of expression group Informer N'est Pas Un Délit (To Inform Is Not A Crime) in June 2021. "Its transposition into French law has been the only progressive law adopted [during] President [Emmanuel] Macron's first term. It is a real advance," Mediapart's co-founder Laurent Mauduit told CPJ.
However, Transparency International notes that the EU directive "unfortunately" does not include a key group of employees: the staff members of the EU institutions, agencies, and bodies157 who might be the best positioned to blow the whistle on corruption or abuses inside the EU institutions. Whistleblowing International Network also warns that delays and ambiguities in member states' integration of the directive into domestic law could create loopholes for some whistleblowers to be left out.158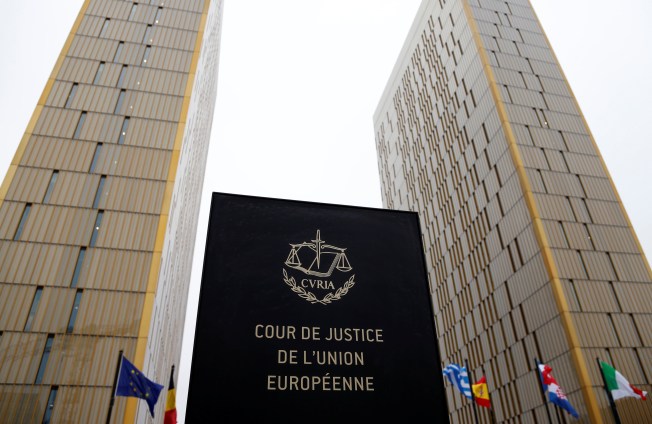 Privacy and the EU's Court of Justice

The Luxembourg-based Court of Justice of the European Union (CJEU) is the chief judicial authority in the EU overseeing the uniform application and interpretation of EU law by member states. Privacy advocates have applauded some of its work as it plays an increasing role on issues like the defense of privacy. One case in point: the court's September 2022 decision that the mass retention of phone and internet traffic and location data violated fundamental EU privacy rights – against the opinion of many European law enforcement and government officials who argued that such data retention was vital for fighting crime.159

Other judgments have been less welcome to freedom of expression advocates. The court's 2014 decision on the "right to be forgotten," that compelled search engines to remove links to personal information in certain circumstances, for example, has raised concerns about giving too much power to private companies, According to Access Now's Eliska Pirkova and Estelle Massé, one of the most concerning elements in the court's reasoning was "the assumption that it should be Google, a privately owned company with multiple online services and a vested interest in having as much information available through its search engine as possible, that ultimately decides what information falls under the scope of 'public interest' — or does not."160 Other critics note that the "right to be forgotten" has also led to the creeping suppression of articles from news websites, equating to a right to remove "inconvenient journalism."161

The court has also cited privacy as grounds for refusing journalists' access to information considered of public interest. In 2018, the General Court denied a request by a group of journalists for access to the monthly expenses of European parliamentarians.162 In November 2022, invoking again the right to privacy and the protection of personal data, the court also invalidated public access to beneficial ownership registers that reveal the names of owners of a company. An EU anti-money laundering directive had granted this access in 2018. Although the ruling stated that journalists and civil society organizations had what the court called a "legitimate interest,"163 the OCCRP (Organized Crime and Corruption Reporting Project) considered that "it was not good enough," as "restricting access creates serious new barriers"164 for journalists in consulting the data. Transparency International chair, Delia Ferreira Rubio, described the decision as "the best present that this court has given to organized crime,"165 leading French daily Le Monde to call it a blow to investigative journalism. These databases were "a major tool for journalists" in their investigations of tax evasion and fraud, like OpenLux or the Pandora Papers, Le Monde wrote. As the International Consortium of Investigative Journalists (ICIJ) underlined, the European Parliament had passed in October 2021 a resolution "calling on member states to strengthen their beneficial ownership registries — or face penalties if they are lagging behind in implementing existing anti-money laundering regulation."166 However, the CJEU's opinion differed with the EU's parliamentary body and quashed the right to access information of public interest.
Press freedom diplomacy
The defense of press freedom is part of the EU's Common Foreign and Security Policy (CFSP). At least in its rhetoric. The EU, represented by the European External Action Service (EEAS) and most of its member states, can be reliably expected to stand on the side of threatened journalists or more generally on freedom of expression. Initially framed as a human rights issue, press freedom diplomacy was addressed in 2016 "for the first time as a security and foreign policy aspect, and it was channeled through a high-level strategy document" — the Global Strategy for the European Union's Foreign and Security Policy,167 wrote Raquel Jorge Ricart of the Madrid-based Elcano Royal Institute in December 2022.
In March 2022, the EU Council, acting in the context of Russia's aggression against Ukraine, also approved the Strategic Compass, a plan of action for strengthening the EU's security and defense policy by 2030. The plan integrates media freedom and pluralism, especially the reinforcement of free and independent media in relation to hybrid threats and foreign information manipulation and interference (FIMI).168
Together with other democracies around the world, the EU challenges the strategies of influence developed by Russia and China, especially in Africa and in Latin America. "It must also confront the growing influence of emerging activist states like Saudi Arabia, Qatar or Turkey, especially in Africa and the Middle East, which are offering different models of journalism and of press freedom," Kamel Labidi, a press freedom expert who has served as a program coordinator for CPJ and as a head of Tunisia's National Commission to Reform Information and Communication, said in an interview.
The weight of the European Parliament

The European Parliament – the only directly elected EU institution – has been particularly active on press freedom issues. Many of its country-specific resolutions, reports, and hearings have included references to media freedom and challenges facing journalists. A number of parliamentary committees devote special attention to press freedom issues within the EU, including the Committee on Civil Liberties, Justice and Home Affairs (LIBE), and the Committee on Culture and Education (CULT), and in non-member states, with the Subcommittee of Human Rights (DROI), part of the Foreign Affairs Committee (AFET). A LIBE working group on rule of law issues, named the LIBE Democracy, Rule of Law and Fundamental Rights Monitoring Group (DRFMG), is conducting hearings and missions on press freedom in EU member states.

The parliament also has the power to set up special committees directly related to press freedom. The Special Committee on Foreign Interference in all Democratic Processes in the European Union, including Disinformation (INGE), underlined the need to protect journalists' safety and strengthen press freedom and independent reporting as a bulwark against foreign interference targeting the EU in a report published in March 2022. An informal media working group can also act to raise concerns on media freedom. The European Parliament also rewards and amplifies the work of investigative journalists with the Daphne Caruana Galizia Prize for Journalism.140
This EU commitment entails close cooperation with other international institutions, including with the Council of Europe, the OSCE,and the UN.169 In that context it also sees itself as a global norm-setting power. In what Columbia University Law School's Anu Bradford calls the "Brussels effect," this implies "the ability to promulgate regulations that shape the global business environment, elevating standards worldwide and leading to a notable Europeanization of many important aspects of global commerce."170 This effect has been particularly obvious in the digital realm, and therefore in the definition of free speech. "The EU has drawn the line between acceptable and unacceptable speech in the internet era—not just in Europe but around the world," Bradford writes.
As Facebook whistleblower Frances Haugen told the EU, the Digital Services Act could become a "global gold standard"171 in content moderation. "The EU has the capacity to make things change, even in the U.S., like it did on data protection," said French Green MEP Gwendoline Delbos Corfield.172
However, some groups have challenged the EU's role as a global norm setter on such issues as the right to be forgotten and what some claim to be the negative threat of the Digital Services Act.173
Driven by the official line that human rights is the "silver thread" of its diplomacy, the EEAS has developed a broad range of policies and initiatives, which since July 2014 have been rooted in the EU Human Rights Guidelines on Freedom of Expression Online and Offline.174 A digest of EU principles and policies on these matters, they were designed in particular to help the 140 EU delegations and offices around the world in their interactions with local journalists and authorities to defend freedom of expression. The Media4Democracy project, a EU-funded technical assistance facility, was one such project set up in 2017 to strengthen the EU Delegations' ability to implement the EU Guidelines.175 In July 2020 it was complemented by an EU Delegation handbook on journalists' safety.176
Josep Borrell, the EEAS high representative for foreign affairs and security policy and a vice president of the European Commission, regularly publishes public statements in support of journalists in non-EU countries and press freedom is on the agenda at multiple meetings – including human rights dialogues – between EU officials and third countries.
Funding, again, is a key instrument. The European Union has developed a system of external financial assistance – including for journalists – through the European Instrument for Democracy and Human Rights (EIDHR), which broadly seeks to support and promote human rights in non-EU countries. The EIDHR finances ProtectDefenders.eu, an EU mechanism managed by a consortium of 12 NGOs that provides for emergency support and financing, including shelter programs, as well as for protective equipment and assistance for human rights defenders in hostile environments around the world. It organizes trial observation, manages a 24/7 hotline for human rights defenders in danger, and covers legal fees for journalists. Global Europe, the EU program for external action funds for 2021-2027, also supports media-related projects, a need outlined in the EU Action Plan on Human Rights and Democracy 2020-2024,177 which also calls for the protection of journalists and the fight against impunity. "In the last 12 months, the EU has supported more than 400 journalists with emergency grants, temporary relocation, or support to their respective media outlets,"178 said the European Commission in late 2021.
The EU helps with financial support for United Nations special rapporteurs, in particular the rapporteur on the promotion and protection of freedom of opinion and expression. It also funds the European Endowment for Democracy (EED), an autonomous international trust fund which works in the so-called "European Neighbourhood,"179 as well as the Western Balkans and Turkey, and, among other actions, supports independent media platforms and journalists. Its asset is that it can work directly with journalists independently of EU delegations. Among its recent grantees: the Ukrainian investigative outlet Slidstvo.Info, which collects evidence of Russian war crimes in Ukraine, and the Syrian Center for Media and Freedom of Expression.