1. How media ownership and advertising curb critical reporting
Attempts to control the media in Kenya date back to at least 1929, with transmission of the first radio signal by the British East African Broadcasting Corporation, which served the interests of the colonial government. Throughout the country's history, including independence in 1963 and the end of one-party rule in 1992, the press has largely served the interests of those in power, with leaders expecting loyalty and support, Kenyan media scholar Wilson Ugangu wrote in an essay published this year.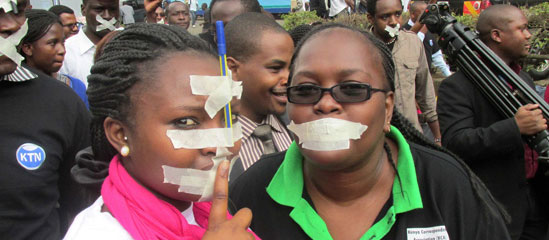 During the eight-year state of emergency from 1952 until Britain conceded Kenya's right to independence, all vernacular magazines and newspapers were closed, according to historian Charles Hornsby. At independence, the new government continued to rely on existing British colonial legislation that gave it significant control over the media, Hornsby wrote.
One year into independence, then-President Jomo Kenyatta—father of the current president—eager to control the media that reached the majority of Kenyans, nationalized the Kenya Broadcasting Corporation, renamed it the "Voice of Kenya," and made the radio and television service answerable to what was then called the Ministry of Information Broadcasting and Tourism. Two companies dominated the newspaper market: the Nation Media Group, which was established in 1959 and financed by the Aga Khan, the wealthy spiritual leader of Shia Ismaili Muslims worldwide; and the Standard Group, owned by the multinational conglomerate Lonrho and later sold to Mark Too, a nephew of former authoritarian President Daniel arap Moi, who ruled Kenya from 1978 to 2002.
More in This Report
In Print
Those two media houses are still the biggest players in Kenya's market, having added TV and radio. Between them, the companies own 13 daily and weekly newspapers, three TV stations (NTV, QTV and KTN), and three radio stations, according to a 2014 report by the Media Policy Research Centre. The country's most popular broadcasters are Citizen TV and Radio Citizen—owned by Royal Media Services under the chairmanship of businessman S.K. Macharia.
Although Kenya has six daily newspapers, according to a 2014 report by the Media Policy Research Centre—Daily Nation, The Standard, The Star, Business Daily, People Daily, and Taifa Leo (the only Swahili-language national newspaper)—radio is the most popular medium, as in many African countries. More than 115 radio stations reach 93 percent of Kenyans in their mother tongues as well as in the official languages of Swahili and English, according to news reports citing research company Ipsos Synovate. Television is largely concentrated in the main cities due to a lack of electricity in rural areas.
The state-owned and -controlled Kenya Broadcasting Corporation broadcasts nationally and operates two TV channels, more than a dozen radio services in English, Swahili and other local languages, and numerous regional newspapers.
China has also invested heavily in Kenya's media, to build influence and counter a perceived negative bias toward both China and Africa from Western news outlets. In January 2012, the first African news hub of state-owned China Central Television (CCTV) was launched in Kenya; China Daily Africa, a weekly version of the country's leading English-language paper, started in December the same year; and China Radio International has an AM station covering all of Kenya. China's news agency Xinhua has also formed partnerships with Kenya's local press. The impact on Kenyan audiences of all this Chinese investment is not clear, and the authoritarian country is hardly a model for press freedom. One local reporter for CCTV, who asked not to be identified for fear of repercussions, told CPJ that critical reporting on China, such as the country's demand for ivory that fuels Kenya's wildlife poaching crisis, would not be aired.
Low-cost Internet access, facilitated by undersea fiber-optic cables, has enabled significant information and communications technology innovation in Kenya, notably the M-pesa mobile payment system and Ushahidi, which began as a crowd-mapping platform during deadly violence that followed the December 2007 elections.
Between 2002 and 2010, Kenya's exports of technology-related services grew from $16 million to $360 million, according to news reports, and government support for the sector has assisted its growth.
Yet the technological advances have not brought greater access to objective or critical news. The government intrudes into newsgathering and dissemination and the concentration of ownership across media platforms adversely affects press freedom and diversity.
Many politicians have invested in media ownership, independent media and development researcher Othieno Nyanjom told CPJ. Preoccupied with converting broadcasters from analogue signals to higher quality and more efficient digital transmission, the Communications Authority of Kenya has failed to sufficiently regulate the allocation and use of frequencies, leading to the continued dominance of a handful of big media companies over other outlets, Nyanjom said.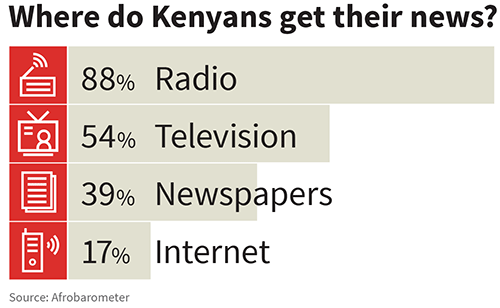 The family of President Kenyatta himself has an indirect controlling stake in Mediamax, which in recent years bought up once-feisty outlets such as Mombasa-based Pili-Pili FM and the private Swahili-language station Milele FM. Listenership for Milele FM steadily declined after the popular independent station changed ownership, according to data from the Kenya Audience Research Foundation, with 3.3 million listeners at the end of 2014 compared with 4.9 million in the first quarter of 2013. Milele FM head Jerry Obege said the station has changed its focus to cater more to the middle class, as opposed to its formerly more diverse audience, but he said its editorial tone has not changed since Mediamax's purchase. Pili-Pili FM's news head Tina Masika likewise said her station has maintained the same editorial stance despite changing ownership.
The media industry offers opportunities for "self-enrichment, motivated by potential commercial returns or likely political harvest," the independent researcher Nyanjom wrote in a 2012 Internews study on media ownership. Nyanjom cited extensive ownership of radio stations by politicians; Kenyan government's control of the Kenya News Agency; ease of "access to State House" facilitated by the Aga Khan's majority stake in the Nation Media Group; and former President Daniel arap Moi's influence in the Standard Group.
Leading Media Houses in Kenya and Ownership
(source: State of the Media in Kenya, 2014)
| Company | Print Titles | Electronic Assets | Ownership |
| --- | --- | --- | --- |
| Government of Kenya | The Sun (Kabarnet); the Eye/Mwangaza (Siaya); The Eastern Star (Machakos); Ngao (Nakuru); Sauti (Kericho); Sauti ya Gusii (Kisii); Nuru (Isiolo); Nyota ya Magharibi (Vihiga); Sauti ya Pwani (Mombasa); Maarifa (Murang'a); Habari (Garissa). | National Kiswahili Service; National English Service; Eastern Service (Somali, Borana, Pendile, Burji & Turkana); Central Service (Meru, Embu, Maasai & Kamba); Western Service (Luo, Kisii, Kalenjin, Kuria, Teso, Luhya, Suba & Pokot); Metro FM; Coro FM; Pwani FM; KBC TV; Pay TV; Entertainment Metro TV. | Government of Kenya |
| Nation Media Group | Daily Nation, Sunday Nation, Saturday Nation, The East African, Taifa Leo, Taifa Jumapili, Daily Metro, Business Daily, Nairobi News (online) | NTV; Q FM; QTV, Nation FM. | The Aga Khan (47%) and listed on the Nairobi Securities Exchange. |
| Standard Group | The Standard (daily), Sunday Standard, Saturday Standard, Game Yetu, The Nairobian | KTN; Radio Maisha | Moi family and associates (estimated stake 85%) and listed on the Nairobi Securities Exchange |
| Royal Media Services | | Citizen TV; Radio Citizen; Inooro FM; Ramogi FM; Chamgei FM; Wimwaro FM; Musyi FM; Egesa FM; Muuga FM; Mulembe FM; Hot 96; Bahari FM; Vuuka FM; Radio Maa | S.K. Macharia |
| Media Max including former Regional Reach | People Daily, Sunday People | K-24 TV; Kameme FM; Milele FM; Mayian FM; Meru FM: Pili Pili FM. | Kenyatta family |
| Radio Africa Group | The Star | Kiss FM; Kiss TV; Classic FM; East FM; Jambo FM; X FM; Relax FM | Times Media Group (49%), Kiprono Kittony, Patrick Quarco and William Pike. |
| Kass Media Group | Kass Weekly | Kass FM; Kass TV; Kass Washington; Kass London | C.K. Josiah |
Another factor limiting press freedom, according to Kenyan journalists and commentators who spoke with CPJ, is the power of advertisers to quash stories that may reflect negatively on them.
According to the Standard Group's David Ohito, major corporations can plant stories, influence editorial decisions, and even ask that stories be spiked. "You will now see things I never saw in my first decade of journalism—a group of CEOs walking into the editor's office," he said. "That sort of formalizing intimidation of newsrooms has become normal."
One investigative journalist, who asked not to be named, alleged that three of Kenya's top companies—Safaricom, Kenya Airways, and Equity Bank—are "untouchable" and can influence print or broadcast content with a phone call. All three companies denied interfering with editorial policies. "We have a healthy respect for the robust media in the region and, as a policy, never use our leverage as a big advertiser in this market to influence editorial decisions," Safaricom Corporate Affairs Director Stephen Chege told CPJ. Spokespeople for Kenya Airways and Equity Bank denied that the companies interfere with editorial content but declined to be named.
The government has also exerted its muscle: "We remain a society where the government is still the dominant player, the biggest advertiser, and wields control through this influence," freelance journalist and Nation columnist Murithi Mutiga said.
In July 2014, the government even told a press conference that all advertising for state agencies would be channelled away from print publications to online platforms, in line with digital migration generally, and "nothing to do with squeezing the industry or stifling the media," according to Information Secretary Ezekiel Mutua, but it has not followed up on the threat.
After journalist Mark Kapchanga published a Standard story alleging excessive expenditures for a presidential retreat in March 2014, editors were summoned to State House, where a communications officer reminded them of the government's 70 million Kenyan shilling (US$723,500) advertising deal and said the revenue would continue so long as the paper published an apology, four journalists familiar with the episode told CPJ. The newspaper published an apology for allegedly inflating the cost of the retreat, despite a consensus in the newsroom that the story was accurate, according to two of the journalists. The Standard subsequently fired Kapchanga and Managing Editor Chacha Mwita, news reports said. CPJ's requests for comment to two Standard editors were declined, and Chief Executive Sam Shollei of the Standard Group did not reply to an email or phone calls.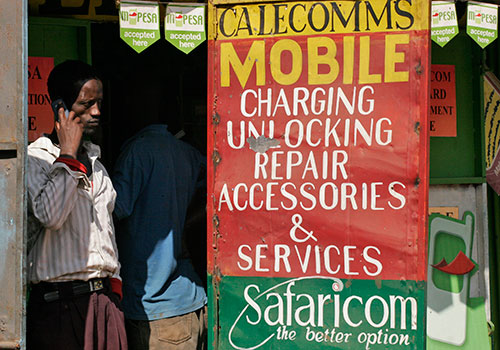 Mutua denied allegations that the government threatened to withdraw Standard advertising. "Uhuru Kenyatta's government is not interested in those old tactics—blackmailing the media to toe the line," Mutua said. "If decisions are made for advertising, that is the decision of the guy in charge of procurement, it is not State House."
Meanwhile, the stake that many current and former politicians have in the media, and the proximity to power of other media owners who are members of the country's elite, increase the risk that owners may use the media "to advance their own commercial and political agendas," cautioned the Kenya Media Policy Centre in its 2014 report.
As an example, veteran journalist Makokha described how, for a time, there was an agreement that former President Moi would not interfere in editorial content—but then he was angered by a pair of stories alleging that he had taken bribes. "As the walls of civility quickly came down, the political preferences of the Moi family would be divined by editors almost like a seer would, and taken care of," Makokha told CPJ.
Within newsrooms, deference to power sometimes influences what gets published or broadcast, wrote Boni Odinga of Internews in 2013. "In my career as a TV journalist, for example, I knew who not to give prominence to in my stories, how to treat stories from the owner[s] and generally who the untouchables were, and that it was my duty to know that any information adversely affecting them would invariably affect me."
Ethnic bias can also influence news coverage, Mutiga said. "Journalists with ethnic affiliations have a horse in the race—they support someone because of kinship ties, and you don't get independent reportage," he said. Such biases can also influence how news is read and received, he said. "People look at someone's second name and then can tell which ethnic group they're from. Then they assume they can predict what you will say."
Njeri Wangari, director of programs at the Bloggers Association of Kenya, asserted that online journalists increasingly provide stories not covered by the mainstream press. "Many Kenyans no longer think that media houses are giving them accurate coverage of news and stories, especially on governance, corruption and anything that might paint the current government in a bad light," Wangari said. She pointed to an incident in which two members of parliament insulted attendants at a weighbridge who had refused to process their vehicle because it lacked proper credentials. An officer who filmed the scene with his mobile phone sent the video not to the mainstream media but to bloggers, and it was widely shared.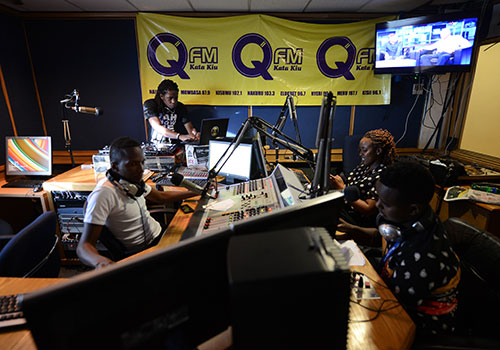 "Trust has dissipated, as many view the mainstream media as co-opted and owned by the government," said Shitemi Khamadi, managing editor of the citizen journalism news site Kenya Monitor. But as Internet journalism has grown, so has the government's desire to control it. "We are seeing a deliberate attempt to dissuade dissident voices online," Khamadi said. "Any time you have someone speaking out against the government or corruption on social media, there's intimidation, and when intimidation fails, there's outright arrest and jailing."
In other cases, government supporters counter criticism via social media by waging a virtual war against government detractors. "There are many other bloggers out there, some on the state's payroll, who spend all their time and energy hurling similar insults at opposition leader Raila Odinga," wrote Nation special projects managing editor and columnist Macharia Gaitho.
Kenya's senior director for digital innovation, Dennis Itumbi, denied that the government hires bloggers to criticize politicians, but he said it does react to negative narratives found on social media by providing factual rebuttals.
In Kenya's nascent democratic era, the Media Council of Kenya (MCK) is responsible for self-regulation of media content, while the Communications Authority of Kenya regulates the country's communications sector.
The MCK is funded by the government and by membership fees for local and foreign journalists of 2,000 Kenyan Shillings (US$24) and 10,000 Kenyan Shillings (US$120) per year, respectively. In addition to accrediting local and foreign journalists, the MCK espouses a commitment to "promote and protect the freedom and independence of the media" and regulate "media and the conduct and discipline of journalists."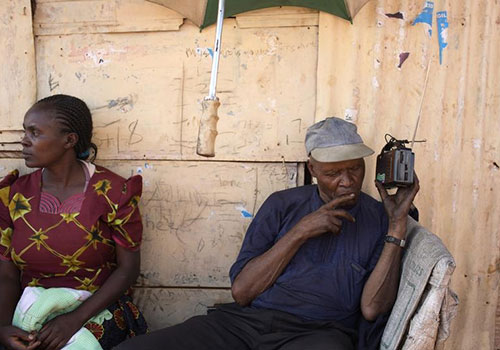 Officially, journalists must have a license from the MCK before they can practice, "certifying their competence, authority or credibility against official standards based on the quality and training of journalists in Kenya. …" Because the accreditation process is fairly new—it began in 2009—and not stringently enforced, some journalists have not yet applied or been approved, MCK Deputy Chief Executive Victor Bwire told CPJ. Bwire said the major Kenyan and foreign media houses pay for their journalists' accreditation across the country in lump sums. "Official functions require the council's accreditation, so most journalists comply," he said.
Most Kenyan journalists who spoke to CPJ did not voice objections to the accreditation process except for when it was used arbitrarily by officials to exclude reporters. Indeed, according to CPJ research, such provisions run counter to best democratic practices because they are open to abuse. In 1985, while examining a case in Costa Rica, the Inter-American Court of Human Rights found that giving licenses to some journalists and denying them to others deprived individuals of "the full use of the mass media as a means of expressing themselves or imparting information."
"There has been more and more political interference [toward journalists] since 2013," freelance investigative journalist Argwings Odera told CPJ. "Previously, I needed just one accreditation—either from a media house or the Kenya Union of Journalists or from the Foreign Correspondents Association, but now for me to practice as a journalist, [the] government must register me."
Kenya's 2010 constitution obliges the national government to pass new legislation to ensure that the country's laws affecting media are in keeping with the principles of freedom of expression and media freedom. But as of June 2015, those media-related laws that have been introduced have had the opposite effect.