A Ukrainian journalist walks among the ruins of the National Pedagogical University in Kharkiv, Ukraine's second-largest city, after a Russian missile strike on July 6, 2022, destroyed the institution's main building, lecture halls, museum and science library. (AP Photo/Evgeniy Maloletka)

A journalist walks amid the destruction after a Russian attack in Byshiv, on the outskirts of the Ukrainian capital of Kyiv, on March 27, 2022. (AP/Rodrigo Abd)

Journalists walk inside the rubble of a food warehouse on the outskirts of Kyiv, Ukraine on March 29, 2022. The warehouse was destroyed in a Russian attack 12 days earlier. (AP Photo/Rodrigo Abd)

Ruslan Smieshchuk (right) poses with Ukrainian military press officer Iryna Rybakova while on assignment in June 2022 outside the Russian-occupied city Izyum in eastern Ukraine. (Photo: Ruslan Smieshchuk)

A journalist photographs smoke rising from a landmine outside of Kyiv, Ukraine on June 9, 2022. (AP Photo/Natacha Pisarenko)

A handout photo released by the Russian Defense Ministry Press Service on July 30, 2022, shows Russian tanks at an undisclosed location in Ukraine. Journalists can face up to 15 years in jail for spreading what Russian authorities deem 'fake' information about the war. (Russian Defense Ministry Press Service via AP)

An AFP journalist runs as smoke rises behind after a bombardment in Bakhmut, Eastern Ukraine, on July 31, 2022. (AFP/Bulent Kilic)

Journalists report on the departure of the M/V Razoni, from the Ukrainian port city of Odesa on August 1, 2022. The Lebanon-bound cargo ship carried the first shipment of Ukrainian grain under an internationally brokered deal to ease the growing global food crisis after Russia's invasion blocked Ukraine's agricultural exports. (AFP/Oleksandr Gimanov)

Ukrainian fighters from the 126th Separate Territorial Defense Brigade take part in a military drill on the southern coast of Ukraine on August 17, 2022. At least 10 Ukrainian journalists have died as combatants after joining their country's war effort. (AFP/ Oleksandr Gimanov)
Russia's war on Ukraine is exacting a brutal toll. As the conflict continues, the United Nations reports that millions of Ukrainians have been forced from their homes; more than 6,700 civilians have been killed and more than 10,000 injured. At least 13 journalists have been killed covering the war and CPJ is investigating whether the deaths of two others were related to their journalism. Russia's independent media have been gutted as scores of journalists have fled onerous new media restrictions in their homeland, and dozens of Belarusian journalists who had earlier found refuge in Ukraine from their own country's media crackdown were forced to flee yet again.

CPJ has called for the protection of Ukrainian journalists, along with the international reporters and media workers who join them in covering the conflict. Read CPJ's Russia-Ukraine watch for detailed weekly round-ups of regional attacks on press freedom during the first four months of the conflict.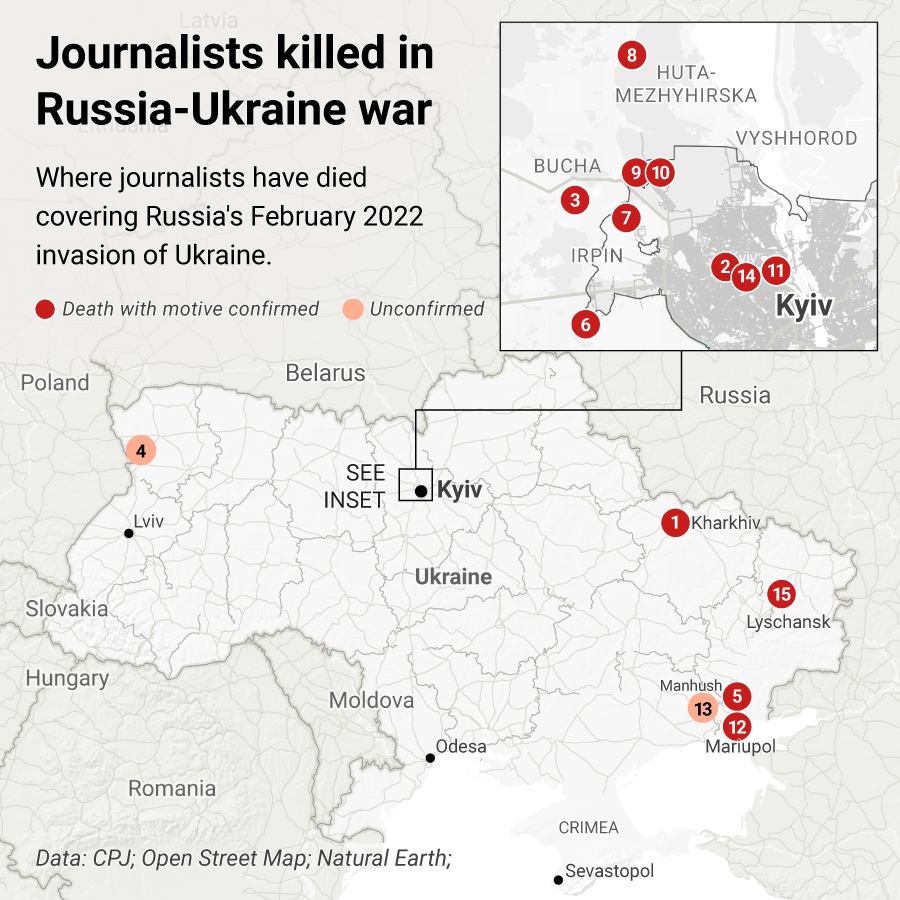 Methodology: Read our FAQs page
Source: Committee to Protect Journalists
Six months after Russian invasion of Ukraine, at least 13 journalists killed covering the war
CPJ/Esha Sarai