Government revokes press credentials for 115 journalists
Turkey's General Directorate for Press, Broadcasting, and Information (BYEGM, by its Turkish acronym) — the bureau within the prime minister's office responsible for accrediting journalists — today revoked the credentials of 115 journalists, Turkey's official Anatolia News Agency reported. The government alleged the journalists were affiliated with the Hizmet movement — or FETÖ, as the government calls it – which the Turkish government classes as a terrorist group and accuses of plotting a failed July 15 military coup that left more than 200 people dead.
The Anatolia News Agency did not report the full list of those affected, but did list a few known journalists, including: Nazlı Ilıcak, Ergun Babahan, Aladdin Kaya, Mustafa Ünal, Şirin Kabakçı, Abdullah Aymaz, Celal Azmi Kalyoncu, and Ömer Şahin.
Today's move brought to 620 the number of journalists whose credentials have been revoked since the failed July 15 military coup, according to the same report.
Few working journalists in Turkey have press credentials, or "yellow cards," as they are called in Turkey.
BYEGM fired 11 of its own staff on suspicion of affiliation with the Hizmet movement, according to the same AA report.
News agency reporter jailed pending trial on terrorism charges
The Cizre Court of Penal Peace today arraigned Sabahattin Koyuncu, Şırnak province correspondent for the pro-Kurdish Dicle News Agency (DİHA), on charges of "being a member of a [terrorist] organization" and jailed him, pending trial, DİHA reported yesterday.
Police detained Koyuncu from his home as part of a series of arrest raids in the Silopi district of Şırnak on August 23. The Silopi Court of Penal Peace on August 26 ordered his release, but the prosecutor's office of Cizre successfully appealed that order in Cizre yesterday.
Three journalists, including CPJ awardee, face court following show of solidarity with newspaper
Can Dündar, former editor of the daily newspaper Cumhuriyet, and a 2016 recipient of CPJ's International Press Freedom Awards, faces a civil suit on defamation charges, Cumhuriyet reported. The charges stem from Dündar's having symbolically acted as the co-editor of the pro-Kurdish newspaper Özgür Gündem on June 22 to protest authorities' relentless judicial harassment of the newspaper. More than 100 people, mostly journalists, participated in the campaign before a court ordered the newspaper's closure on August 16.
Dündar will stand trial alongside Özgür Gündem news editor İnan Kızılkaya, who is already jailed awaiting trial on terrorism charges. Bekir Altun, a judge at Istanbul's First Court of Penal Peace, filed the criminal complaint in response to Özgür Gündem's front-page story on him headlined, "The Judge of Corruption," and, inside the paper, under the headline, "The palace regime's most useful judge."
Dündar on August 15 announced his resignation from Cumhuriyet and said in his column that he would not return to Turkey while he faces trial because he did not believe he could trust the Turkish justice system.
Kızılkaya, the news editor, will also stand trial alongside Yıldırım Türker, a journalist who on May 7 also participated in the campaign to show solidarity with Özgür Gündem's staff by symbolically acting as co-editor of the newspaper. The two face charges of "making propaganda for a [terrorist] organization," Cumhuriyet reported.
Newspaper journalists, author on trial
Istanbul's 13th Court for Serious Crimes today began hearing the case of four journalists from the defunct daily Taraf and an author on charges relating to an elaborate alleged conspiracy, codenamed "Balyoz (Sledgehammer)," according to press reports.
Ahmet Altan, Yasemin Çongar, Yıldıray Oğur, and Mehmet Baransu are charged in connection with the case. Baransu was a columnist at Taraf in 2010, when the daily published a series of articles alleging that Turkish military officers were planning to bomb mosques in the country and to shoot down a Turkish warplane in order to spark conflict with Greece and destabilize the newly elected Justice and Development Party (AKP) government. Baransu also co-authored a book with Tuncay Opçin, also on trial in the case, published in 2012 outlining several alleged military conspiracies.
Baransu originally stood accused of delivering a suitcase of documents supporting this claim to prosecutors after the other Taraf journalists had examined them to prepare their reports on behalf of the Hizmet Movement — followers of preacher Fethullah Gülen, whom the Turkish government accuses of leading a terrorist organization and "parallel state structure" in Turkey from his self-imposed exile in the United States, and of orchestrating the July 15, 2016, failed military coup
The court today heard a 276-page indictment, but defense lawyers object that the indictment read was not the same one they had received before the trial, leading to confusion as to what specific charges the defendants actually face. According to press reports, the indictment made at least one reference to "suspect Can Dündar," though the former Cumhuriyet editor is not a defendant in this case.
In 2012, when the Hizmet Movement and the AKP were still in a tactical alliance against the military and security services' influence in politics, more than 300 military officers were convicted connection with the alleged "Sledgehammer" plot to overthrow then-prime minister Erdoğan's government. In 2014, after the Hizmet-AKP alliance had turned sour, a court found the trial of the officers had been flawed. When the officers were retried, a court in 2015 cleared 236 military suspects, partially based on its finding that documents produced as evidence in the first trial were fabricated, the press reported at the time.
An Istanbul court on June 30 sentenced Baransu, who was in custody at the time, to 10 months in prison on charges of insulting the president on Twitter.
The trial adjourned until November 23.
Prosecutors order four journalists released
Prosecutors today ordered Ömer Şahin, Rasih Yılmaz, and Abdullah Alparslan Akkuş, released, freelance journalist Tuğba Tekerek tweeted from Istanbul's Çağlayan Courthouse. Prosecutors ordered Nurullah Öztürk released on probation, Tekerek wrote on Twitter. At the time of publication, eight others detained earlier this week were awaiting interrogation, according to press reports.
Thirteen newspaper distributors released
Police released 13 of 24 distributors of Turkey's Kurdish-language daily newspaper Azadiya Welat detained in an August 28 raid of the newspaper's office in the southeastern city of Diyarbakır, the daily newspaper Evrensel reported today. Eleven of those caught in that raid remain in custody.
Those released included: Ahmet Kızılay, Ahmet Boltan, Veysi Altın, Ercan Yeltaş, Mehmet Aydın, Mehmet Emin Aygün, Azime Tarhan, Süreyya Dal, Berhudan Tulpar, Mehmet Hüseyin Şahin, Cengiz Arslan, Ziya Karahan, and Ceylan İpek.
[September 2, 2016]
American freelance journalist detained crossing from Syria to Turkey
Lindsey Snell, a freelance American journalist who previously lived in Istanbul, has been jailed in Turkey since early August, local and international news media reported. Snell has said Islamist militants abducted her in Syria, and that she escaped, the reports said. She was detained for entering a forbidden zone as she crossed back into Turkey from Syria, the reports said.
Prosecutors summon nine people following show of support for beleaguered newspaper
The news website Bianet reported today that prosecutors summoned nine people who symbolically acted as co-editor of the pro-Kurdish newspaper Özgür Gündem for a day to show support for the daily in the face of persistent judicial harassment before a court ordered its closure on August 16 and police raided its office in Istanbul, detaining more than 20 people in the process. The nine people summoned for questioning today were: Nadire Mater (a journalist, and a consultant to Bianet); Tuğrul Eryılmaz (a journalist and former editor for Radikal 2, the shuttered daily's Sunday supplement); Hasan Cemal (a journalist and columnist for the news website T24); Hasan Hüseyin Tahmaz (a journalist); Dicle Anter (a writer); Derya Okatan (the general coordinator for broadcaster Özgür Radyo); Said Sefaoğlu (former editor of the defunct news website Haberdar); Murat Uyurkulak (a writer); Çilem Küçükkeleş (a member of the Central Ruling Board of the opposition People's Democratic Party, or HDP).
At least 109 journalists, academics, authors, politicians, and an actor said they joined the campaign to act as the newspaper's co-editor for a day last spring, CPJ reported at the time.
[September 1, 2016]
Writer, newspaper board member jailed pending terrorism trial
Istanbul's Eighth Court of Penal Peace today arraigned Necmiye Alpay, a writer, linguist, and member of the publishing board of the shuttered, pro-Kurdish daily newspaper Özgür Gündem, the newspaper Agos reported. The court ordered Alpay detained on charges of "being a member of a [terrorist] organization," Agos reported.
Two more journalists from list of 35 new warrants detained
Police in Turkey's western Bursa Province today detained Atilla Taş, one of 35 journalists whose detention on terrorism charges prosecutors ordered yesterday, the opposition newspaper Cumhuriyet reported. Gökçe Fırat, another of the journalists on the list, turned himself in to police in Istanbul today, according to Cumhuriyet.
The news website Bianet today released a full list of the journalists whose arrest prosecutors seek, citing the official Anatolia News Agency and the pro-government newspaper Sabah. CPJ reported the first nine names on the list and their affiliations yesterday.
Nurullah Öztürk
Rasih Yılmaz
Murat Aksoy
Abdullah Alparslan Akkuş
Dinçer Gökçe
İskender Yunus Tiryaki
Levent Arap
Ömer Şahin
Ayhan Şimşek
Yavuz Baydar (former ombudsman for Sabah, columnist for the defunct daily Özgür Düşünce and the news website Haberdar)
Ali Yurttagül (columnist for the defunct daily Today's Zaman)
Ergün Babahan (former columnist for Özgür Düşünce)
Osman Özsoy (journalism professor)
Şemsettin Efe (reporter for the defunct TV channel Samanyolu or STV)
Kerim Balcı (Ankara representative for Today's Zaman)
Gökçe Fırat (a right-wing politician and writer for the magazine Türk Solu)
İhsan Yılmaz (academic and columnist for the defunct dailies Meydan and Today's Zaman)
Erhan Başyurt (chief editor for the defunct daily Bugün)
Eyüp Can Sağlık (former chief editor for the closed daily Radikal)
Kemal Gülen (news presenter for STV)
Atilla Taş (pop singer, columnist for Meydan)
Asım Yıldırım (news presenter for STV)
Faruk Aslan (writer, formerly with the defunct daily Zaman and the Cihan News Agency)
Önder Deligöz (reporter forZaman)
Ali Selçuk Gültaşlı (columnist for Zaman)
Turhan Bozkurt (columnist forZaman)
Yonca Kaya Şahin (columnist for the news website Samanyoluhaber)
Ayşe Özkalay (columnist for the defunct dailyYeni Hayat)
Can Bahadır Yüce (columnist forYeni Hayat)
Celil Sağır (editor forZaman)
Hasan Cücük (reporter forZaman)
İbrahim Öztürk (columnist forZaman)
Mahmut Akpınar (columnist for the defunct dailyMillet)
Mutlu Çölgeçen (former news editor forSabah; publishing editor for Millet)
Savaş Genç (academic, columnist for the defunct news magazine Aksiyon)
Press freedom advocate, four newspaper staff detained
Police detained Salim Büyükkaya, a journalist at the local newspaper Adana Haber in the southern Turkish city of Adana and the head of the Adana Province branch of the Journalists' Union of Turkey (TGS), in connection with the government's search for sympathizers with the Hizmet movement — or FETÖ, as the government calls it – the daily newspaper Birgün reported today. Three other journalists and another employee of the newspaper were detained alongside him, Birgün reported, without naming them. The Committee to Protect Journalists is investigating the detentions.
TGS said it perceived Büyükkaya's detention as an attempt to intimidate the group because of its criticism of the arrest of Turkish journalists.
The Turkish government classes the Hizmet movement as a terrorist group and accuses it of maintaining a parallel state structure in Turkey and plotting a July 15 failed military coup.
Court rejects bid to release journalists pending trial
Istanbul's Fifth Court of Penal Peace yesterday rejected lawyers' request to release journalists Şahin Alpay, Ali Bulaç, Lalezar Sarıibrahimoğlu Kemal (better known by her pen-name, Lale Kemal), and Nuriye Akman, saying lawyers had produced "no new evidence to end the status of arrest," the news website Bianet reported, posting a copy of the verdict. Istanbul's Fourth Court of Penal Peace on June 31 arraigned the journalists and ordered them detained pending trial on terrorism charges, CPJ reported at the time.
Detained reporters beaten in custody, lawyer alleges
Police are beating and threatening Cemil Uğur and Halil İbrahim Polat, two detained reporters for the daily newspaper Evrensel, while the two are in custody, their lawyer, Tugay Bek, alleged in comments to Evrensel yesterday.
The journalists were detained on August 23 while covering a protest in Mersin Province, CPJ reported at the time.
Bek said that anti-terrorism police officers asked the arresting officers, "Why did you bring them here? You should have shot them in the head at the scene." He said that as the two reporters were kept standing facing a wall, one officer kicked Uğur in the foot. An officer bashed Polat's head into the wall, Bek alleged.
Police briefly detain wire agency reporter
Police in Istanbul today detained Metin Yoksu, an Istanbul correspondent for the pro-Kurdish DİHA news agency, his employer reported. Police released him after bringing him to a police station, the news agency reported later. The journalist told his news agency that police detained him because he had been photographing them beating two minors.
[August 31, 2016]
Prosecutors issue warrants for 35 journalists, police detain at least nine
The Istanbul Chief Prosecutor's Office today ordered 35 journalists to be detained in scope of investigations into a July 15 failed military coup that left more than 200 people dead, according to news reports. The Turkish government accuses the Hizmet movement, or FETÖ, of being a terrorist organization with "a parallel state structure" that orchestrated the attempted coup.
At the time of publication, police had detained at least nine journalists from Istanbul, Ankara and Kocaeli, roughly 66 miles (107 kilometers) east of Istanbul. Press reports identified those nine as:
Dinçer Gökçe, the online editor of Hürriyet newspaper
Nurullah Öztürk, formerly with pro-government newspaper Yeni Şafak and the shuttered newspaper Zaman
Rasih Yılmaz, a columnist for the news website Samanyoluhaber
Murat Aksoy, a former columnist for the newspaper Yeni Şafak
Abdullah Alparslan Akkuş, a TV journalist formerly with the pro-government channel Atv, CNNTurk, NTV, and most recently the Ankara correspondent for the shuttered daily Bugün's video operation.
İskender Yunus Tiryaki, a former reporter for the shuttered daily newspaper Bugün
Levent Arap, a former reporter for Bugün
Ömer Şahin, former Ankara bureau chief for the dailies Radikal and Meydan
Ayhan Şimşek, a local journalist from Kocaeli
Hürriyet reported that at least three journalists on the full list — Ergun Babahan, Osman Özsoy, and Şemsettin Efe -were abroad. The pro-government newspaper Sabah reported that at least 18 of the 35 journalists whose arrest prosecutors seek were not in Turkey, while police were searching for another eight journalists from the list.
Police in Istanbul searched the home of Yavuz Baydar — a founding member of the Platform for Independent Journalism, or P24, and one of the eight journalists police are seeking in Turkey — the news website T24 reported.
Court arraigns 13 staff of government broadcaster
Thirteen employees of the state media organ TRT and a teacher were arraigned on charges of involvement in helping the Hizmet movement — or FETÖ, as the government calls it – steal the answers to a public-service entrance exam, the official Anatolia news agency reported.
The report did not name those arraigned or provide details about their specific jobs, and it was not immediately clear whether they were among the more than 40 TRT employees detained earlier this month in a purge of suspected Hizmet sympathizers – 24 of whom were later released.
Police detain editor, press freedom advocate
Police in the southeastern Turkish city of Diyarbakır today briefly detained Mehmet Ali Ertaş, an editor for the pro-Kurdish Dicle News Agency (DİHA) and a member of the pro-Kurdish Free Journalists Association (ÖGC), DİHA reported. Police bundled Ertaş into a police car after ÖGC members publically read a press statement protesting yesterday's police raid of the Diyarbakır head office of Turkey's daily Kurdish-language newspaper, Azadiya Welat. According to a later DİHA report, Police brought Ertaş to a police station and served him with papers regarding an unrelated matter, which the news agency did not specify, and released.
Satellite operator drops TV station
The government-controlled satellite operator Türksat stopped carrying the signal of pro-Kurdish broadcaster Özgür Gün TV at midnight last night, the station wrote on Twitter. The decision meant that viewers abroad and in most of Turkey could no longer watch the station's broadcasts. In its post to Twitter, Özgür Gün TV noted that its terrestrial regional broadcasts to the predominantly ethnic-Kurdish southeastern region of Turkey were not affected.
The station also tweeted a public statement which said that Türksat had not offered the channel an explanation for the move, but speculated that it might have followed pressure from the RTÜK, Turkey's broadcast regulator, which has targeted the station in recent months.
News agency reporter released on probation
A court last night ordered Engin Eren, Siirt province reporter for DİHA, released on probation after 17 days of detention on charges of "being a member of a [terrorist] organization" and "making propaganda for a [terrorist] organization]," his employer reported. Police detained Eren in the southeastern city of Siirt on August 13.
[August 30, 2016]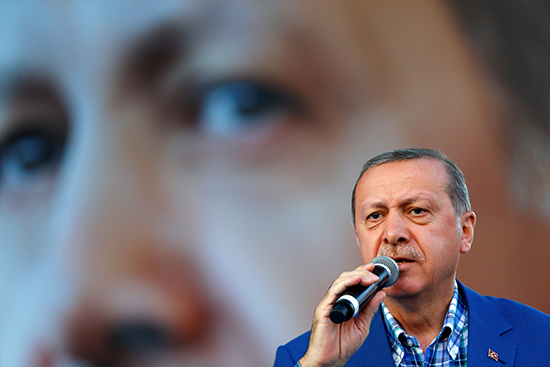 Police raid newspaper offices, detain at least 23 employees
Police in the southeastern Turkish city Diyarbakır yesterday raided the main office of the Kurdish-language daily newspaper Azadiya Welat, according to news reports. According to the independent news website Bianet, police detained at least 23 employees of the newspaper, beating many of them in the process:
Yasemin Sayın
Hayat Yılmaz
Ahmet Kızılay
Arap Turan
Berxwedan Tulpar
Sürreya Dal
Zeynep İzgi
İbrahim Bayram
Engin Özelçi
Ahmet Boltan
Ceylan İpek
Mehmet Emin Kaya
Ziyan Karahan
Veysi Altın
Ercan Yeltaş
Azime Tarhan
Serdal Polat
Cengiz Aslan
Ferit Toprak
Mehmet Hüseyin Şahin
Mehmet Aydın
Pusat Bulut
Mehmet Emin Akgün
Police also detained four people — Vesile Tulpar, Bahar Haram, Mecrum Tekol, and a minor identified only by the initials A.K. — who were visiting the office at the time of the raid, reports said.
DİHA reported that police raiding the building said they were there because "a lot of people come and go at the office," and they received a tip that "[terrorist] organization meetings were held there."
In a later report, DİHA all the detained staff were involved in the distribution of the newspaper, Turkey's only Kurdish-language daily, but that former employees had volunteered to distribute the paper today.
Authorities have subjected Azadiya Welat to persistent judicial harassment since its founding in 1992 as the weekly Welat, and since it began publishing daily under its current name in 2006. In October 2014, two men on a motorcycle fatally shot Kadri Bağdu in Adana as he delivered the newspaper on his bicycle. No one was convicted of that crime. News editor Rohat Aktaş died in unclear circumstances, mostly likely in early February 2016, while reporting on the fighting between Kurdish separatists and Turkish soldiers in Cizre.
Police raid news agency office
Police in the southeastern city of Hakkari on August 26 raided the local office of Dicle News Agency (DİHA), DİHA reported. Police broke down the door when the office was empty, and confiscated four computers and the office's archive of newspapers, the news agency reported. DİHA reported that police had given the news agency no reason for the raid.
Police seek journalist's detention for tweet
Police have a warrant for the detention of journalist Ergun Babahan regarding a tweet he wrote about an August 25 attack on a convoy carrying Kemal Kılıçdaroğlu, the leader of the opposition Republican People's Party (CHP), according to news reports.
The daily newspaper Evrensel on Sunday published Babahan's version of events. Babahan said police were investigating him on suspicion of "praising a crime and a criminal" in his tweet, but that his intent had been to condemn the crime. The journalist said he believes he is one of the victims of Turkey's continuing "witch-hunt" to purge members of the Hizmet, or FETÖ, organization – which the government accuses of being a terrorist group and of orchestrating a July 15 failed military coup – from society and a security crackdown on ethnic-Kurds.
Court releases detained news agency reporter
A court in Turkey's Şırnak province on August 26 ordered the release of DİHA reporter Sebahattin Koyuncu, his employer reported. Police detained Koyuncu on the August 23 from Silopi, in Şırnak, and asked a court to jail him, pending trial on charges of "being a member of a [terrorist] organization," but the court ordered him released.
Broadcast regulator reprimands TV stations for 'terrorist propaganda'
Turkey's broadcast regular, the RTÜK, on August 27 issued warnings to Van TV and Özgür Gün TV, saying they had disseminated "terrorist propaganda" and "discriminatory" broadcasts, according to news reports. The regulator also closed down 29 unlicensed telemarketing channels.
[August 29, 2016]