The Torch is a weekly newsletter from the Committee to Protect Journalists that brings you the latest press freedom and journalist safety news from around the world. Subscribe here.
An increasingly militarized police presence at protests across the United States creates a dangerous reporting environment, journalists told CPJ. Those covering unrest in the U.S. are encouraged to consult CPJ's new legal guide, which explains the rights of journalists when confronted by law enforcement while covering a protest or political event.
Female journalists in Pakistan who say they are increasingly targeted online spoke to CPJ about the cost of these attacks, from being forced out of media jobs to declining to pursue stories due to fear of online harassment.
In India, where unsolved murders and imprisonment of journalists are routine, attacks on the press including prosecution have intensified since the COVID-19 outbreak, writes CPJ Executive Director Joel Simon in an op-ed for The Hindu. Simon also spoke about global press freedoms at the annual "Media Rumble" event hosted by Indian outlet NewsLaundry.
In another piece this week, for the Columbia Journalism Review, Simon examines moves by Michael Pack, the CEO of the U.S. Agency for Global Media, that "undermine the ability of the U.S. government to counter the malicious propaganda and misinformation being used to manipulate global public opinion." The agency includes networks such as Voice of America and Radio Free Europe/Radio Liberty.
Global press freedom updates
Spotlight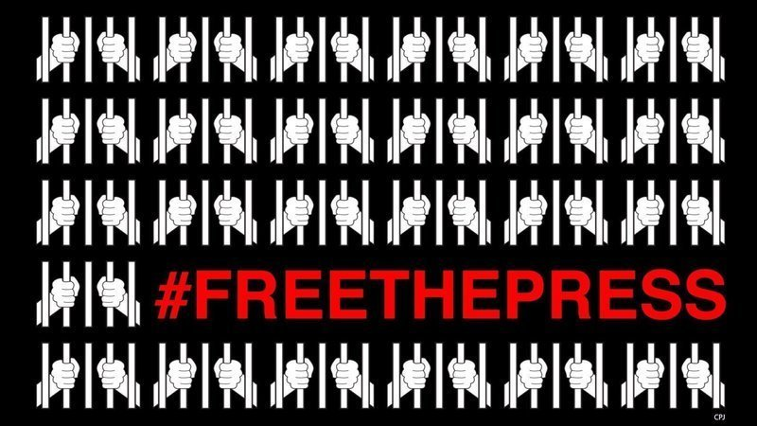 CPJ sent a follow-up letter to U.N. Secretary General António Guterres, imploring him to renew efforts to secure the freedom of all jailed journalists, whose lives are at risk due to the spread of COVID-19. At least two journalists, Mohamad Monir in Egypt, and David Romero in Honduras, have died after being infected with COVID-19 in government custody. Journalist Azimjon Askarov also recently died in Kyrgyzstan from what his family suspects was coronavirus.
Made up of 192 partner organizations from around the world, CPJ's #FreeThePress campaign works to free all journalists in light of the threat posed by the pandemic. Learn more about it here, and tweet your support by calling on the Secretary General to fight for their freedom.
---
CPJ is pleased to partner again with the investigative film festival Double Exposure. The 2020 lineup includes over 75 speakers participating in 30 panels, workshops, master classes, pitch sessions, and networking opportunities. For more information visit dxfest.com. CPJ special: Get 10% off using code CPJDX20.
Safety on assignment
CPJ Emergencies' published safety advice for journalists covering wildfires, including guidance on preparation, on-location best practices, and the unique challenges media workers may face covering such events during COVID-19.
What we are reading
Do you have an Amazon Alexa-enabled device? Enable CPJ's flash briefing skill to stay up to date with the latest press freedom news from around the world.