EU as a global actor
On World Press Freedom Day (May 3), the highest EU officials line up to deliver their message of support for a free press. But press freedom and human rights activists who spoke with CPJ said that when it comes to meaningful diplomacy in repressive countries that are important trade partners or strategic allies, the EU is often inconsistent. "The real nature of human rights diplomacy can be judged on the determination to confront countries that have a real importance for the EU," Portuguese socialist MEP Gomes told CPJ. "The EU does not really pass the test."
More in This Report
In Print
The Treaty on European Union states that the EU's foreign policy must be guided by the principles of democracy and rule of law that inspired its creation. Human rights, as former High Representative Catherine Ashton said, must be the "silver thread" running through the European External Action Service, a commitment endorsed by her successor, Federica Mogherini. In a reflection of this lofty ideal, the EU has developed what is best described as a human rights toolbox so it can present itself, as Stephan Keukeleire and Tom Delreux wrote in The Foreign Policy of the European Union, as "a values-driven normative power."
Officially human rights, and therefore press freedom, are part of all EU foreign initiatives. Trade and cooperation agreements signed between the EU and about 130 states have, since 1995, included a human rights clause referring to the UN declaration of human rights, and therefore freedom of expression, as an "essential element." The clause is theoretically legally binding and paired with a mechanism that allows for measures including, as a last resort, the suspension of an agreement in cases of persistent and serious violations of its provisions. Substantive references to the importance of press freedom also appear in progress reports monitoring the compliance of candidate countries with the accession criteria, country reports, and most country-specific Parliament resolutions. In 2014, the EU adopted Guidelines on Freedom of Expression Online and Offline, a 28-page document meant to inspire the policies of the European External Action Service and push its representatives into action. Combating violence against journalists and fighting impunity tops its priorities.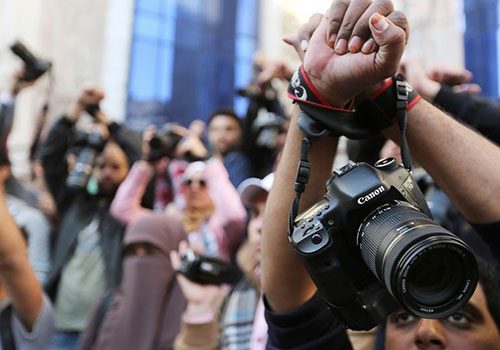 The EU has imposed sanctions for human rights breaches in a number of instances. Trade preferences under the GSP+ (an extension to the Generalized Scheme of Preferences), for instance, have been withdrawn on three occasions for human rights violations: Myanmar (1997-2013), Belarus (2007-present), and Sri Lanka (2010-present). All three feature in CPJ's database of journalists killed in relation to their work. Myanmar and Belarus are featured in CPJ's lists of most censored countries and in the most recent census of journalists imprisoned for their work.
But in reality, the EU's defense of press freedom has been tailored to traditional foreign policy criteria, such as national interest, trade relations, or conflict resolution. The EU has been particularly anxious not to upset important trade partners or geopolitical allies. Rights groups have documented how influential trade partners with a poor human rights record have been less severely reprimanded than less strategic partners; companies in member states have provided surveillance technology to repressive regimes; and inconsistencies in aid exist, such as in the issuing of emergency visas to journalists at risk.
A September 2014 review by the Leuven Center for Global Governance Studies described the monitoring and enforcement of human rights policies as erratic, adding that it led to "suspicions of pusillanimity and double standards." Quiet diplomacy, or realpolitik, prevails, except when it is not too costly for the EU to take an apparently principled stance. In other words, an impoverished country such as Burundi, with no real strategic value, is more likely to be reprimanded than China.
Azerbaijan is a clear example of contorted EU diplomacy. Despite officially acknowledging its poor state of human rights and press freedom, and condemning the arrests and imprisonment of human rights defenders and journalists, the EU has been pursuing, in its own words, "an increasingly close relationship with Azerbaijan, going beyond co-operation, toward gradual economic integration and a deepening of political co-operation." Azerbaijani rights groups were incensed by the EU's reaction to the April 2015 jailing of human rights defender Rasul Jafarov. "That most of the grantees of European Union human rights funds from Azerbaijan are today either behind bars or outside of the country did not change the EU's stance on Azerbaijan," wrote Florian Irminger, Human Rights House Foundation's head of advocacy, in April 2015. As an energy provider in a crucial geo-strategic region, President Ilham Aliyev's regime knows it can challenge Brussels' statements of concern.
The Middle East and North Africa are also illustrative of EU ambiguities. Until President Zine el-Abidine Ben Ali's last days, Tunisia continued to be courted and was even offered advanced status within the European Neighborhood Policy while press freedom activists were denouncing increased repression. The same ambiguity prevails today with the Egyptian government. In June 2015, Egypt had 18 journalists in jail, the highest number recorded in the country since CPJ began keeping records. Its counterterrorism and cybercrime laws arbitrarily threaten journalists and bloggers. After being late in denouncing the Mubarak regime, the EU observed the Mohammed Morsi government with concern and first watched the Abdel Fattah el-Sisi military intervention with some relief. It expressed concern at journalists' detentions, asked for the release of the three jailed Al-Jazeera journalists, condemned death sentences, and, in effect, suspended the formal EU-Egypt dialogue under the European Neighborhood Policy. "There was a real cooling of the relations," an EU official who asked not to be named, said. "But the EU changed its negative stand when it had to admit that President el-Sisi was there to stay."
The EU also sent an observation mission to the May 2014 presidential elections despite signs that the polls were not meeting standards of fairness and freedom. A March 2015 European External Action Service working document reflected the EU's ambiguities: It mixed critical remarks on the state of human rights with the acknowledgment of Egypt's importance in the region and the need to normalize relations in the name of geo-strategy, counterterrorism, and economic interests. The EU, through the European Endowment for Democracy, has been cautiously funding some pro-democracy projects but by sending such a mixed message to the government the EU, in effect, undermined its own attempts to intervene against violations of human rights including press freedom.
The EU balancing act of conventional state-to-state diplomacy and an approach inspired by human rights often leads to ineffectiveness. In January 2015, for instance, a European External Action Service spokesman issued a statement calling on Saudi Arabia to suspend the sentence handed to Raif Badawi. The blogger, who founded an online forum for liberal comment, had been sentenced to 1,000 lashes. But in March, when news outlets reported how Saudi Arabia had prevented Margot Wallström, Sweden's foreign minister who condemned the sentence, from giving a speech on human and women's rights at an Arab League meeting, the EU expressed only regret and offered to mediate between Stockholm and Riyadh.
Due to such inconsistencies, a Memorandum of Understanding to cooperate on counterterrorism signed in January 2015 by the EU and the League of Arab States raised suspicions in human rights circles of a return to the era of pre-Arab Spring complicity with illiberal states, when the EU and its member states were taken off guard by massive protests. In March 2015, after a battle of motions among political groups that revealed conflicting views on how security and liberty should be balanced, the European Parliament voted in a resolution calling on the EU "to build clear safeguards into its cooperation with third countries, to ensure it does not directly or indirectly support or legitimize the repression of legitimate organizations and individuals in the name of countering terrorism."
The overall impression on EU foreign policy from journalists and press freedom advocates CPJ met in Europe and outside was that human rights was not as high on the EU's agenda as it claims. As a European External Action Service official, not allowed to speak on the record, candidly told CPJ, "Human rights are not really central to EU foreign policy."
A retired EU ambassador added, "If it were the case, it would be applied across the board.EU action often depends on who is who in a delegation or at a country desk." The former ambassador, who asked for anonymity because of the sensitivity of the issue, told CPJ, "Focal points on human rights have been set up in EU delegations but they are often ineffective. Some diplomats will attend a journalist's trial; others will play golf with the interior minister. There are nice human rights guidelines, but there is no imperative order to apply them."
"The real nature of human rights diplomacy can be judged on the determination to confront countries that have a real importance for the EU."
– Ana Gomes, MEP
In recent years, Internet freedom has been the focus of the EU's international press freedom diplomacy. Parliament passed a proposal in March 2008 to consider Internet censorship by national governments a trade barrier. In December 2011, spurred by the Arab Spring's "Internet revolutions," Kroes, then digital agenda commissioner, launched the No Disconnect Strategy to support Internet users in authoritarian states. It included Internet survival kits to help activists circumvent censorship and surveillance; host content banned in non-democratic states; and provide information on fighting surveillance with anonymizing tools. It also called for an end to sales of repressive technology. The effectiveness of the strategy, however, has been questioned; in July 2015, Dutch liberal MEP Marietje Schaake submitted a written query to the commission asking what progress has followed the 2011 decision.
A February 2013 communication by the European External Action Service on global cyber-security condemned the misuse of surveillance and, in June 2013, the commission published an ICT sector guide on implementing UN principles on business and human rights. The EU has also adopted rules on the export of dual-use technology that has the potential to impact human rights, a policy spurred by the concern over the role played by EU corporations in providing authoritarian states with repression technology.
An investigation by digital freedom groups Privacy International and netzpolitik, for instance, found German company Trovicor had exported surveillance technology to Ethiopia's National Intelligence and Security Service. The hacking of U.S.-based Ethiopian Satellite Television was allegedly made possible because of software sold by Hacking Team, a company based in Italy that, according to internal documents leaked in July 2015, has clients that include government agencies in Russia, Ecuador, Sudan, Bahrain, and Saudi Arabia known to spy on journalists.
Such revelations are concerning given Ethiopia's poor press freedom record. Despite the release in July 2015 of six jailed journalists, including two affiliated with the Zone 9 blogging collective who were jailed for taking part in an encryption course, the country is the second worst jailer of journalists in Africa, after Eritrea, according to CPJ research, with most jailed on anti-state charges. Ethiopia is also ranked fourth on CPJ's list of most censored countries. It remains, however, one of the major aid recipients of the EU and of some of its member states, including the U.K. and Germany.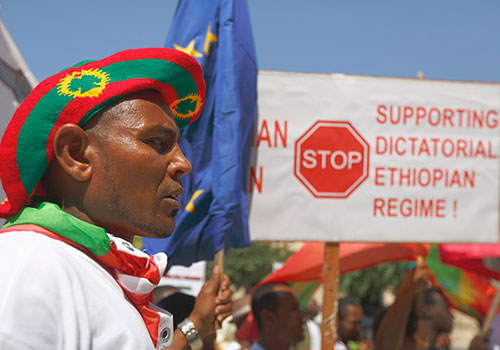 In December 2012, the European Parliament adopted a Digital Freedom Strategy in the EU's foreign policy. Authored by MEP Schaake, it provided a roadmap for the EU on how to defend and promote Internet freedom abroad. It pleaded, in particular, that "all trade and association agreements, development programs, and accession negotiations should be made conditional on respect for digital freedoms." It also called on the EU to ban technologies that authoritarian regimes may use to track and trace human rights activists, journalists, and dissidents. Internet freedom groups welcomed it as a well-intentioned objective but, as CPJ has found, technology export regulations are difficult to draft. Written narrowly, such controls are often ineffective. But even worse are controls that are overly broad, because they can unintentionally restrict legitimate security research and even a journalist's access to anti-censorship tools.
The autonomy of member states is one of the biggest challenges to the EU's Common Foreign and Security Policy. EU diplomacy is often the end result of haggling among member states with diverging worldviews and interests. When a fledgling common diplomacy emerges, critics warn that it is often based on the highest common denominator in proclaimed values and the lowest common denominator in action. "Human rights are both one of the most exploited rhetorical commitments in political declarations and one of the least consistently developed areas of foreign policy," according to a 2012 European Policy Centre issue paper.
Member states also have their own priorities, philosophies, focuses, and selective outrages, according to EU watchers who spoke with CPJ. France is friendly with autocrats in Francophone Africa. Britain is allegedly soft on Turkey and Ethiopia. The Czech Republic has long focused on Cuba's authoritarian regime. Such selectivity undermines the consistency and efficiency of press freedom diplomacy. The 28 member states regularly work at cross purposes. "Germany's government [a coalition of Christian Democrats and Social Democrats] will not condemn Ethiopia because it does not want to upset its own international development agency, which has heavily invested in the country," MEP Gomes told CPJ. "Portugal, where Angola interests are ubiquitous even in the media, will protect Luanda."
The creation of a special representative for human rights was supposed to correct this disunity. Since 2012, Stavros Lambrinidis has been meeting human rights defenders and authoritarian rulers across the world, but his choice of soft diplomacy and engagement has not been fully endorsed by human rights organizations who repeatedly told CPJ they fear it has allowed the EU to put human rights in a silo. "Human rights is decoupled from the really important meetings where heads of state or government can talk so-called serious business," a European External Action Service official, who took part in such dialogues where human rights were sidelined, and who asked not to be named, told CPJ. "To some extent, EU support for media freedom expresses itself either in grand statements in U.N. fora or in concrete micro-actions in favor of specific media and journalists. This is not insignificant but in between, where real policies happen, the fear to confront countries of importance to the EU prevails."
Human rights talks held behind closed doors are considered ineffective and even counter-productive by many analysts. In "The EU's Human Rights Dialogue with China: Quiet Diplomacy and its Limits," a study of these talks between 1995 and 2010, Katrin Kinzelbach described how Chinese officials had become "human rights dialogue professionals." The associate director of Berlin-based Global Public Policy Institute added, "[T]he regular confidential talks behind closed doors have served as intensive training for a small number of Chinese officials on how to engage with—and effectively counter—human rights-related inquiries, criticism and recommendations."
Brussels officials do not take this criticism easily and have defended quiet diplomacy. "The EU must engage even with governments that are guilty of grave and widespread human rights violations, some of which, in spite of all appearances to the contrary, are often sensitive about their international reputation," Lambrinidis stated in an October 2014 EU diplomacy lecture at the College of Europe in Bruges. They also highlight the support given to independent media, in particular through the European Instrument for Democracy and Human Rights and the European Endowment for Democracy. Through the European Instrument for Democracy and Human Rights, the commission is able to work directly with civil society and focus on sensitive political issues independently of authorities. Under its emergency funding rules, Russian journalist Mikhail Beketov, for instance, was given financial aid to cover hospital costs after he was attacked in a Moscow suburb in 2008. (His injuries led to his death more than four years later). Media support represented about 4 percent of the Instrument for Democracy budget between 2000-10, a December 2012 report produced by media consultants Andrew Puddephatt and Per Oesterlund, for the commission, found. According to the report's figures, 40 percent of the funding went to the Western Balkans, 24.3 percent to Sub-Saharan Africa, and 12.5 percent to Middle East and North Africa.
The European Endowment for Democracy has accentuated the Instrument for Democracy's approach of direct support. "The [Endowment] allows us to take up the defense of journalists in jail" by assuring, for instance, access to a lawyer, German liberal MEP Alexander Graf Lambsdorff, vice president of the Parliament and chair of the Endowment's Executive Committee, said at a European Parliament event in June 2015. It is also more daring in its support for political groups. Hundreds of individuals and civil society associations have been assisted by these instruments, which do not require the consent of the host state and often support opposition groups.
European Commission data shows it has spent €148.4 million, an average of €15 million a year, between 2000-10 in media development and freedom of expression support. Many observers who spoke with CPJ lauded EU assistance, but there are critics too. A Brussels-based media development expert, who asked for anonymity because his association has received money from the EU, said media support was fragmented, not sufficiently coordinated with member states' own programs, and that "the complexity of tenders excludes small NGOs and leads to an overrepresentation of big hitters in the media support community."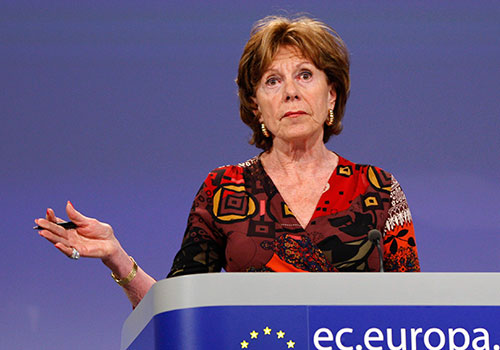 The policy of directly helping victims, such as Beketov, in an authoritarian regime while still negotiating with that government on trade or other issues has also been criticized as a contradiction. But EU officials claim that this approach is the reflection of the crossroads of ethical foreign policy and realpolitik.
Support for press freedom was further enhanced by the EU's adoption in 2004 of Guidelines on Human Rights Defenders, which focuses on vulnerable groups, including journalists, according to a December 2013 concept note on the revision of Instrument for Democracy rules. Its objectives included "promoting the protection of journalists and bloggers from harassment, intimidation, and assassination due to the exercise of their professional or personal duties." EU missions are ordered to take proactive measures in favor of human rights defenders: meeting with them, attending trials, raising their cases. Human rights organizations consider these guidelines a key test of EU human rights diplomacy. "The record, however, has been checkered," Lotte Leicht, Human Rights Watch EU's advocacy director, told CPJ. "In March 2015 at a Human Rights Council meeting in Geneva, EU foreign ministers publicly pledged themselves by waving placards [that read] #Idefend human rights defenders, but this promise is thrown under the carpet when other interests prevail—in Bahrain, for instance, or Saudi Arabia."
The EU's press freedom diplomacy has been the victim of member states' often short-sighted migration and visa policies. Emergency or fast-tracked visas have been provided to a number of journalists under threat, Olivier Basile, former Reporters Without Borders EU representative, told CPJ. However, some member states have denied visas to threatened journalists. A journalist for Russia's independent newspaper Novaya Gazeta,who cannot be named for security reasons, was twice refused a visa by the British embassy in Moscow in August and December 2013, according to Article 19. The freedom of expression association justified the need for emergency protection because the journalist's life was considered to be at risk. According to Article 19, the first application was refused because U.K. authorities said the journalist would be working, albeit on a voluntary basis, which was banned under the category of visa applied for. The second application was denied over concerns that the journalist may try to remain in the U.K. because of a continued security risk in Russia.
In early 2015, another case of visa denial turned to tragedy: Bangladeshi blogger Ananta Bijoy Das requested a visa from the Swedish embassy so he could attend a World Press Freedom Day event organized by the Swedish PEN Center in Stockholm to discuss the deteriorating situation of freedom of expression in his country. The embassy rejected his demand on the basis that there was a risk he may not leave at the end of the visit, according to PEN. The embassy added: "The purpose of your trip is not urgent enough to grant you visa." On May 12, days after the visa denial, Ananta was hacked to death in the city of Sylhet. He was the third of four bloggers murdered in Bangladesh since the start of the year, according to CPJ research.
"The EU needs to really consider the defense of press freedom … as a strategic asset."
– Andrea Subhan, human rights expert
The EU has followed a more consistent press and Internet freedom diplomacy path at the UN, where it has observer status. As a coordinator of member states, the European Commission has usually taken positions in support of press freedom. It opposed the declaration of defamation of religion, actively endorsed the U.N. Plan of Action on the Safety of Journalists and the Issue of Impunity, and defended a free and multi-stakeholder approach to Internet governance, distancing itself from countries such as China, Russia, and Iran, which maneuver to put the Internet under the control of the International Telecommunications Union, a U.N. agency where states hope to exercise their power to regulate, control, and discipline the Web. EU influence in the U.N., in particular at the Human Rights Council, however, is limited, according to University of Leuven professors Jan Wouters and Katrien Meuwissen. "Human rights is a subject matter that cuts across different EU competences and must be negotiated with member states who are the only ones who can vote," they wrote in a December 2013 working paper.
Moreover, the EU has been losing influence in relation to less liberal-democratic actors and, apart from its key contribution to defend special procedures and special rapporteurs, it has often defensively pushed consensus-seeking, as documented in a 2011 European Parliament report calling on the EU to develop a more proactive, consistent, and ambitious strategy at the Human Rights Council.
"Turning press freedom and, more generally, human rights into a substantive and essential element of the EU's foreign relations requires a change in paradigm," Andrea Subhan, a human rights expert previously with the directorate-general for research at the European Parliament, told CPJ. "The EU needs to really consider the defense of press freedom not as a subsidiary issue or a soft power instrument but as a strategic asset which helps project its values but also protects its hardcore interests abroad."