Press freedom in member states
Press freedom is protected as a fundamental value by EU legislation, but journalists in the region face the threat of legal action from many member states that still have speech-chilling laws, and the threat of violence or intimidation from criminal and extremist organizations, as well as police and politicians.
More in This Report
In Print
The EU has condemned the misuse of criminal defamation in countries such as Thailand as a way to suppress public interest stories, yet defamation remains a pan-European issue. Criminal defamation has been eliminated only in Cyprus, Estonia, Ireland, Romania, and the U.K. and, according to a 2014 International Press Institute survey, "of the 23 EU states in which defamation remains a criminal act, 20 retain imprisonment as a possible punishment. Bulgaria, Croatia and France are the exceptions." The survey found that in the past five years, criminal defamation cases were brought against journalists in 14 member states. The presence of such laws, even in countries where they are seldom invoked against the press, provides authoritarian states across the world with a way to justify repressive actions. And it subjects the EU to accusations of hypocrisy, undermining the diplomacy that proclaims support for press freedom.
In one criminal defamation case, Italian journalist Alessandro Sallusti was sentenced in 2012 to 14 months in prison for an article published five years earlier in Libero,amagazine he edited at the time. Although the sentence was later commuted, it highlighted the anachronism of Italian libel laws. In a letter to Italian Prime Minister Matteo Renzi about the country's defamation laws in 2014, CPJ noted how charges are often used to try to silence journalists reporting on corruption and organized crime. Criminal defamation laws can also be open to abuse. According to figures by press freedom group Ossigeno per l'Informazione, between 2011 and 2013, more than a third of cases brought against the Italian press came from false lawsuits or other abuses of the legal system. Although a number of countries have caps on financial penalties, as illustrated by the International Press Institute report, litigation costs and the award of damages can be astronomical. Irish paper the Sunday World is currently appealing a 2008 order to pay €900,000 (US$988,000) in damages, according to reports.
Perhaps the most extreme version of abuse of these laws is libel tourism, in which a claimant sues in the country most likely to provide a favorable verdict. Israeli-American journalist Rachel Ehrenfeld found herself the subject of such a lawsuit in London in 2008 when Saudi businessman Sheikh Khalid bin Mahfouz successfully sued over a book she published in New York in 2003. Her high-profile case led to legislation in the U.S. to protect cross-border lawsuits, but the risk in EU states remains, despite the much-vaunted reform in 2013 of U.K. libel law.
In its guidelines on freedom of religion or belief, the EU has recommended blasphemy be decriminalized, yet blasphemy and insult laws exist in 19 member states, according to the End Blasphemy Campaign run by an international coalition fighting the laws. Some countries still vigorously enforce them. Filippos Loizos was charged with blasphemy in Greece in September 2012, after complaints from a lawmaker in the far-right Golden Dawn party, according to reports. The 27-year-old had set up a satirical Facebook page, "Elder Pastitsios," about a dead Greek Orthodox priest who has become a hero in ultranationalist circles. The blasphemy charge was dropped, but Loizos was convicted of insulting religion and handed a suspended 10-month sentence, according to reports.
In Bulgaria, France, Germany, Italy, Portugal, and the Netherlands, the penalties are harsher when alleged defamation is directed at public officials. Insults against the state, state symbols, or institutions, foreign heads of state, and even intergovernmental organizations are present in many EU members' criminal laws. Even lèse-majesté laws, under which harming the dignity of a monarch is a criminal offense, remain. In May 2015, Dutch prosecutors used it to charge Abulkasim al-Jaberi, an anti-racism activist, who, according to news reports, had been caught on camera "using a barrage of swear words against" King Willem-Alexander of the Netherlands and linking royalty to Dutch colonialism and Zwarte Piet (Black Pete), a character widely considered to be a racist stereotype. The charge was eventually withdrawn. In 2007, in Spain, two cartoonists were each fined €3,000 for offending the royal family over a cartoon published on the front page of satirical magazine El Jueves,according to news reports. It showed then-Crown Prince Felipe engaged in a sexual act with his wife.
Privacy laws are also open to abuse. "In many EU countries," Mike Harris, then-advocacy head of Index on Censorship, wrote in 2014, "the media's right to freedom of expression has been overwhelmingly compromised by the lack of a serious public interest defense in privacy law."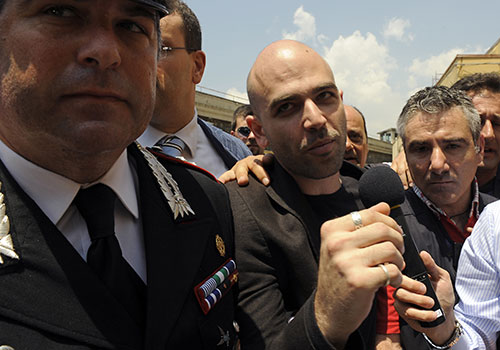 And not all journalists in the EU are completely free of physical danger. Although CPJ data shows the number of journalists killed in relation to their work is low, criminal groups, riot police, protesters, and extremist groups still pose a threat. Roberto Saviano, author of Gomorrah and Extra Pure, has been under police protection in Italy since 2006 due to threats from the Naples-based crime syndicate, the Camorra. His well-publicized case is only one example of Mafia harassment of Italy's journalists. From 2006 to the first six months of this year, 2,371 threats against journalists have been recorded, according to Alberto Spampinato, director of Ossigeno per l'Informazione, which also tracks attacks on the press. Another illustration is Pino Maniaci, the head of Sicilian TV station Telejato. In December 2014, his two dogs were found hanged close to his office. A week earlier, his car was set alight in front of the TV studio. Maniaci, who is under police protection, told the Guardian he believes the attacks were related to his station's coverage of drugs, a problem he said was connected to crime syndicate Cosa Nostra.
Bulgaria's press also comes under threat from criminal organizations. Its journalists have been victims of contract-style killings, beatings, and bomb attacks, CPJ has found. In 2014 in France, Le Monde's investigative journalist Gérard Davet was placed under police protection after he received a number of death threats directly linked to his work, according to reports.
Across the EU, CPJ has documented violence from police and protesters, despite the ability of journalists to work freely defined as a fundamental right. In August 2011, at least six journalists covering protests in Spain said they were physically assaulted by police. In a worrying trend for press freedom, after protests against austerity measures imposed by the EU, Spain passed a law in July 2015 preventing journalists from taking photographs of rallies outside government buildings, or of police. Journalists who break what has been dubbed the "gag law" face fines of up to €30,000, according to reports. "There is serious concern that the threat of these fines will lead to self-censorship to the detriment of accountability for abusive behavior such as excessive use of force by law enforcement officers," Human Rights Watch said. Such measures allow authoritarian governments outside the EU to claim they should be immune from criticism. When EU Enlargement Commissioner Štefan Füle criticized attacks on press freedom and on protesters in Turkey in June 2013, Turkish then-Prime Minister Recep Tayyip Erdoğan hit back, according to news reports, claiming that the EU also had a poor press freedom record and the methods of Turkish police to quell protests were little different from those used in the U.K. or the U.S.
Protesters have posed a threat. Photographers and cameramen came under attack in London in 2011 by demonstrators and looters who, as the Guardian's Paul Lewis claimed at the time, "were absolutely against the idea of anyone recording what they are doing." The risk of journalists being seen as the enemy increased when, in August of that year, British Prime Minister David Cameron told the House of Commons that media organizations had a responsibility to hand unused footage of rioters to the police. His claim was firmly rejected by broadcasters but in September 2011, the broadcasters BBC, ITN, and Sky News reluctantly handed unused footage to the police after Scotland Yard obtained court orders, according to news reports.
The danger from extremist and terrorist groups was brought into sharp relief by the January 2015 attacks in Paris on Charlie Hebdo. These killings had been preceded by assassination attempts against cartoonists and freedom of expression activists connected to the 2005-06 outcry over the depiction of the Prophet Muhammad in the Danish daily Jyllands-Posten. Both cases have had a chilling effect on the press. According to a March 2015 article in the French daily Le Monde, cartoonists contacted by Charlie Hebdo about becoming contributors after the attack asked if they would have to attend editorial meetings in the magazine's offices or sign under their real name. Self-censorship has not been total, but, "We have lost a battle. The terrorists have won," former Charlie Hebdo editor and director Philippe Val, who left the magazine in 2009, told Swiss TV station RTS. The hostility of far-right movements to independent or inquisitive media is also a threat in some member states. CPJ documented in 2015 how journalists have been attacked by Golden Dawn militants in Greece, heckled by National Front members in France, and sued in Hungary by the ultranationalist Jobbik party. In Sweden, investigative journalists were threatened by radical right groups. Reinforced by its electoral surge both on the national scene and in the European Parliament, where it has 10 percent of the seats, the far right has hijacked freedom of expression to push its extremist agenda, leading mainstream journalists, as they admitted to CPJ, to gingerly cover issues deemed to play into the hands of the far right.
Trends in media ownership are another concern for press freedom advocates who spoke with CPJ. In a number of countries, corporations whose business depends largely on government decisions (public works, arms trade, telecommunications) have taken majority stakes in media outlets at the risk of creating conflicts of interest and of acting as private proxy censors on behalf of the state. In France, where some leading outlets are owned by industrialists, these interactions and the fears of self-censorship have been particularly strong, as The New York Times reported. Across Eastern Europe, New York Times correspondent Rick Lyman said, "Local oligarchs and investment groups—some directly connected to their countries' political leadership—are snapping up newspapers and other media companies, prompting deep concern among journalists and others about press freedom."
Cronyism, partisanship, and a lack of transparency in governmental allocation of subsidies, licenses, and state advertising often creates what is known as soft censorship: the use by the state of financial carrots and sticks to manipulate media coverage.
In Macedonia, a candidate for EU membership, the "situation is probably one of the most acute in the region," Tanja Milevska, an EU freelance correspondent for Macedonian media, told CPJ. "All broadcasters and almost all print media are under government control via state advertising, a practice that's been highly criticized by both the EU and U.S. in all relevant reports," she said. "The result has been nine years of declining press freedom and self-censorship among journalists, putting Macedonia at the bottom of all press freedom rankings, a situation that will be extremely hard to change even once this authoritarian government falls. Nine years have left deep traces in the profession, both in terms of quality and of professionalism."
The EU likes to mention that its member states top international rankings on digital freedom. Denmark, Finland, the U.K., Sweden, France, and Belgium are among the top 10 of the 2014 World Wide Web Foundation index, which ranks each country's Internet contribution to political, economic, and social progress. But a number of EU states have a checkered record—from knee-jerk reactions in times of civil disorder to Internet blocking and mass surveillance. During the 2011 riots in England, Cameron proposed in a speech to the House of Commons that cellphone messaging and social media be temporarily shut down or disrupted. He also suggested social media be monitored and users pre-emptively banned if they were thought by authorities to be organizing criminal activity. "Please, Britain, don't let Mubarak inspire your response to unrest," Egyptian journalist Mona Eltahawy wrote in response. In an opinion piece for the Guardian, she highlighted the need for Britain to not undermine global freedom by providing foreign tyrants, such as then-Egyptian President Hosni Mubarak, with a way to justify their abuses. Similarly, after the attacks in Paris, a law came into force allowing French authorities to block Internet sites that they considered to be advocating for terrorism, without any judicial review, according to reports. "Internet censorship starts today," warned leading French newsweekly L'Obs.
"Make no mistake, journalists cannot protect their data from their national secret services."
– European intelligence expert
When the NSA revelations made headlines in 2013, most European leaders expressed dismay and outrage, but, as Washington-based Internet freedom advocacy group Center for Democracy & Technology found: "European governments have deployed systems of mass electronic surveillance to monitor journalists' contacts with sources, intercept their communications, and in some cases, obstruct their freedom of movement, launch criminal investigations, or threaten legal actions against journalists based on unlawful electronic surveillance."
Zeit Online journalist Kai Biermann added in an article reprinted in the Guardian, "The German federal intelligence service (BND) does exactly the same thing as the NSA abroad and it does so within a similar legal framework." In the U.K., the Regulation of Investigatory Powers Act 2000 gives intelligence agencies powers for interception without a judicial warrant. In a June 2015 report, David Anderson, the independent reviewer of the U.K.'s anti-terrorism legislation, called for a "rigorous assessment" of what critics, including civil liberties advocacy group Liberty, have dubbed the "snoopers' charter." "Each intrusive power," Anderson said, "must be shown to be necessary, clearly spelled out in law, limited in accordance with international human rights standards and subject to demanding and visible safeguards." The British government's reaction to the Guardian's coverage of NSA surveillance also raised concern among press freedom advocates. In a statement to MPs, Cameron said the paper should show "social responsibility." Security officials forced the paper to destroy disks containing information related to the investigative report. Conservative MPs even talked of treason, "crystallizing," as CPJ Deputy Director Robert Mahoney wrote, "the problems of an independent press trying to serve the public interest in a country that lacks robust legal safeguards of press freedom."
In January 2014, Reding, the former commissioner responsible for Justice, Fundamental Rights and Citizenship, did not hesitate to denounce the stance of EU countries. "There has been a lot of hypocrisy in the debate," she said in a speech in Brussels. Underlining the repercussions of such policies on the EU's credibility abroad, Reding added, according to reports: "If the EU wants to act as an example for other continents, it also has to get its own house in order."
In a number of EU member states, national intelligence and police agencies have shown an interest in intercepting journalists' email messages. "Make no mistake: Journalists cannot protect their data from their national secret services," warned a European intelligence expert, who spoke to CPJ on condition of anonymity because he was not authorized to speak publicly. According to documents revealed by Snowden in January 2015, the U.K.'s GCHQ "scooped up emails to and from journalists working for some of the U.S. and U.K.'s largest media organizations," the Guardian reported. One army intelligence document described journalists as a security threat and identified those covering defense as a particular concern. In France, investigative journalists claimed they were monitored by the intelligence services while reporting on allegations of illegal funding of then-President Nicolas Sarkozy's party, a claim Sarkozy and his spokesmen denied.
Officially, counterterrorism measures in member states are meant to respect the EU's fundamental rights, but freedom of expression advocates who spoke with CPJ said a number of countries have adopted legislation that formalizes mass surveillance as a corollary of terrorism prevention. In June 2015, the French parliament adopted a law allowing intelligence agencies to install surveillance technology at Internet service providers and telecommunications companies. A coalition of civil liberties groups—in particular, the International Federation for Human Rights —protested, warning the law would undermine privacy and could be abused.