23rd Annual Ceremony and Dinner
To benefit the Committee to Protect Journalists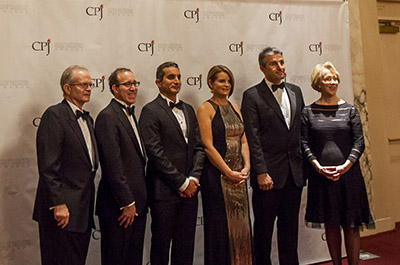 Four journalists from Ecuador, Egypt, Turkey, and Vietnam were honored on November 26, 2013, at the Committee to Protect Journalists' 23rd annual International Press Freedom Awards for their work in defiance of repression and censorship.
Arianna Huffington, founder of the Huffington Post, presented the award to Janet Hinostroza, a leading television reporter and host in her native Ecuador, for her continued investigative work, despite threats to her and her family. Egyptian satirist Bassem Youssef received his award from Jon Stewart for his political humor program, which has maintained an independent, critical posture despite harsh criticism, legal action, and suspension. Jonathan Klein co-founder of Getty Images, honored one of Turkey's leading investigative journalists, Nedim Şener, who faces up to 15 years in jail on terrorism charges because of his reporting. One honoree, Vietnamese blogger Nguyen Van Hai, could not be present because he is serving a 12-year prison sentence for "conducting propaganda" against the state. CBS's Scott Pelley, who hosted the benefit dinner, called for those present to sign a petition calling for his release. The petition, also available online, had garnered more than 7,000 signatures by the end of the night.
Norman Pearlstine, executive vice president and chief content officer of Time Inc., presented Paul Steiger, founding editor-in-chief of ProPublica and former managing editor of The Wall Street Journal, with the Burton Benjamin Memorial Award for his lifetime commitment to press freedom.
In August this year, CPJ marked the 1,000th journalist killed since the organization started keeping detailed records in 1992. A video produced for Tuesday's event by Univision reflected on those lost. "We should not have to depend on the willingness of journalists to risk their lives to bring us the news that we need,' said CPJ Executive Director Joel Simon.
The awards dinner was chaired by Daniel L. Doctoroff, CEO and president of Bloomberg.
The dinner, at New York's Waldorf-Astoria hotel, raised more than $1.65 million for CPJ's worldwide press freedom advocacy. Many of the distinguished guests at the event also pledged support during a special appeal at the end of the night. Those funds were matched by the John S. and James L. Knight Foundation, contributing another $200,000.
Full press release available in Arabic, English, Spanish, and Turkish.
Watch the video: 1,000 Journalists Killed
CPJ 2013 International Press Freedom Awardees:
Janet Hinostroza, Ecuador
Bassem Youssef, Egypt
Nedim Şener, Turkey
Nguyen Van Hai, Vietnam
Burton Benjamin Memorial Awardee:
Paul Steiger, United States