CPJ's annual International Press Freedom Awards and benefit dinner will honor courageous journalists from around the world on Thursday, November 21, 2019, in New York City.
This year's dinner will be chaired by Laurene Powell Jobs and Peter Lattman of the Emerson Collective. The evening will be hosted by Shep Smith.
Press Release | Video | Media Accreditation | Tables and Sponsorship  
---
CPJ's 2019 IPFA honorees are:
Patrícia Campos Mello is an award-winning reporter and columnist at the daily Folha de S. Paulo and an international correspondent. During the Brazilian presidential election campaign in 2018, she was attacked online and doxxed in response to her coverage of supporters of then presidential-candidate Jair Bolsonaro allegedly sponsoring bulk messaging in WhatsApp.
---
Neha Dixit is a freelance independent journalist in India, who has shed light on important human rights issues through her investigative journalism. She has faced legal and physical threats, as well as online harassment, after reporting on alleged wrongdoing by right-wing nationalist groups and police.
---
Lucía Pineda Ubau is the news director of the Nicaraguan broadcaster 100% Noticias, and Miguel Mora is the outlet's founder and editor. Both were imprisoned in December 2018–and freed in June–in connection to their coverage of political unrest in the country. The outlet is banned from broadcasting in Nicaragua, and the government has seized its studio and equipment.
---
Maxence Melo Mubyazi is a champion of online freedom of expression in Tanzania. He is the co-founder and managing director of Jamii Forums, a popular East and Central African website and discussion forum that is a source of breaking news. He has been charged under the country's restrictive Cybercrimes Act and, in 2017, appeared in court 81 times.
---
Gwen Ifill Press Freedom Award Winner
CPJ's Gwen Ifill Press Freedom Award is presented annually to an individual who has shown extraordinary and sustained achievement in the cause of press freedom.
Originally the Burton Benjamin Memorial Award, it was renamed in 2017 to honor Gwen Ifill, the veteran journalist and former CPJ board member who died in late 2016.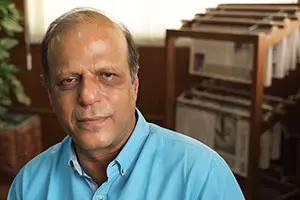 (White Star/Arif Mehmood)
Zaffar Abbas is the editor of Dawn, Pakistan's leading daily. Abbas, who has decades of experience as a reporter in Pakistan, has led Dawn since 2010. Under his editorship, Dawn and its reporters have come under government pressure several times.
---
Media Accreditation
CPJ International Press Freedom Award winners are available for interviews, upon request, prior to the awards dinner on November 21, 2019. Media accreditation for coverage of the awards dinner will begin on November 7, 2019.
Media contact:
Bebe Santa-Wood, Communications Associate
Email: [email protected]
Phone: +1.212.300.9032
---
Tables and Sponsorship
CPJ's 29th annual International Press Freedom Awards dinner will be held on Thursday, November 21, 2019, at the Grand Hyatt New York (42nd Street and Lexington Avenue) in New York. The reception will begin at 6:30 p.m., and the dinner will be served at 7:45 p.m. The event is black-tie.
For more information, call Buckley Hall Events at (914) 579-1000 or CPJ's Development Office at (212) 300-9021, or email [email protected].
---