CPJ is honored to present its 2019 International Press Freedom Award to Nicaraguan-Costa Rican journalist Lucía Pineda Ubau and Nicaraguan journalist Miguel Mora.
Lucía Pineda Ubau has worked as a reporter for more than two decades for Nicaraguan outlets including TV Noticias and the news program "22/22," which she co-founded. She first worked at 100% Noticias from 1995 to 2001, when it was a news show, then rejoined it in 2008, when it had evolved into a 24-hour cable and digital channel. She is the news director of the outlet.
Miguel Mora is the director and founder of 100% Noticias, one of the main independent media outlets reporting on the political crisis in the country. Its journalists, especially Mora, have faced constant harassment and threats as a result of their reporting. The outlet is banned from broadcasting in Nicaragua, and the government has seized its studio and equipment.
In June, Nicaraguan authorities released Pineda and Mora after detaining them in a December 2018 raid on the newsroom of 100% Noticias. The two were rushed through court appearances for a trial that was repeatedly delayed in which they were accused of "inciting violence and hate" and "promoting terrorism," allegations that CPJ called "absurd." They were kept under surveillance and in isolation for the majority of the 172 days they spent in prison, and their health, including their eyesight, deteriorated. Although Pineda also holds Costa Rican citizenship, Nicaraguan authorities denied Costa Rican authorities access to her while she was imprisoned.
CPJ repeatedly condemned Mora and Pineda's imprisonment and called for their release and for all charges against them to be dropped. In January 2019, we sent an open letter to President Daniel Ortega and Vice President Rosario Murillo to express alarm and concern over their imprisonment. The letter was signed by CPJ and nearly 250 journalists from all over the world, including Algeria, Romania, and Taiwan.
The imprisonment of these journalists is emblematic of the media environment in Nicaragua, where authorities have cracked down on dissent since anti-government protests began in April 2018. Outlets have been shut down, and journalists have been targeted with violence, harassment, and persecution. Dozens have fled Nicaragua. CPJ's Emergencies team has provided many of them, including colleagues of Pineda and Mora from 100% Noticias, with assistance and has distributed safety updates on the media environment in the country.
The text of Lucía Pineda Ubau and Miguel Mora's acceptance speech, as prepared for delivery, is below

For the Spanish-language version of the speech as prepared for delivery, click here

We thank Almighty God for the blessing of standing before you today; SAFE, SOUND, AND FREE.
We dedicate this award to our God Almighty, Lord of the Hosts.
Nicaragua is being threatened with death.
"We will kill those who protest" is the motto of the dictatorship. Beatings, bullets, and death is their daily recipe to hold on to power.
In Nicaragua there was no attempted coup, there is no civil war.
What is happening now in Nicaragua is a state-sanctioned massacre of an unarmed population, a massacre that, to date, has resulted in almost 400 deaths, over 3,000 shot, many tortured, hundreds of political prisoners, almost 100,000 in exile.
Never before had we understood the true value of press freedom as we do in these trying times for our people and our homeland.
It is a freedom that holds within itself all other freedoms. We cannot minimize it, trivialize it, give it away or delay it.
It is a matter of life or death.
If we exercise it with truth and justice, we bring life; and if we betray it, we bring death and become complicit.
As Nicaraguan journalists, we will not tolerate censorship, nor will we surrender to it. Never.
We cannot, we should not, we do not want to. We won't do it.
We chose the truth.
And so we saw the journalist Ángel Gahona hit by bullets fired by paramilitaries during a live broadcast. We rescued journalists who had been shot, beaten, and threatened with death.
100%Noticias is confiscated. But as long as there is a cell phone, a computer, the Internet, a website, social networks, a street, a square, a church, even from a dark cell, we will keep reporting the truth.
Don't forget about Nicaragua, we are counting on you.
God bless all journalists with dignity in this world.
Change comes from God, and nothing, nobody, can stop it.
God bless Nicaragua and the United States of America.
Thank you so much.
---
CPJ's 2019 Awards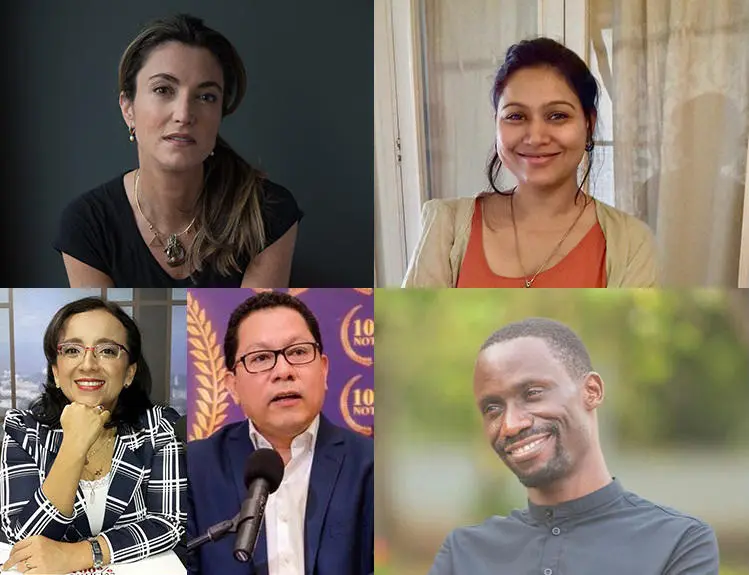 ---
CPJ's 2019 Gwen Ifill Press Freedom Award