By Daniel DeFraia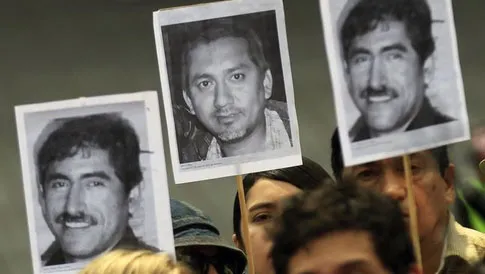 The Pakistani journalist knew the risk, but he wrote the story about the militants anyway. Years earlier he had been shot, after reporting on another taboo subject, but for him the freelance work was thrilling, even after he had to marry his girlfriend in secret and flee Pakistan without her–and still now, since the nightmares began.
Constant stress and anxiety made sleeping hard, and the days were harder. "I can't even stand in one place for five minutes," he said. "My legs get tired."
He tried to laugh it off. "If you see my picture way back in 2010 and see my picture now, with every passing day, my friend, Dan, I got less and less handsome."
He liked big stories and his passion to report them kept him going, but everyone has a limit. Now, after five months of panic attacks in a refugee camp in Europe, he finds himself between a world of death threats and the promise of safety. If his request for asylum is rejected, he could be sent back to Pakistan.
The middle-aged journalist is among many local (rather than international) journalists I interviewed by phone, email, or Skype during eight months as a Committee to Protect Journalists Steiger fellow. Some had been attacked or had received a death threat, and they often had little money and needed help. Most were resilient despite horrific experiences. Others appeared traumatized and troubled by relentless stress. Their sleepless nights weren't always about a single traumatic event; for many they were the result of long-term cumulative experience.
It is difficult to quantify the psychological costs of that kind of stress for journalists, and there are few studies on how it affects them, their families, or their reporting. But there is no question that the effects are felt in small and big ways and invariably affect journalists' lives and their ability to report–resulting in both personal challenges and an issue of press freedom.
The journalists I interviewed worked in Mexico and Pakistan, both places where journalists are regularly targeted for murder and their killers go free. Although the number of journalists killed each year is not as high as in such war zones as Syria and Iraq, these borderline conflict zones are far more dangerous than more stable places. Mexico and Pakistan consistently rank high in CPJ's annual Impunity Index, which calculates the number of unsolved journalist murders as a percentage of each country's population.
Government forces and militant groups in Pakistan, and cartels and corrupt officials in Mexico, have intimidated the free press and become arbiters of what journalists may say and, therefore, what people may know. Journalists are regularly threatened not to cover certain stories–or ordered to cover certain viewpoints–or else they or their families will be harmed. And each time a journalist is threatened, attacked, or killed with impunity, a message of intimidation is broadcast and reinforced.
My interviews with Mexican and Pakistani journalists, mental health professionals, researchers, and press freedom groups between October 2013 and May 2014 revealed the consensus that journalists in these countries face a unique array of threats and possible responses to them. Some journalists interviewed feared violent reprisal and requested anonymity.
"A threat has so much power in terms of emotional impact for a journalist and their colleagues," said Ricardo González, global protection officer for the free speech advocacy group Article 19. "We have to say that this kind of intimidation will also affect their most immediate circles of family, friends, and colleagues."
And when the threat comes, journalists often receive inadequate support from uncaring employers and their governments, the latter of which they often fear and distrust. To make matters worse, getting basic psychological care is difficult. With the limited help of a few nonprofits and each other, journalists cope as best they can.
*****
Though most media coverage of attacks against the press around the world is focused on international or well-connected journalists, nine of 10 journalists killed are local people covering local stories. Mexican and Pakistani journalists who work amid the endemic violence of their home countries cannot easily seek respite or safety by taking the next plane home.
In northern Mexico, drug-related violence is common, and so are threats to close relatives. In Chihuahua, in August 2012, armed men abducted and tortured journalist Luis Cardona. They left him with a message, he said: "Their sentence was that I couldn't return to my home, or they will kill me or my family."
"I'm in this because of a calling, and I know the risks," added Cardona, who now lives apart from his family.
Other journalists I spoke with also accepted risk because of their deep love of the job. As a journalist in the restive Baluchistan province of Pakistan said, "I have accepted these threats as a part of my life now." However, that journalist added, "It is the risk to my colleagues and my family members that is of a particular concern to me, at all times."
"One of the things that plagues journalists are the ethical dilemmas they face," said Elana Newman, lead researcher for the Dart Center, which researches and supports the responsible coverage of trauma. "And I think we've made a mistake in focusing too much on post-traumatic stress disorder [PTSD]," she added. "I think we need to just focus on stress and the important work that journalists do."
On November 13, 2008, a gunmen murdered El Diario de Juárez crime reporter Armando Rodríguez Carreón while he was parked in his driveway, with his 8-year-old daughter in the back seat. Chihuahua journalists and their families felt the weight of the attack deeply, according to Jeannine Relly and Celeste González de Bustamante, both journalism professors at the University of Arizona.
During their field research in 2011, a journalist from Chihuahua told Relly and de Bustamante: "I can't take [my daughter] to the movie theater … or let her go to a party in someone's house, because, no, I can't let her do that. So we ourselves as parents have been those who imprison our children, because we have to protect them, right? And this generation, the poor things, have suffered enough."
Adding to the stress of deliberate attacks on colleagues and direct threats to themselves and their families, journalists in borderline conflict zones must regularly cover general violence, and they risk being caught up in that violence themselves.
On June 11, 2011, a bomb exploded at a Peshawar restaurant and Safiullah Gul Mehsud went there to report. As CPJ wrote at the time, "A second, larger explosion, apparently a suicide bomb, went off after the crowd had grown." Two reporters died, but Mehsud, severely injured, survived. He kept reporting, and in 2012, again in Peshawar, militants launched a rocket attack on an airport near his home.
"When I heard the first explosion, I just left my house, took my car, and rushed to the spot and called someone at the bureau," Mehsud said. "Then all of a sudden there was a second and third explosion." That's when his brother called and told him to speak with his son.
"He was at that time just 4, 4-and-a-half," Mehsud recalled, "and he was crying and he was just shouting and crying." The son remembered that his father had been injured in a second blast, and he thought that his father might be injured again, "and that was when I realized that even if you are strong enough, your family or people around you really can suffer from trauma," Mehsud said.
After the airport attack, Mehsud sought information on trauma. He found Dart's 2013 Ochberg Fellowship, in which journalists take a short reporting course on violence and mental health, which he did in Bangkok. Now Mehsud is bureau chief at Dunya TV, an Urdu-language channel whose coverage ranges from talk shows to terrorism news. He oversees about 50 employees, and he feels responsible for their well-being.
Not everyone feels that way. Journalists and researchers in both Pakistan and Mexico frequently told me that managers dismissed their employees' emotional distress. "I must say that, besides a few exceptions, communication companies usually remain indifferent when faced with this problem," said Rogelio Flores, a trauma journalism researcher from the National Autonomous University of Mexico.
In his 2011 study on Mexican journalists covering the drug wars, Flores reported that many had shown symptoms of anxiety, depression, and PTSD. In 2012, Dr. Anthony Feinstein, a leader in the field of journalism and trauma, published a study suggesting that Mexican journalists reporting drug-related news showed signs of psychological distress similar to those seen in war correspondents.
Yet many media companies fail to assume responsibility for their employees, Flores said. "I've known cases in which, rather than care for a journalist's mental health problem that arose from their work, media companies will fire them," he said. Other sources I interviewed, both in Mexico and Pakistan, made similar observations.
American journalist and professor Sherry Ricchiardi told me that she had spoken with hundreds of local journalists, in part as a trainer for the International Center for Journalists, a media-development nonprofit. In terms of psychological care, she said, "Nobody is doing anything for them, outside themselves."
"We do try to form a network, where we talk to each other and share our experiences and feelings," a Pakistani journalist observed, "but, beyond that, we don't do much."
Mehsud's newsroom is an exception. "We are just like a family," he said. Employees have peer support, and Mehsud is trained in trauma awareness and basic self-care techniques. "Now I'm more vigilant to the situation of my staff and my colleagues," he said.
In Pakistan, where professional psychiatric health services are limited, Mehsud's training is mostly limited to peer-to-peer support. At a training session in Lower Dir, Mehsud met two journalists in their mid-40s who had been kidnapped and tortured by militants. "It's been almost more than a year, and they keep on calling," Mehsud said. "We are now friends."
Similarly, Javier Garza Ramos, who was deputy editor of Mexico's popular El Siglo de Torreón newspaper at a time when its offices were shot at with AK-47s and some of its employees were kidnapped, figured out ad hoc how to handle his newsroom. After a traumatic event, Ramos (also an Ochberg fellow) gave a journalist paid leave to "decompress." He also temporarily took another reporter off the police beat. And he offered to arrange counseling for traumatized staffers, though most just said, "OK, thanks, I'll keep that in mind," he recalled.
As in Mehsud's newsroom, there was a sense of solidarity at El Siglo de Torreón. "When we experienced attacks, the newsroom really came together," Ramos said. "We tried to develop ways where we could all look out for each other," even though the paper could not guarantee everyone's safety.
But what happens when media management fail their employees? Pakistan has a dynamic network of small and large press clubs but not much else in terms of psychological support. Mexico's media support network appears slightly more organized, though with only limited psychological support.
In Mexico, Article 19 partnered with Vinland Solutions, a private psychological training and support group, and its owner, AnaMaria Zellhuber, to provide journalists with counseling. Though the program has been in place for seven years, Ricardo González said, the response has been spotty because some journalists see psychological care as culturally taboo. "In Mexico, the way we really deal with it is drinking alcohol," Zellhuber said. "That's how they cope with it, by avoiding it."
Still, the partnership has assisted between 300 and 350 journalists through counseling, González said. Program staff also help distressed journalists better evaluate decisions about their security so they don't mistakenly minimize or magnify threats and help get them back to reporting the news. "It's really terrible to go and visit someone in their own city after a threat, and a year goes by, and then you come back and the journalist has quit their job, they are divorced, and have developed some sort of addiction," González said.
After his kidnapping, Luis Cardona received three months of in-person therapy and almost a year of counseling over the phone with Article 19's help. "It made me stronger," he said. "With help from the psychologist, I was able to return to the fight from another point of view, with precaution but without fear, and I decided to continue informing. I can't imagine life in any other way." On December 19, 2013, Cardona and other Mexican journalists displaced by violence launched a news website, Diario19.com.
Although the Mexican government provides aid, including psychological support, to victims of violence, Zellhuber said the program–originally known as PROVÍCTIMA but replaced with the Executive Commission of Attention to Victims in 2014–has had limited success because journalists generally don't trust the government. The government's "mechanism," which protects journalists with safe houses, bodyguards, and the like, has also been heavily criticized for incompetence and its inability to keep journalists safe.
So more nonprofits have stepped in to provide support. Another Mexican organization, Periodistas de a Pie, ("Journalists on Foot"), was initially intended to train journalists covering poverty, but it soon became a "crisis center," according to one of its co-founders, Mexican journalist Marcela Turati.
The remote hot spots where journalists live and work lack qualified mental health professionals, and many, meanwhile, find it hard to seek support in urban centers such as Mexico City. "They [journalists] have one day off, and they can't go there," Turati told me, "and they are afraid, and they don't have money."
Trauma education and peer support are essential, though neither offers a complete solution, Turati and others told me. "We ask people to share their experience and how they deal with this and what they do to be better," Turati said. "That was really good. It was painful but not hopeless."
*****
Javier Garza Ramos recalled that the cartel's warning, issued to another news outlet, was unequivocal: There could be no stories about murdered cartel members. But then a rival cartel murdered members of the cartel that had threatened the newspaper and dumped their bodies with the message "Now you have to publish these," Ramos said.
Similar rivalries complicate coverage in Pakistan. In the country's tribal belt, which borders Afghanistan, it is "so difficult to identify this thing–who is on whose side," said a journalist who received threats from the Taliban, as well as from the state's powerful agency, Inter-Services Intelligence (ISI), "so when you report it's like walking on a thin line."
"You are working in complete isolation, from within the country and the world," said another Pakistani journalist. "Caged in home" is how another one put it.
Multiple threats from different groups or rivals can make maintaining long-term security difficult. Yet finding a safe environment is crucial for coping with a traumatic event, and constantly living with danger and chronic stress may compromise journalists' resilience and increase the severity of their stress symptoms. "To where would they flee?" Rogelio Flores asked. "Where could journalists give themselves a rest?"
Journalists in distress can escape to a different part of their country, or flee the country–legally or illegally. If their requests for political asylum are rejected, they may become an unrecognized refugee or undocumented immigrant at the mercy of human smugglers. Even assuming all goes well, there is still the question of how to work and live in a foreign country, a problem millions of refuges face worldwide.
But in fact, most threatened journalists in Mexico and Pakistan cannot or choose not to leave. They continue to report, despite the culture of impunity that reigns. Mexico's organized crime can target a journalist safely, knowing the authorities won't investigate. In Pakistan, the military, the ISI, gangs, separatists and terrorists attack journalists without fear.
In April 2014, popular Geo News anchor Hamid Mir survived being shot multiple times. There has been no accountability for the attack, though two arrest warrants were issued against Mir for his reporting. In Mir's case, there were greater repercussions for reporting the news than for attempted murder.
An attack against a journalist is sometimes intended as a public statement signaling to other journalists and their families that they are vulnerable and that the attacker is in control. As one Pakistani journalist noted, if Mir could be attacked with impunity, lesser-known local journalists would feel more vulnerable when reporting on government agencies or militant groups.
In light of the danger and the lack of publicity, accountability, or support, I asked a Pakistani journalist awaiting a ruling on his asylum request, "Why don't you quit?"
"And now you tell me to write about flowers," he said.
"Why not?"
"Writing and journalism is not just a career. It's my passion. It's my moral responsibility."
Cardona, who can no longer live with his family, had a similar take. "I've lost my family," he said, "but if I can teach my children anything, it's to not be cowards, nor mediocre–to devote themselves completely to what they believe. Journalism is not an act; it's a way of life."
Daniel DeFraia is a freelance journalist and American studies Ph.D. student at Boston University. He was CPJ's 2014 Steiger Fellow and worked in the Journalist Assistance program.