Divided and alone, Pakistan's press finds safety in numbers
To compensate for the unwillingness or inability of government institutions to create a safe atmosphere for the press or tackle the ongoing issue of impunity in the murder of journalists, several independent organizations, including the Freedom Network, Media Matters for Democracy, the Pakistan Press Foundation and Rural Media Network Pakistan, offer training, safety advice, or solidarity.
More in This Report
Multimedia
In Print
CPJ highlighted the need for media organizations to promote and advocate for the press in its 2013 report. Its recommendation in the same report that Pakistan appoint a special prosecutor is now part of the national agenda. Leaders of these active press organizations agree that perhaps their most significant achievement was putting journalist safety on the social and political map.
Although each organization has a different approach, they document press freedom violations, study media industry trends, provide safety or professional training, weigh in on issues affecting journalists, or provide assistance.
The oldest group is the Pakistan Press Foundation, which was founded in 1967 and documents attacks on the press and provides media development training. After being shut down in 1974 under political pressure, the foundation was revived in 1992 under the leadership of its current executive director, Owais Aslam Ali.
"When we started in 1992, there was no systematic monitoring of attacks on media. Now, there are a number of organizations that are monitoring attacks on media," Ali said. "Many organizations throughout the world are [now] interested in what is happening in other countries. … Now, there is quite a consensus among all segments of society that violence against media is not acceptable. I think that is quite a big achievement."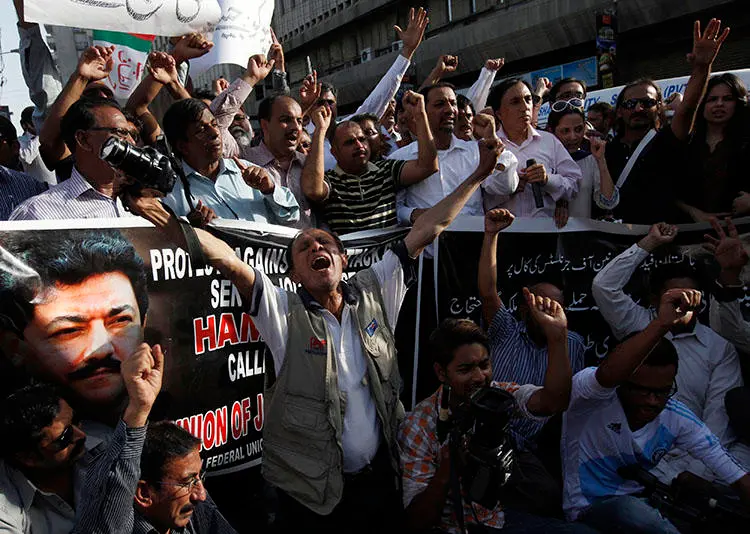 Iqbal Khattak, founder and executive director of Freedom Network, which documents attacks and advocates for journalists and press freedom, said, "Today, journalist protection and safety is [part of] a national agenda." Khattak added that the government and members of parliament "understand the need to combat impunity, which I believe is the root cause of problems journalists in media face in Pakistan as far as their protection and safety is concerned."
Other achievements in journalist safety and press freedom include:
Journalist safety bill: When a delegation of CPJ representatives met with then-Prime Minister Nawaz Sharif on March 19, 2014, it received broad commitments that Sharif would take action on journalist safety, including establishing a commission, appointing special prosecutors for journalist murders, and expediting prosecutions. While little concrete was done immediately after the meeting, some of the ideas appear to have found their way into successive drafts of the legislation.
A draft bill in 2017 proposed paying compensation to the families of killed journalists, appointing a special prosecutor, and widening the definition of who a journalist is.
Dawn editor Zaffar Abbas said the draft bill is recognition by politicians, from all sides, of the importance of press freedom and journalist safety. Still it has flaws. "This law is silent on taking action against the security agencies or when government officials are accused," he said.
Other critics, including members of journalist unions, said the draft failed to include measures to protect journalists from attack, that the special prosecutor lacked power to compel investigations, and that the bill would allow authorities to determine who is—or is not—a journalist.
Asad Baig, executive director at Media Matters for Democracy, said he was uncomfortable with the government deciding who is a journalist. "If there has to be a special mechanism to protect people, then it should be based on the idea of free expression and free media," he said.
The draft bill is waiting to be submitted to parliament for a vote.
Editors for Safety: In December 2015, Editors for Safety, essentially a WhatsApp group of about 30 members, was founded to help the press harness its single most powerful tool—the power to bring publicity and shape public opinion—in its defense.
Previously, attacks on journalists went largely unreported, except by the affected news outlet. Editors and journalists said that if an attack was reported, news outlets often did not report the names of those involved.
Members of the group give instant publicity to a case, including the name of rival publications, when called on by the group. The group claimed an early success in February 2016 when the abduction of Afzal Mughal, who worked for the Urdu-language The Daily Mashriq in Quetta, was quickly broadcast on 21 TV stations. The journalist was returned home. Alive.
Safety Hubs: Iqbal Khattak, founder of Freedom Network, has established "safety hubs" in Lahore, Islamabad, Peshawar, Karachi, and Quetta. The hubs give journalists a place to turn when under pressure from police and security forces, government officials, religious groups, criminal gangs, or even businesses. They also document attacks on the press, and help to relocate threatened journalists.
Khattak said the safety hub manager—a part-time employee who is also a journalist—serves as a mediator. The safety hub operation is still embryonic, with some journalists telling CPJ they weren't aware of the initiative, and others expressing doubt they could trust fellow journalists on sensitive issues involving militancy, the military, or religion.
Ultimately, only stronger government institutions with the means and the will to uphold a free press can ensure a safer environment for the media. In the meantime, these press freedom groups will continue to play an important role to promote safety and ensure protections for journalists remains on the national agenda.