Breaking the Cycle of Impunity in the Killing of Journalists
The lack of justice in hundreds of murders of journalists around the world is one of the greatest threats to press freedom today. While international attention to the issue has grown over the past decade, there has been little progress in bringing down rates of impunity. States will have to demonstrate far more political will to implement international commitments to make an impact on the high rates of targeted violence that journalists routinely face. A special report by the Committee to Protect Journalists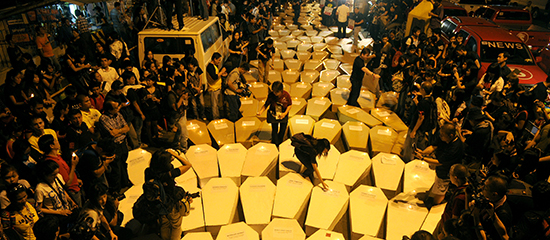 Issued October 2014
TABLE OF CONTENTS
Foreword
By Myroslava Gongadze
It isn't just one story that ends with a journalist's death; a climate of intimidation builds. If no one is punished, killers are emboldened, and violence repeats. Journalists have no choice but to censor themselves or even flee into exile. Targeted attacks on the media have kept the world from understanding the full dimension of violence in Syria, drug trafficking in Mexico, militant influence in Pakistan, and corruption in Russia.
2. Measuring Progress Against Stubborn Reality
International recognition of impunity as a global problem, including by the United Nations, is an important step. But outside of political corridors, progress is spotty; impunity rates have risen steadily over the past decade in most countries. One encouraging sign: convictions in journalist murders have been edging higher. One country, Colombia, embodies hope, but also shows the long road that must be traveled to reach justice.
There are many ways that widespread, enduring impunity takes hold when it comes to attacks on journalists. In some cases, it is a lack of political will. In others, conflict or weak law enforcement keeps justice at bay. In most situations, it is a combination of these factors. Examining the environments in which impunity thrives is the first step to ending it.
Sidebar: The Unsolved Murder of Natalya Estemirova
4. Steps That Work and Those That Don't
Years of intensive advocacy by press freedom groups, human rights organizations, and journalists have prompted some governments to pledge to fight anti-press violence. But many have failed to take action. Others have enacted legislation, created task forces, or appointed special prosecutors and commissions, with varying degrees of success. Some of these initiatives have led to progress; some were well conceived but poorly resourced; some appear to be little more than a means to deflect criticism.
Sidebar: A New Start on Old Murders in Serbia
5. Building Pressure, Enforcing Compliance
The United Nations has adopted resolutions addressing impunity and journalists' safety and launched a plan of action. The plan is taking root in a couple of countries identified for early implementation—namely, Pakistan and Nepal—but has utterly failed in Iraq. To maintain momentum globally, U.N. agencies must increase engagement. Another tool gaining small ground in the fight against impunity is the network of regional courts, but their judgments are often flouted.
Sidebar: Raising the Cost of Impunity, in the Name of Magnitsky
The fight against impunity in the killing of journalists has reached an important juncture, where modest gains could give way to complacency. Efforts by relatives and colleagues, sustained media attention, diplomatic pressure, and litigation have pushed justice forward in rare cases. There are more steps governments can take, including moving trial venues, improving witness protection, reforming judiciaries, and creating independent bodies to scrutinize flawed investigations. Some solutions require extensive resources, but others do not. Meeting U.N. obligations to combat impunity must be paramount.
CPJ's recommendations to national governments, the international community, and the news media.
Journalists Murdered Between 2004 and 2013.
Key U.N. documents and Resolutions.
Multimedia: Slideshow: Seeking the masterminds
In other languages: Español, Français, Português, العربية, Русский
In print: Download the pdf
PHOTO: Journalists and journalism students carry mock coffins in Manila to commemorate the third anniversary of the November 23 Maguindanao massacre in the Philippines. (AFP/Noel Celis)