2. Military Censorship
By Sherif Mansour
A swarm of police vehicles converged on Media Production City moments after Gen. Abdul-Fattah al-Sisi announced on July 3 that Mohamed Morsi had been ousted. The compound outside Cairo is home to nearly every TV station in Egypt, but the police were targeting five particular stations that night: the Muslim Brotherhood-run Misr25, and four pro-Morsi Islamist stations. One by one, the stations' live coverage went off the air, while police herded and handcuffed about 200 employees, confiscated equipment, and seized cell phones. Taken to a security facility, the employees were interrogated about their associations with the Muslim Brotherhood. Most of the administrative and support workers were released in a few hours, but 22 journalists were kept for more than a day on accusations of conspiring to overthrow the regime.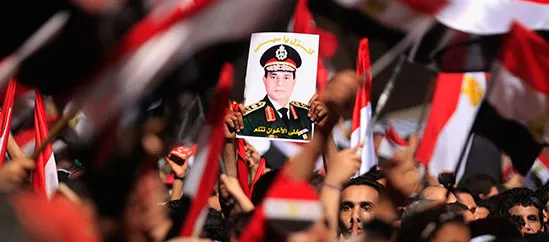 "I didn't have time to say a word against the coup," said Mohamed Gamal, who was anchoring Misr25's live coverage when police stormed into his studio and took him off the air. "So I am not sure what they meant with these charges."
Beginning in the minutes after seizing control, and then over the days and weeks since, the Egyptian military imposed widespread censorship against pro-Morsi news media and obstructed coverage supportive of the Muslim Brotherhood and the toppled president. At least three journalists remained in detention as of August 1. If the repression thus far has been aimed at one segment of the news media, there are ominous signs for the press across the political spectrum. The military and the transitional government say they want to create a journalistic code of ethics, and have conditioned the lifting of existing censorship on its adoption. The process by which such a code would be drafted and approved and the extent of government involvement in its enforcement have been vague until now, but various official statements indicate that authorities intend to have a strong hand throughout.
Morsi's overthrow also cast into stark relief a deeply partisan and polarized Egyptian press. The divide between pro- and anti-Morsi news media—two camps constituting much of the Egyptian media landscape—had been growing for many months before the overthrow. After the ouster, these news media competed to own the narrative and even the terminology: Was this a coup, a popular uprising, or something else? Most journalists who had opposed Morsi failed to speak out forcefully against military censorship in the initial days of the takeover, although some have grown more critical.
Seeking to justify censorship
As they were shutting down Misr25 and the four Islamist stations—Al-Hafez, Al-Nas, Al-Rahma, and Al-Khalijiya—authorities raided Al-Jazeera Mubashir, briefly interrupting studio commentary on pro-Morsi protests and detaining several of its employees. The day before, special army units occupied state television newsrooms, and they kicked Morsi's minister of information, Salah Abdul Maqsoud, out of the building.
Over the following weeks, several steps were taken to extend censorship of pro-Morsi media. Al-Ahram, the government printing house, refused to print the Muslim Brotherhood's Freedom and Justice daily, and Egypt's Nilesat satellite operator jammed three pan-Arab satellite television stations, the Hamas-affiliated stations Al-Quds and Al-Aqsa, and the Jordanian Al-Yarmouk, when they tried to broadcast pro-Morsi demonstrations.
Al-Jazeera Mubashir and the Turkish news agency Anadolu, which are among the few remaining outlets considered sympathetic to Morsi and Muslim Brotherhood, have faced obstruction. In some cases, crews working for the two stations have been denied access to official press conferences and events. One Al-Jazeera staffer, photographer Mohammad Bader, was being held on charges of weapons possession as of August 1.
Two other journalists remained in detention on August 1: Misr25 commentator Mohamed al-Omdah and Al-Nas host Khaled Abdullah, both held on charges of incitement to violence. Both routinely voiced harsh views. Two weeks before Morsi's ouster, for example, al-Omdah threatened to declare "jihad" if the presidential palace was stormed by demonstrators during the June 30 protests. Abdullah often called critics of Morsi "infidels" who were carrying out the devil's plan and, on June 23, he hosted a Salafi leader who sought to justify the killings of several Shia.
Although the order shutting down the five pro-Morsi stations only vaguely described the censorship as "exceptional measures," a military spokesman, sympathetic media, and military allies have all invoked incitement to violence as justification. Over time, the Islamist stations have hosted extreme views. In December 2012, for example, a Salafi leader who was a guest on Al-Hafez vowed that his supporters would beat talk show hosts and Morsi critics such as Ibrahim Eissa. In February, another Salafi sheikh said on Al-Hafez that leaders of the opposition National Salvation Front should be killed.
Incitement to violence in the context of national security, as defined in the internationally recognized Johannesburg Principles, must be "intended to incite imminent violence," "likely to incite such violence," and have a "direct and immediate connection between the expression and the likelihood or occurrence of such violence." National law must provide adequate safeguards against abuse, including "prompt, full and effective judicial scrutiny," according to the principles, which were adopted in 1995 by experts in international law, national security, and freedom of expression.
At least three of the shuttered Egyptian stations have filed appeals to Egypt's administrative court, but no action has been taken in response to their complaints. Mohamed Zarea, director of the Arab Penal Reform Organization, which has argued cases before the court, said he was optimistic the panel would act independently but said a ruling could take some time.
Many journalists and liberal thinkers did not speak out against the military's censorship and suppression and, in some instances, seemed to support the military's actions. Some suggested the censorship would be short-term. "I believe those actions against religious channels were not justified, but I also believed the army when they said they were temporary measures," said Magdy el-Galad, the editor-in-chief of Al-Watan and a leading voice in the effort to oust Morsi. His newspaper had consistently criticized Morsi and, in turn, been subjected to numerous physical and legal attacks by Morsi supporters.
But Gamal Eid, director of the Arabic Network for Human Rights Information, said the military's censorship should be rejected outright as a "group punishment" that reflects Mubarak-era principles. Wholesale censorship of a particular perspective, he said, punishes viewers and denies citizens their right to receive information. "Before we look forward to what needs to happen," Eid said, "those TV stations should be allowed to resume as soon as possible."
Bassem Youssef, a political satirist who often skewered Morsi on his TV show "Al-Bernameg," told CPJ that he's concerned that a highly patriotic atmosphere could slip into an Egyptian version of McCarthyism, in which politicized charges are made without regard to evidence or law. The liberal press, generally supportive of the military, has yet to be targeted by restrictions, he noted. But that could change. "We have to wait for people to criticize the army and see if this will have a negative impact on press," he added.
Morsi supporters say censorship imposed temporarily will inevitably become permanent. Wael Haddara, Morsi's former communication adviser, said he expects independent voices to "be silenced, muzzled, or compromised by the use of the so-called 'safety valve' method deployed by Hosni Mubarak, where some people are allowed to speak out as window dressing."
The military has not tried to impose restrictions on social media thus far. Online censorship would draw international criticism, but a domestic political calculus is also at work. The Muslim Brotherhood uses social media, but it has traditionally relied more heavily on television and direct calls to action from clerics. Morsi's opponents, on the other hand, are a much more active presence on social media.
Despite the closing of the pro-Morsi media outlets, the country has been gripped by violence. In the weeks following Morsi's fall, hundreds have been killed and thousands more injured in clashes across Egypt. On July 8, after more than 60 pro-Morsi demonstrators were killed by military fire when they surrounded the Republican Guard headquarters, the Muslim Brotherhood was largely unable to raise questions or voice its response through the press. Most Egyptian television channels reported only the military account—that Brotherhood supporters who camped outside the Republican Guards headquarters were killed when they tried to break into the building. But international media and human rights groups such as Human Rights Watch and Amnesty International concluded, after examining video evidence and interviewing eyewitnesses, that the military had launched a coordinated assault against the protesters. Human rights groups called for an investigation into excessive use of force against the protesters. An Egyptian photographer working for a newspaper affiliated with the Muslim Brotherhood was among those killed by military fire that day. Three weeks later, on July 27, a fierce police crackdown on pro-Morsi demonstrators led to the deaths of at least 80 more people.
A polarized climate
In the months before the military overthrow, particularly after the 2012 passage of the repressive and highly criticized Muslim Brotherhood-backed constitution, private news media had fallen into two increasingly hardened camps—pro- and anti-Morsi, author and Georgetown professor Adel Iskandar wrote on the CPJ Blog. "Transnational private stations like Al-Jazeera Arabic, Al-Jazeera Mubashir, and Al-Arabiya also took sides, with the Al-Jazeeras anchoring their support for Morsi and the Brotherhood and the Saudi Al-Arabiya siding with the then-president's opponents," he said. "In this polarized environment, journalistic professionalism went out of the window as each camp drummed up support for its side and demonized the other."
The sharp divisions in the press are reflected in competing narratives over the military-backed transition and its impact on the press. Emad Eddin Hussein, editor-in-chief of Al-Shorouk, an independent daily, told CPJ that the political divide has taken a toll on the press. "It is almost impossible for the media to operate freely and present professional journalism as both religious and nationalist forces produce polarizing narratives that reject the other side and escalate divisions and potential for armed confrontations," he said.
Another editor said she had discerned a different trend in coverage after the takeover. Lina Attalah, chief editor and co-founder of independent news website Mada Masr, told CPJ that much news media coverage seemed to have fallen closely in line behind the interim government. She said it's not clear whether that resulted from pressure from management or the military, or from more generalized self-censorship. "Either way, it is a problem," she said.
At least initially, many supporters of the overthrow said they believed repression of the pro-Morsi news media would be lifted once the Muslim Brotherhood engaged with the transitional government. Transitional President Adly Mansour, who promised parliamentary and presidential elections within six months, invited the Muslim Brotherhood to join in national reconciliation.
But authorities were simultaneously detaining Morsi and dozens of senior aides for weeks incommunicado and in undisclosed locations. Morsi was charged in late July with espionage, his top aides with incitement to violence. Murad Mohamed Ali, spokesman of the Brotherhood's Freedom and Justice Party, told CPJ there is no future for press freedom under a military-backed government. "If the military can give us freedom, then they can deny it," he said. "The military coup is the real disease and oppressing press is just a symptom. We need to reverse the coup first as medication."
The press freedom record of the Supreme Council for the Armed Forces, which ruled Egypt between Hosni Mubarak's 2011 fall and Morsi's 2012 election, offers plenty of reason for concern. CPJ research shows that during that time authorities raided broadcasters, censored newspapers, and arrested critical bloggers; staged politicized trials and interrogations to intimidate reporters; and detained several journalists, brutalizing at least two in custody. An October 2011 confrontation between the military and civilians in front of the Television and Radio Union left dozens dead, including a journalist.
Signals ahead
How and when—or if—the pro-Morsi stations are allowed to resume operations is an important signal of authorities' intentions. The military has told several political leaders that reopening the stations is linked to the adoption of a media ethics code to prevent inciting violence. In his speech announcing Morsi's overthrow, al-Sisi proposed that as part of the transitional road map a "media charter of honor shall be designed in a way that ensures media freedom; observes professional rules, credibility, and neutrality; and advances the homeland's top interests." The proposal seems to echo suggestions, made in February by Muslim Brotherhood supporters when Morsi was still in power, to regulate private media channels and start a "dialogue" about media ethics. That the discussion has come full circle reflects a core issue in Egypt's press freedom climate: Journalistic ethics and government repression are seen through a political lens.
Government officials have spoken broadly about having a restructured High Council for Journalism to handle all press issues, raising the possibility that this entity would oversee an ethics code discussion. Interim Prime Minister Hazem al-Beblawi announced in late July that the council's 15 members would be now appointed directly by the interim president; in the past, the Shura Council, the upper chamber of parliament, had appointed its members. Al-Beblawi would not say specifically whether the council would lead the ethics code discussion, but he said it would handle all press-related matters.
Any government-appointed body would lack the independence sought by many journalists. The Journalists' Syndicate, which met on July 10 with Mansour, the interim president, called for civil society representatives to take charge of the development of any professional code of ethics and regulatory mechanism, and that it be done outside of government control.
"Once ethics are engineered by those in power, it becomes automatically an instrument of censorship," the editor Attalah told CPJ.
The interim government is promising changes for the better. In late July, the interim government announced that it would remove prison penalties for the crime of insulting the president. This glimmer of positive news, though, was offset by the interim president's decision to retain the cabinet position of Information Minister. The minister, from the Mubarak era through the Morsi tenure, has been seen as a key means of controlling the flow of information, particularly through tight editorial control of state media. Although President Mansour would not abolish the position immediately, spokesman Ahmed al-Mosallamany said, the interim government would consult with media experts about the possibility of eventually replacing the ministry with a more independent body.
The spokesman also promised constitutional changes to improve press freedom. "We are not going to replace Islamist fascism," al-Mosallamany said, "with a civil one."
Sherif Mansour is coordinator of CPJ's Middle East and North Africa program. CPJ consultant Shaimaa Abu Elkhir contributed reporting from Cairo.