The media landscape in Burma is more open than ever, as President Thein Sein releases imprisoned journalists and abolishes the former censorship regime. But many threats and obstacles to truly unfettered reporting remain, including restrictive laws held over from the previous military regime. The wider government's commitment to a more open reporting environment is in doubt. A CPJ special report by Shawn W. Crispin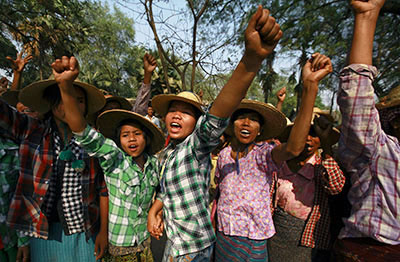 Published June 13, 2013
RANGOON
Soon after Burma's military launched aerial bomb attacks against an ethnic rebel group in a remote area of the country restricted to reporters, the Weekly Eleven newspaper was among the first local publications to expose the assault. Military leaders initially disputed the sensitive battlefield reports, but images and video of the late-December 2012 bombardment and its aftermath over time made those official denials indefensible.
Two weeks after its report, Weekly Eleven's website was hacked by assailants referring to themselves as "Red Army Team," a cyberattack that Than Htut Aung, the newspaper's founder and main columnist, attributes to hardline elements in the military's intelligence apparatus opposed to his publication's often critical reporting. Weekly Eleven's commentary on military affairs has addressed, among other topics, the historically opaque handling of the armed conflict in Kachin state, where government forces have been widely accused of abuses, including the killing and rape of civilians, in the battle against ethnic Kachin rebels fighting for regional autonomy.
A website known for its pro-military perspective, Myanmar Express, predicted the cyberattack on Weekly Eleven hours before it occurred. Prior to that, a top military official at the National Defense Council absurdly accused Than Htut Aung of working undercover for the U.S. Central Intelligence Agency. Despite clear indications of the military's displeasure with Weekly Eleven's news, the office of the president had failed to respond to the paper's request for an official investigation months after the attack, Than Htut Aung told CPJ.
"We can write critically, but we have to be careful because we are not yet a real democracy," said Than Htut Aung, whose opinion pieces are frequently disapproving of the military's still-dominant role in Burma's new political configuration. "National reconciliation, ethnic issues, religious tensions—all of these we and all journalists have to censor by ourselves because our country's situation is not stable."
After nearly five decades of direct military rule, President Thein Sein's two-year-old, quasi-civilian administration is now leading Burma in a tentatively more democratic direction. CPJ interviews with 30 journalists and editors based inside the country found that Burma's media now enjoys unprecedented freedoms, but there are still many threats and obstacles to truly unfettered reporting, including laws that restrict the press and other measures held over from the previous military regime.
While nearly all of those who spoke to CPJ welcomed Thein Sein's allowances for more press freedom, including the release of imprisoned journalists and the abolition of the previous censorship regime, many expressed reservations about the wider government's commitment to a more open reporting environment. Some reporters said they felt that authorities have allowed just enough freedom to relieve international pressure, while at the same time bidding to impose new, less obtrusive modes of censorship and control. Presidential Spokesman Ye Htut did not respond to CPJ's written request for comment for this report.
Cautious steps toward democracy
The new order for the media is a reflection of the country' still incomplete democratic transition. General elections held in November 2010 were widely condemned at the time as rigged in favor of military-linked candidates, many of whom exchanged their army khakis for civilian garb ahead of the vote. The military-written 2008 constitution, meanwhile, allocates a quarter of the national legislature's 664 seats to active soldiers.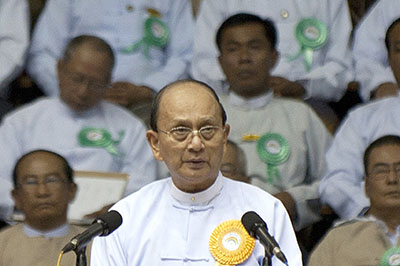 Thein Sein, a former army general who served as prime minister under the previous military regime, has initiated a series of liberal reforms, including significant allowances for greater press freedom, despite the military's still strong presence in government. Unlike the recent grassroots-driven democratic transitions in other areas of the world, including the Middle East, Burma's move toward more liberal politics has been orchestrated from the top down.
In a widely hailed move, Thein Sein responded to international pressure and released in October 2011 hundreds of political prisoners, among them 14 journalists who had been imprisoned for their unauthorized news reporting. The presidential pardon freed all of the reporters behind bars, some of whom were serving sentences as long as 24 years. Once-extensive online censorship, including government blocks on exile-run and international news sites, as well as foreign-hosted email and Web-based communication services, has been lifted on his executive command. Surveillance of journalists and official harassment of privately run Internet cafés has also eased on his watch, an on-the-ground CPJ survey shows.
In his public speeches, Thein Sein has often emphasized the need for a free press to check and balance Burma's nascent democracy. He has openly referred to the media as his country's "fourth estate," including in an address to the United Nations' General Assembly in October 2012. Two months earlier, on August 20, his government abolished the previous military government's extensive pre-publication censorship regime led by the Ministry of Information (MoI), which for decades banned any news or commentary deemed as even remotely critical of the ruling junta.
With those intrusive restrictions lifted, local newspapers now report regularly on many previously banned subjects, including opposition leader Aung San Suu Kyi and her National League for Democracy (NLD) party. Under the old authoritarian order, even images of Suu Kyi, a Nobel Peace Prize laureate who spent 14 of 21 years under house arrest, were strictly censored. Other once taboo topics, including entrenched poverty, natural disasters, and lightning-rod social issues like government land grabs, are now also freely reported.
News coverage of local protests against a large China-backed copper mine in the northwestern Latpadaung region has been illustrative of the shift. In November 2012, local newspapers published graphic images of protesters, including Buddhist monks, who suffered severe burns after police used incendiary devices to crack down on their protest site. China was the former military regime's main international backer, and such critical perspective of its outsize role in Burma's economy would have been banned. As Thein Sein has moved to rebalance Beijing's influence with stronger ties to the West, China's investments and other activities in Burma have come under more press scrutiny.
International media have also benefited from the loosened restrictions. In August 2012, the government published the names of some 2,000 people, including foreign journalists, it had removed from an immigration blacklist. Authorities have followed up by issuing short-term visas to several previously banned foreign reporters, with the caveat that they inform authorities of the geographical areas and news topics they intend to cover. Major Western newspapers and agencies have covered without restriction several sensitive stories, including the Latpadaung copper mine protest and sectarian violence between Buddhist and Muslim communities. In the more open environment, news agencies such as the The Associated Press and BBC that in the past relied on local stringers are in the process of opening proper bureaus in the country.
Thein Sein's broad reform drive has won praise and concessions from Western governments, seen in Barack Obama's landmark visit to the country in November 2012—the first ever by a serving U.S. president—and in the European Union's decision in April 2013 to lift economic sanctions imposed in response to the previous military regime's abysmal human rights record. Washington has also tentatively engaged with Burma's military, which for the first time was allowed observation status at February's annual U.S.-led joint military exercises in neighboring Thailand, even though Burma's military continues to be implicated in human rights abuses.
Journalists on edge
As sanctions are withdrawn and Western investment begins to pour into the country's underdeveloped economy, there are already signs of backtracking on earlier promised media reforms.
Some veteran local journalists said they believe Burma's transition to democracy is consistent with the cycle of opening and closing seen since the military first seized power in 1962. "We have seen two or three military dictatorships come and go. They always give false hopes," said a journalist with decades of experience with an international wire agency. "People get happy and elated, then they backslide. Everything they've done so far they've done unwillingly, like they have to rather than want to."
Other journalists who spoke to CPJ said they perceive a disconnect between Thein Sein's rhetoric promoting press freedom and the rest of his administration's freedom-curbing actions. Many journalists complained that ministerial and military officials still function under the psychology of military rule, perceiving the press as a potential threat that is better shunned than engaged. Although access to certain ministries has somewhat improved, most officials refer press inquiries to the office of the president.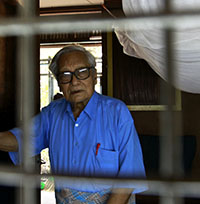 "Nowadays there are some improvements, it's true" said Win Tin, a journalist and editor who spent 20 years in prison under the previous regime. "But for me it's not enough: There are many things that are drawing back on media improvements. There are some elements who are very, very strong in the government and they still have influence. They try to make obstructions to real freedom of the press."
The Ministry of Information, the government authority that oversaw the censorship board that was officially dissolved in August 2012, has bid to reassert control. Earlier that month, the ministry attempted to dictate the terms of establishment of a new 20-member Myanmar Press Council (MPC), including measures that would have empowered the government-led body to penalize journalists for perceived anti-state reporting.
Independent groups, including the Myanmar Journalists Union, protested and refused to join the council, saying the MPC should protect, not threaten, reporters. The ministry appeared to back down after a Cabinet reshuffle replaced hardline Minister Kyaw Hsan with the soft-spoken Aung Kyi, who subsequently allowed several respected journalists, including former political prisoners, onto the MPC to draft a new, liberalizing media law in line with international standards.
But in a surprise move, in late February 2013 Aung Kyi unveiled a draft Printing and Publishing Bill that if passed by parliament would impose broad new censorship guidelines for the media, including vaguely worded bans on any reporting that "disturbs the rule of law," "incites unrest," or "violates the constitution and other existing laws."
A new "registrar" position outlined in the draft law would have sweeping authority to grant, renew, and revoke publishing licenses, as well as to issue directives to newspapers to submit their news for pre-publication scrutiny of national security-related topics. The position would also have arbitrary powers to punish journalists who fall afoul of the draft law's censorship guidelines; violations would carry maximum six-month prison sentences.
The draft legislation was devised without the knowledge of the MPC's journalist members, a secretive ploy many likened to the old regime's opaque and duplicitous ways. MoI officials had earlier indicated that the MPC's media law would take legal precedence over existing media-related laws and regulations, including over publishers and printers. "This is a step to control press freedom," said Zaw Thet Htwe, a journalist and MPC member who was sentenced to death by a military court in 2003 for publishing articles critical of the military; his sentence was commuted. "The president wants to change, but others don't want it. They still want to control by other ways," he said.
Upon the bill's presentation to parliament, Aung Kyi said censorship guidelines were necessary to curtail the publication of gambling tips and pornography, both of which he claimed had surged after the lifting of the previous censorship regime. MoI officials later told journalist representatives on the MPC that the ministry's monitoring showed that certain newspapers and social media users had abused their new freedoms through the dissemination of anti-Muslim hate speech, and that the draft law's provisions would help them to self-regulate in the future.
Pe Myint, editor of The People's Age journal and MPC member, noted that none of the officials who served on the ministry's old censorship board have been made redundant since its abolition and that many of them continue to sit at their same desks. The new law, he believes, is designed specifically to give those authorities new tools to control the press.
All local publications are already required to submit 12 hard copies and a PDF version of their published editions for MoI review. A new 12-member media monitoring committee led by MoI and comprised of representatives from the Ministry of Home Affairs, Ministry of Military Security Affairs (MI), Bureau of Special Investigation, and national police was created on presidential order in January 2013 to scrutinize local news coverage.
"The [MoI] is part of the so-called hardliners who don't want to relinquish their vested interests," said Pe Myint at his newspaper's small office in downtown Rangoon. "If change is allowed to go on, they will have no cause to exist. That's why they are trying to defend themselves."
Few checks, little balance
Journalists who have attempted to play a checking-and-balancing role in the new political environment have been met with official criticism and legal threats. Last year, five ministries spearheaded by the Ministry of Mines filed a criminal defamation suit against Kyaw Min Swe, executive editor of The Voice newspaper and secretary of the MPC. His alleged crime: publishing excerpts from a report by the attorney-general's office that had uncovered corrupt practices, including misuse of funds and fraud, at several ministries.
Kyaw Min Swe said he was required to attend 28 court hearings over a six-month period before the charges, which carried a possible three-month prison term, were dropped after out-of-court negotiations facilitated by the MPC. No officials have faced public consequences for the corruption charges raised in the attorney-general's document cited in his news report.
"We try to be neutral, but we are biased toward the people and nation," said Kyaw Min Swe, who noted his paper was suspended six different times under military rule. "The government and legislature are still not ready to accept direct criticism from media. They still aren't familiar with the idea of freedom of expression. … We can't avoid it—we have to prepare ourselves for future [defamation] actions."
Defamation prosecutions are only one of several legal threats faced by journalists. Although currently not enforced, many of the harsh and arbitrary laws used to suppress and imprison journalists under military rule remain on the books. Apart from the promise of a new media law now being drafted jointly by MoI and media members represented on the MPC, there has been no movement to amend or abolish various national security-related laws, including the 1950 Emergency Provisions Act, the 2000 Internet Act, and the 2004 Electronic Transactions Act.
The laws all allow for prison sentences for the dissemination of information that authorities deem a threat to national security, domestic tranquility, or racial harmony. These undefined terms leave journalists open to arbitrary prosecution. The legal threat is especially stark for journalists who were released last year from prison on the condition that they not violate any existing laws. Formerly jailed journalists who spoke to CPJ expressed concerns that they could be re-imprisoned if the political environment suddenly shifts toward less openness, including in constitutionally allowed scenarios where the military takes control of the government for what it deems reasons of national security.
"These laws are still there and so can be used at any time. They are hanging above our heads," said Win Tin, who now writes a regular column for the NLD-affiliated D Wave newspaper that regularly criticizes Thein Sein's administration and calls for justice for crimes committed under the previous regime. "These laws are more or less a real danger for press freedom in the future. We want to abolish all of these laws."
With these dormant but existent legal threats of imprisonment, self-censorship is rife at local publications. Editors and journalists who spoke to CPJ said that there are still many news topics—including backward-looking reporting into the previous military regime's corruption, mismanagement, human rights abuses, and associated family business interests—that they dare not probe or expose due to fear of reprisals. National security-related issues, including the military's murky strategic ties with North Korea, are also considered off limits.
Editors who spoke to CPJ said that as a matter of policy they tend to concentrate mostly on forward-looking, fact-based news. They expressed fears that any reporting or commentary that points toward the lack of justice for past state-sponsored crimes, or probes sensitive security issues like the military's alleged procurement of ballistic missiles from North Korea, could result in a sudden and sharp reversal of the more open reporting environment they now enjoy.
"Not many papers are doing investigations," said the publisher and editor of two Burmese-language newspapers who requested anonymity due to suspensions imposed on one of his publications under the previous military regime. "We don't want to provoke them and lose our new freedoms. … Many are either willing to let bygones be bygones, or are waiting for a genuinely democratic government to be elected at the next [2015] elections" to start doing hard-hitting journalism.
Many in Burma are hopeful that Suu Kyi's NLD will win power at the 2015 polls and usher in a new era of genuine democratic governance.
Win Tin said that entrenched self-censorship extends into critical editorials, which he says are still few and far between at both large- and small-circulation newspapers. "Free opinion is still very much limited, not because of the government's restrictions, but because journalists are still daunted to express their ideas. That's because we still have some mistrust about the government's intentions."
Military conflict is sensitive topic
The gap in reporting is especially evident on military affairs. While journalists are now free to report from the military-dominated, quasi-civilian parliament, access to the actual military remains tightly guarded, several reporters told CPJ. One case in point: A military colonel was demoted from his position last year for giving unauthorized comments to Radio Free Asia, a U.S.-funded broadcaster the previous regime publicly referred to as an "enemy of the state," RFA's Rangoon-based reporters said in an interview.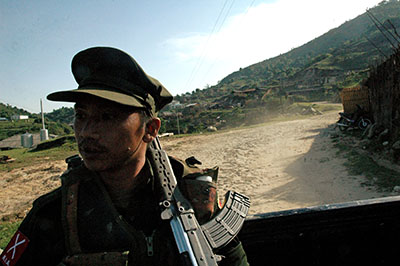 A newly created military spokesperson position, meanwhile, seldom if ever returns press inquiries, according to reporters who have attempted to contact the military officer for comment. Instead, the military has used a new mouthpiece newspaper, The Myawaddy, created in the transition from military to quasi-civilian rule to disseminate its views. The previous ruling junta relied on the state-run New Light of Myanmar, then one of the few local newspapers allowed to run as a daily rather than weekly, to dominate the national news agenda. (The reformed, more colorful New Light now functions as a mouthpiece for Thein Sein's quasi-civilian administration).
In January 2013, the Ministry of Defense released a rare public statement claiming that "international organizations, embassies and local media" had "fabricated news" about the military's operations against Kachin rebels. The statement disputed news reports that it had escalated the conflict through aerial assaults and insisted that soldiers had acted only in "self-defense."
Because the military restricts access to the areas of the conflict zone it controls, local and foreign reporters have covered recent battles mainly from rebel-controlled territory entered over the border from southern China. That has resulted in some daring reporting that wouldn't have been possible under military rule. A Myanmar Times report in mid-March 2013 revealed that the military had used the cover of United Nations and other humanitarian aid shipments to secretly reinforce its positions along uncontested supply lines.
Other local reports have indicated that the military has taken heavier casualties, including in the pitched battles that preceded the aerial attacks reported by Weekly Eleven than those acknowledged by The Myawaddy and presidential spokesmen. In February, the military's mouthpiece newspaper singled out The Irrawaddy, an exile-run publication historically based in Thailand that only recently opened a bureau in Rangoon, for publishing information it deemed false about the Kachin conflict, including reports on civilian deaths and military losses in recent battles.
"To receive that kind of message from the military, through their media, is really, really a warning for us," said Kyaw Zwa Moe, editor of The Irrawaddy's English-language edition. The following month, The Irrawaddy's monthly newsmagazine featured an in-depth package on the conflict, led with a cover image of a blood-covered rifle slugged with the caption "When will the Kachin war end?" "Our reporting is balanced, but they definitely won't like it. We keep testing the waters," Kyaw Zwa Moe said.
"If they really want to have an accurate picture of the military—how they are being attacked, how many soldiers have been killed—then they should let us in to do our work," said Kyaw Zwa Moe, who has made both formal and informal requests to report from the military's side of the conflict. "As reporters, we really want to report how the soldiers are being affected, how they feel about this war. That would be a very good story. They won't let us in."
While the military has pressured local newspapers over their Kachin war coverage, the press has been allowed comparative free rein to cover communal violence in the country's western and central regions. Recent riots have resulted in hundreds of deaths, widespread arson attacks, and massive displacement of minority Muslim communities that have been targeted by pro-Buddhist extremist groups, often led by firebrand Buddhist monks.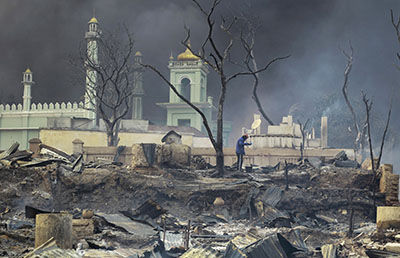 Other risks have emerged, however, for expeditionary reporters. In March, a group of journalists covering the communal riots in the central town of Meikhtila were threatened by weapon-wielding mobs. In one incident, a Buddhist monk put a machete to an Associated Press reporter's throat, demanding that he relinquish his camera; in another, a reporter from the Democratic Voice of Burma (DVB), an independent TV broadcaster, was mistaken for a local Muslim and assaulted by an angry mob. Police initially stood by as the attacks occurred, but later led journalists to a safe location on the outskirts of town, according to news reports.
"Because we are among a few media groups which have been continuously disclosing what radical Buddhist groups did against minority Muslim people, we feel vulnerable and unsafe," said The Irrawaddy's Kyaw Zwa Moe. "Before, our 'enemy' was just the regime, but now we find ourselves vulnerable to attacks from a different direction."
Although there are currently more than 350 registered news publications, Burma's media is concentrated heavily in the commercial capital of Rangoon. To maintain centralized control, the previous junta refused to issue publishing licenses to aspiring publishers in remote regions or ethnic minority hubs. The result: a yawning news gap in Burma's provincial areas, where a growing number of important events are breaking with the government's allowances for greater freedom of assembly and public protests.
"We do not have any regional papers yet, not in [the] Burmese language, not in their own ethnic languages," said Ma Thida, executive editor of the Rangoon-based The Independent newspaper, which specializes in ethnic issues. "Unless we have that type of paper, we cannot say we have freedom. Otherwise we cannot hear the voices from far, remote areas: What are they suffering? What are their needs? What is happening? We haven't a clue."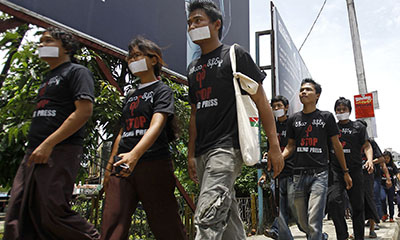 Despite these blind spots, most Burmese journalists are optimistic about the country's and media's direction. At the same time, they recognize that true press freedom will not be won without a fight. In a rare public protest, journalists wearing black T-shirts with the slogan "Stop killing press" marched in August 2012 against a government order to suspend two news publications for printing reports that had speculated on an impending Cabinet reshuffle.
In March 2013, two weeks after the MoI submitted its controversial draft Printing and Publishing Bill to parliament, more than 100 journalists and editors gathered at a Rangoon hotel to issue a unified statement calling on the government to revoke the legislation and work instead to guarantee press freedom. Three days later, parliament announced it would delay deliberation of the bill until June, giving media personnel time to lobby parliamentarians to vote against the legislation.
"We have to fight to go forward," said Weekly Eleven columnist and publisher Than Htut Aung. "Only then can we move ahead as a democracy."
CPJ Senior Southeast Asia Representative Shawn W. Crispin is based in Bangkok, where he is a reporter and editor for Asia Times Online. He is the author of the 2011 CPJ report "In Burma, Transition Neglects Press Freedom" and the 2008 report "Burma's Firewall Fighters."
CPJ's Recommendations
To the Burmese government:
Abolish or amend all laws, including the Electronics Act, the Emergency Provisions Act, and the Internet Act, that have been applied and abused to restrict press freedom and punish journalists. Eliminate criminal defamation provisions, in line with international conventions and declarations. Refrain from using the threat of these laws to encourage self-censorship among reporters, bloggers, and editors.
Scrap the Ministry of Information's draft Printing and Publishing Bill, which aims to impose broad and vaguely worded censorship guidelines, an arbitrary newspaper licensing regime, and possible prison sentences for violations. Parliament should refuse to pass the current version of the law, which would curb press freedom.
Give priority to the separate press law being drafted by the Myanmar Press Council, with the aim of bringing the nation's laws and practices in line with international standards for press freedom and freedom of expression.
Abolish the 12-member media monitoring committee led by the Ministry of Information and end all forms of censorship and post-publication review of news coverage. Consider disbandment of the entire Ministry of Information.
Allow for the development of free and open broadcast media and the Internet.
To the Burmese news media:
Strive to establish and maintain an independent identity, free of government influence.
Expand and strengthen cooperative professional efforts. Speak with a unified voice in condemning restrictions and intimidation of the media and in seeking legal reform.
To the United Nations:
Maintain pressure on the government to improve the country's human rights situation, including conditions for press freedom.
Push the government through UNESCO to repeal or significantly amend the draft Publishing and Printing Bill now pending parliamentary deliberation.
To the European Union and United States:
Predicate all future aid, development assistance, and diplomatic engagement on a credible democratic transition, including sustained progress on press freedom conditions.
Consider reimposing or reactivating economic and financial sanctions for official backtracking on promised democratic reforms, including allowances for greater press freedom.
Encourage the government to abolish all legacy laws and regulations under military rule that represent a threat to journalists and Internet users.
Maintain funding commitments to exile media groups until press freedom has taken genuine root in Burma.
To international Internet and technology companies:
Predicate future investments and technological transfers on Burma demonstrating progress on press freedom and a commitment to a free and open Internet.
Hold dialogues with local journalists and bloggers to ensure that internationally accepted practices are in place to protect user anonymity and security.