The personal slogan of Zulkiflee Anwar Ulhaque, a Malaysian cartoonist who is better known by his penname "Zunar," is: "How can I be neutral? Even my pen has a stand."
Zunar is best known for his provocative cartoons that lampoon issues of high-level abuse of government power and corruption. His portraits are published both in books and on the Malaysiakini news website, one of the country's few independent news publications. Malaysian police and authorities have claimed on several occasions that Zunar's cartoons are "detrimental to public order" and run afoul of the country's sedition law.
The latest legal threat against Zunar comes amid a government crackdown on dissent, a heavy-handed response to the long-ruling United Malays National Organization's waning popularity and legitimacy, a theme that Zunar's cartoons have frequently portrayed. The cartoonist has been temporarily detained twice–in 2010 and 2015–on accusations of sedition in relation to his cartoons. At least five of his cartoon books, compilations of original contents and his work previously published online, have been banned or confiscated by authorities. His Kuala Lumpur-based office and those of the printers who produce his volumes have been raided several times.
Despite these threats, Zunar continues to draw, challenging the same forces that seek to silence him. He currently faces nine counts of sedition and up to 43 years in jail in connection with nine critical tweets, including one with an embedded cartoon portrait of Prime Minister Najib Razak acting as a court judge, that he posted on February 10, 2015, in connection with a court decision to jail the country's main opposition leader on sodomy charges. Zunar's sedition trial is scheduled for late 2015.
Zunar is the first full-time cartoonist to receive CPJ's International Press Freedom Award. While the attack on the staff of Charlie Hebdo in Paris in January 2015 showed the risks some cartoonists face in reprisal for their work, the legal harassment Zunar endures is indicative of the type of threats that outspoken satirists contend with around the world. CPJ highlighted these threats in its 2015 report, "Drawing the Line," in which Zunar's cartoons and case were featured.
In 2011 and 2015, Human Rights Watch honored Zunar with its Hellman/Hammett Award. In 2011, he was also the recipient of the "Courage in Editorial Cartooning Award" by the Washington-based Cartoonist Rights Network International.
The text of Zunar's acceptance speech, as prepared for delivery, is below.
Thank you very much for this award.
I'm so happy to be here tonight to accept this and not in a jail somewhere in Malaysia.
I would like to dedicate this award to the Malaysians who have equally pushed for reform.
It is both my responsibility and my right as a citizen to expose corruption, wrongdoing and injustice. Laws like the Sedition Act mean that drawing cartoons is a crime since the Sedition Act is a criminal act.
The government of Malaysia is a cartoon government; a government of the cartoon, by the cartoon, for the cartoon – sorry Abraham Lincoln.
For asking people to laugh at the government, I was handcuffed, detained, thrown into the lockup. But I kept laughing and encouraging people to laugh with me. Why? Because laughter is the best form of protest.
My mission is to fight through cartoons.
Why pinch when you can punch? People need to know the truth and I will continue to fight through my drawing.
I want to give a clear message to the aggressors — they can ban my cartoons, they can ban my books, but they cannot ban my mind.
I will keep drawing until the last drop of my ink.
Thank you.
Country facts:
In April, Malaysia's parliament approved amendments to the country's sedition law, which allows the government broad new powers to censor online media, and extended maximum jail term convictions from three to 20 years.
Malaysian authorities frequently abuse the 1948 Sedition Act to threaten journalists who report critically about the government, judiciary, or religious issues.
Malaysian authorities have also banned Zunar's books on allegations that they violate the 1984 Printing Presses and Publication Act, another piece of legislation that is often used to censor the Malaysian press.
Journalists and executives affiliated with the news website Malaysiakini, one of Malaysia's few independent news sources; the news portal The Malaysian Insider; and the portal's parent company The Edge Media Group, are frequently threatened with sedition and other legal charges punishable by imprisonment for reporting critically on the government.
Significant work:
« Previous Image | Next Image »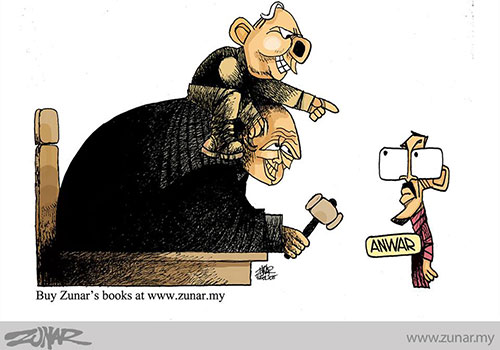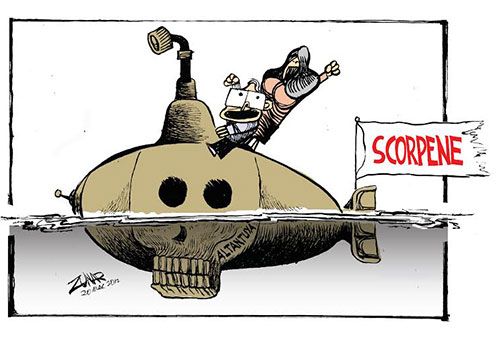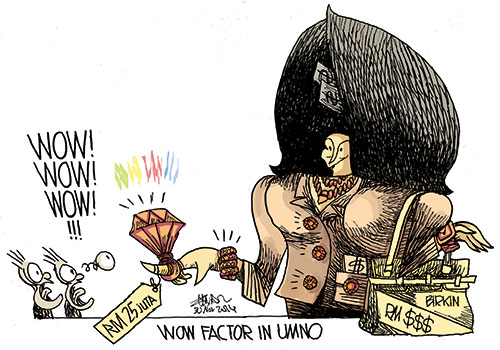 CPJ's reporting:
CPJ special report: "Drawing The Line: Cartoonists Under Threat"
Cartoonist detained for critical tweets in Malaysia
Malaysia charges cartoonist with nine counts of sedition for critical tweets
Police raid, seize books from Malaysian cartoonist's office
Malaysian authorities seize another book by political cartoonist
No joke: Malaysian cartoonist stands up to government
More on the Awards
The ceremony • Awardees: Cándido Figueredo Ruíz, Paraguay • Raqqa is Being Slaughtered Silently, Syria • Zone 9 Bloggers, Ethiopia • Zulkiflee Anwar Ulhaque ("Zunar") – Malaysia • Kathy Gannon, Benjamin Award