---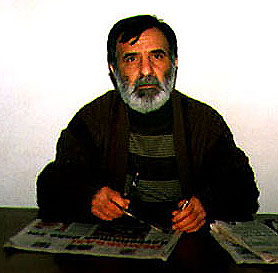 ---
There was little for Turkish editor Ocak Isik Yurtçu to celebrate last July 24, Journalists Day in Turkey. "Nobody in the world has been sentenced to so many years in prison for articles others have written,"he said from his jail cell in an interview with the daily Yeni Yuzyil.
Yurtcu, former editor in chief of the now-defunct daily Ozgur Gundem, is serving a 15-year sentence, upheld on appeal in December 1994, for disseminating "separatist propaganda."The case against Yurtcu was based on articles about the Kurdish conflict published in Ozgur Gundem in 1991 and 1992. Throughout its existence, his paper had been targeted by the Turkish government for its extensive and balanced reporting on the Kurdish conflict.
For three years running, Turkey has held more journalists in prison than any other country. Yurtcu's case is emblematic of the types of charges used by the government to imprison dozens of reporters, editors, and columnists. The basis for most of these charges is the Anti-Terror Law and Article 312 of the Penal Code, which in effect classify all reports on the Kurdish rebellion other than the government's as "incitement to racial hatred" or propaganda for the insurgent Kurdistan Workers' Party, the PKK, in the country's Southeast."
YURTCU REPORTS ON POLITICAL PRISONERS, KURDISH REBELLION
Yurtcu entered the world of journalism as a reporter for the now-defunct daily Ekspres in 1966. He later went on to work as a reporter, columnist, or editor at many other newspapers, including Yenigun, Ulus, Politika, Dunya, Demokrat, Gunes, Cumhuriyet, and Yeni Halkci.
It was at Yeni Halkci in 1971 that Yurtcu first earned national recognition as a journalist who reported news the government would rather suppress. He published a series of articles documenting the systematic torture of political prisoners. It was for these and other investigative stories that he was inducted in 1975 as an honorary member to the National Writers' Union of Turkey, an honor accorded very few journalists.
Yurtcu became the editor of Ozgur Gundem in 1991. Under his editorship, Ozgur Gundem was widely read and highly respected as an unbiased newspaper that offered readers an alternative to the government's view on the Kurdish issue. Ozgur Gundem broke new ground with its hard-hitting reporting on the fighting in southeastern Turkey between the military and the PKK guerrillas, a conflict that has received inadequate coverage from the mainstream, pro-government media. During Yurtcu's tenure at the paper, Ozgur Gundem's circulation reached 100,000, a record-breaking number for a nonmainstream newspaper in Turkey.
YURTCU JAILED AND OZGUR GUNDEM SHUT DOWN BY THE GOVERNMENT
In 1993, Yurtcu was tried and convicted for various articles published in Ozgur Gundem. He was sentenced to a total of 15 years and 10 months in prison for violating Articles 6, 7, and 8 of the Anti-Terror Law and Article 312 of the Penal Code. He was sent to prison in December 1994 when an appeals court upheld his sentence. Since his imprisonment, several more sentences have been handed down from other cases against him, and he says he is no longer sure how many more years he will be incarcerated. He is currently serving his 15-year sentence in the Sakarya prison, east of Istanbul.
Yurtcu's case was only one of many launched by the government against the newspaper. Authorities had led a concerted campaign of arrests, bans and trials against Ozgur Gundem, eventually forcing the paper to close in April 1994. In addition to the legal harassment, journalists at the paper were frequent targets of violent reprisal by unidentified assailants. In 1992 alone, four journalists with the paper were assassinated. The murderers were never brought to justice.
Since Ozgur Gundem's closure, two successor papers, which were less objective in their coverage and less successful, were also shut down by the government. The latest incarnation, Demokrasi, has regained some of the balanced reporting Ozgur Gundem was known for, but it has a circulation of only 5,000 readers.
YURTCU VOWS TO FIGHT INJUSTICE OF HIS SENTENCE
In an interview with the Turkish daily Millyet, Yurtcu was blunt about the impossible bind in which Turkish journalists find themselves: "My problem is not unique. … What I'm going through can face all journalists out there. They can use laws to put you in prison just for mentioning the word ŒPKK' in your news story. They take this as Œpraising the terrorist organization.' How can you write about the Southeast without mentioning the PKK?"
At great cost to himself, Yurtcu's determination to change the situation for Turkish journalists is unwavering. A colleague of his from Ozgur Gundem recalled in an article published in Demokrasi how the courageous Turkish editor was offered the option of self-imposed exile when his prison sentence looked imminent. "He wouldn't accept," Huseyin Akyol wrote. "He decided to stay in his country to fight against the injustice. He believes that being a journalist cannot be a crime."."
---
|International Press Freedom Awards| | CPJ Website | Urgent Case Index |