Bangladesh: TIPU SULTAN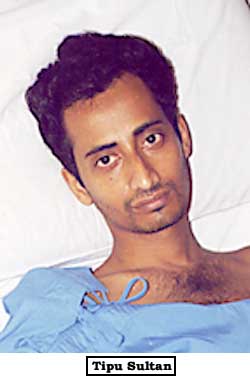 For Tipu Sultan, an award-winning free-lance reporter from Bangladesh, writing the truth almost cost him his life.
On January 25, 2001, Sultan was abducted and savagely beaten by about 15 thugs wielding baseball bats, hockey sticks, and iron rods after producing an article accusing a local legislator of criminal activity. Joynal Hazari, the politician identified in the wire report, ordered his private army to smash the young journalist's legs and hands so that he would never be able to write again.
The gang did as they were told and especially targeted Sultan's right hand–his writing hand. Although his assailants left him for dead on the side of the road, Sultan, now age 30, miraculously survived.
The assault was apparently prompted by a story Sultan had filed on January 17 for the independent wire service United News of Bangladesh that implicated Hazari in an arson attack on a school in the southern district of Feni. The politician was known as "the Godfather of Feni" for his brutal rule of the area. Sultan had written other articles about Hazari, but this was the first that named him directly.
Although Hazari has denied involvement in the attack, evidence of his complicity has been well documented in the local media. Authorities have made no effort to prosecute Sultan's assailants. Journalists in Bangladesh continue to be frequent targets of violence because such crimes go unpunished. Each year, dozens of journalists are physically assaulted for their work.
Local journalists, outraged by the viciousness of the attack, have aggressively pursued Sultan's story, naming those responsible and holding the government accountable for its failure to prosecute his assailants. They also organized a campaign to help raise money for Sultan's medical expenses. Those funds, along with a grant secured by CPJ from the New York-based Correspondents Fund, which provides emergency relief to journalists, helped pay for a lengthy series of operations and extensive physical therapy in Thailand.
Last year, when he was still confined to a hospital bed, Sultan told CPJ, "I want to go back to my profession. I want to write true things." Today, Tipu Sultan has returned to Bangladesh to continue working as a reporter and contributes regularly to the daily Prothom Alo, one of Bangladesh's leading newspapers.