Alexis Sinduhije
Burundi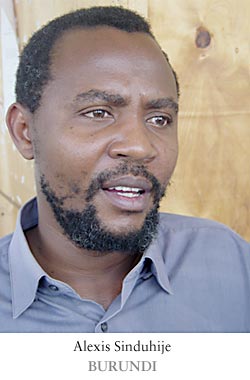 Alexis Sinduhije is the founder and director of Burundi's Radio Publique Africaine (RPA), which has defied government bans and intimidation to become one of war-torn Burundi's most popular radio stations. RPA was launched in early 2001 at a time when Burundi was seeking to end a devastating eight-year conflict between ethnic Hutus and Tutsis. The station has sought to promote peace by hiring both Hutus and Tutsis, including ex-combatants, to work on the editorial team. "I wanted to humanize relations between the ethnic groups in Burundi and set an example of former enemies working together to build peace," says Sinduhije. The station's courageous investigative reporting and grassroots approach to issues affecting ordinary Burundians has earned it the nickname "the People's Radio." RPA has achieved this in a region where many view private radio with suspicion because of the incendiary role that neighboring Rwanda's RTLM radio played in the 1994 genocide there.

In September 2003, authorities closed RPA, along with another private station, for airing an interview with a rebel spokesman. However, private stations announced that they would not broadcast any government news or statements for the duration of the ban, and this solidarity helped get the sanction lifted three days later. RPA's investigative reporting on sensitive issues such as human rights abuses and corruption has endangered Sinduhije and his staff. In February 2003, armed men broke into Sinduhije's house and murdered his security guard, but the journalist believes that the attackers meant to kill him. Despite the difficulties, RPA continues to delve into sensitive issues as it attempts to foster peace and reconciliation in a country racked by ethnic violence.
LINKS
Burundian journalist honored for ethnic radio project
(Audio interview on National Public Radio, November 21, 2004)

"The People's Radio," Dangerous Assignments, page 24 (in PDF)
"A Voyage Never Ended," by Alexis Sinduhije (in PDF)

"IJAMBO: 'Speaking Truth' Amidst Genocide," by Alexis Sinduhije (in PDF)

Heroes of Press Freedom, Washington Post, November 23, 2004

Remarks by Alexis Sinduhije, International Press Freedom Award winner

Today is a great day for Burundi, for me, my colleagues, and those political leaders that have supported us.

It is a great day for those who have promoted peace, democracy, and freedom of the press in Burundi.

In my part of the world– the African Great Lakes region–the power of words has been used to harm people. The most devastating example was Radio des Mille Collines in Rwanda, which incited genocide in 1994.

The idea of my radio, RPA, was the opposite of Radio des Milles Collines: to use the power of words to build a non-violent, fair and truly democratic society.

We wanted to set an example of how relations between the ethnic groups could be humanized.

We hired former fighters, both Hutu and Tutsi. Instead of killing each other, to become fighters for peace and truth.

RPA gives a voice to the concerns of ordinary people. We ask the political leaders to answer their concerns: Why are people kept in prison without trial? Why has their land been taken away?

Exposing the truth in this way has brought Hutu and Tutsi communities together and made it harder for politicians to manipulate the public.

But it wasn't always easy.

Donors are haunted by the ghost of Radio des Mille Collines and did not want to give us money. The government and part of the Burundian establishment were opposed to allowing a controversial journalist like me to launch a radio station.

When we investigated sensitive subjects, we were threatened. When we interviewed a rebel leader, the government banned our radio, although the ban was lifted after three days. It was hard, sometimes very hard, but it was also fun to be doing something positive for my country.

I believe that Burundi is on the path to a future without dictatorship and mass killings. This is largely thanks to international pressure and the positive role that all the private radio stations have played in Burundi.

We will have elections next year, which we hope will make Burundi a true democracy. There are still risks, of course. In the months ahead, I think that we, the independent media, will have an even more important role to play. The international media will probably cover the elections and if democracy succeeds will then move on. But the world must not forget Burundi.

Finally, I would like to say thank you to Martin Sindabizera, a Burundian MP who understood that RPA could make a difference; to all my colleagues at RPA; to CPJ for this award and for bringing me here; and to all my friends in this room.

Thank you.