Ruth Simon
Correspondent, Agence France-Presse
Imprisoned Journalist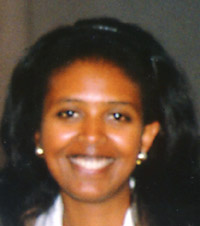 Ruth Simon, a correspondent for the news agency Agence France-Presse (AFP), has been in detention since April 25, 1997. Simon, an Eritrean citizen, was arrested after reporting that President Isaias Afewerki told participants at a seminar in Asmara that Eritrean soldiers were fighting alongside rebels in neighboring Sudan. (Sudan's opposition military and political coalition, the National Democratic Alliance, is based in Asmara.)
Simon was responsible for the clandestine publications of the Eritrean People's Liberation Front during the war for independence from Ethiopia and was the editor in chief of BANA, the publication of the Association for the Reintegration of Eritrean Women Guerrilla Fighters. She is the first journalist to be arrested in Eritrea since it became a state in 1993. Afewerki personally ordered Simons imprisonment for "publishing false information."
Following Simon's arrest, AFP published a response by the central committee of the ruling People's Front for Democracy and Justice, which described Simon's original report as a "gross distortion" of the President's statement and repeated its denial of involvement in Sudan's civil war.
Although magazines and newspapers are beginning to appear, the Eritrean media is mainly controlled by the government. On May 11, 1998, President Afewerki announced that Simon will face trial and that the state intends to sue AFP for using a "so-called agent" to disseminate false information. In reply to CPJ's letter protesting Simon's arrest, the Eritrean foreign ministry said Simon's actions violated the national press law, which states that "any journalist who misinforms the public or any institution is liable to the damage he/she may cause as a result." Refusing to elaborate further on the charges against Simon, the letter also stated that, "[Simon's arrest] is, therefore, [a] purely legal issue which does not require or allow any kind of intervention from any comer."
Simon is married and the mother of two children, the youngest of whom was six months old at the time of her arrest.