Pavel Sheremet
Bureau Chief, ORT Russian television
Editor, Belarusskaya Delovaya Gazeta
Pavel Sheremet has endured every conceivable type of official harassment for his coverage of Belarus' slide toward authoritarianism. Minsk bureau chief for the Russian public television company ORT since 1996 and editor in chief of the newspaper Belarusskaya Delovaya Gazeta since 1995, Sheremet — a Belarusian citizen — has been imprisoned, stripped of his credentials, and barred from traveling to the West or working as a journalist until January 1999. At the same time, the 27-year-old Minsk-born journalist has become a popular public figure for standing up to President Aleksander Lukashenko's campaign to silence critics and harness independent and opposition news media.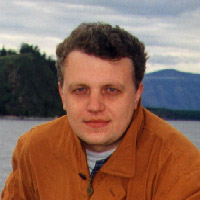 ORT and other Russian television companies have been particular targets of Lukashenko's regime. Because of the regime's success in muzzling domestic opposition and any local independent news media, Belarusians must tune in to Russian TV — ORT, NTV, and RTR — for an alternative to Lukashenko-controlled versions of the news.
With this in mind, Lukashenko last year turned his ire on critical coverage by the Russian news programs and their Minsk-based correspondents. He accused them of biased reporting, charging that they sought to subvert his regime and its fraternal relationship with Russia. Just as the Soviet-era Kremlin jammed "subversive" foreign radio broadcasts by the BBC, Radio Liberty, and Voice of America, Lukashenko has sought to silence the "subversive" Russian television outlets, by expelling their correspondents or lifting the credentials of reporters and their news organizations.
Sheremet has earned the regime's anger by covering opposition rallies and exposing Lukashenko's Soviet-style political tactics. In July 1997, the Belarusian Foreign Ministry suspended Sheremet's special events accreditation in an effort to prevent ORT from covering public gatherings on July 3, the new national independence day. Lukashenko had lobbied to change Belarus' independence day from July 27, the day the country declared its post-Soviet sovereignty, to the new date, marking a Soviet-era holiday. Foreign Ministry officials accused Sheremet of insulting the president and the nation of Belarus in a June 28 broadcast that characterized the new independence day date as "President Lukashenko's idea." (Foreign Ministry officials claimed the date change was "the will of the people," expressed in a controversial 1996 referendum on the subject.) The ministry demanded an apology from ORT; when it didn't come, Sheremet's accreditation was permanently revoked, for "biased reporting" of events in Belarus.
In an incident that strained relations with Russia, Sheremet, his cameraman, and their drivers, all Belarusian citizens, were detained by border guards on July 22 while filming a report on smuggling and border security at Belarus' frontier with Lithuania. Sheremet and his cameraman had requested permission to film, but received no reply. Undeterred, Sheremet jumped a fence to film unguarded border areas, demonstrating how easily smugglers could cross the Belarusian frontier (only weeks before, Lukashenko said he had ordered extra guards to the borders). Sheremet and his colleagues were arrested and charged with illegally crossing the border. Despite their eventual release, Belarus pressed charges against Sheremet and one crew member. In January, they were found guilty of crossing an unguarded section of Belarus border with Lithuania, "exceeding their professional rights as journalists" and participating in a conspiracy. The court gave Sheremet a two-year suspended sentence.
Sheremet, a native of Minsk, was producer and anchor of a weekly news and analysis program called Prospekt on Belarus state TVs Channel 1 for a year, until the program was ordered off the air by Lukashenko in April 1995, one week before a controversial referendum that greatly increased his powers. Sheremet began working for ORT in 1995 and that year won the Belarus PEN Center's Adamovich Prize as best television reporter in Belarus