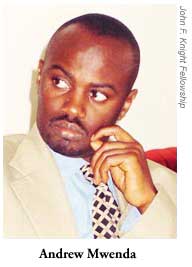 Andrew Mwenda, one of Uganda's leading political journalists, is managing editor of the bimonthly newsmagazine, The Independent, based in the capital, Kampala. A press freedom advocate throughout his career, Mwenda founded The Independent in 2008 despite repeated government harassment. Over the past decade, he has been the target of threats, arrests, and criminal prosecutions for his radio, television, and newspaper work.
Mwenda is among the few journalists to openly criticize President Yoweri Museveni's spending practices and handling of a rebel conflict in the country's north. Museveni's administration has a record of using criminal laws and police intimidation to silence such critical coverage.
In April 2008, plainclothes security agents raided Mwenda's home and offices, arresting him on sedition charges stemming from an Independent interview with an army deserter who accused the military of human rights abuses. In May, police summoned him again for questioning about three newspaper stories and a broadcast commentary. In all, Mwenda is fighting 21 criminal charges, including sedition and "promoting sectarianism," some of which date back to 2000. He has challenged the constitutionality of the charges.
Mwenda has addressed the World Bank and Transparency International about the need to reform Western aid to Africa, and he has produced documentaries and commentary for the BBC on economic empowerment. He is a 2007 Knight Fellow and the recipient of several national awards.
Click here to view Andrew's video from the 2008 IPFA dinner.

Here are some background links:
Andrew Mwenda launched The Independent after resigning as political editor from his previous post at The Monitor. Arguing that the government had compromised the editorial freedom of The Monitor, Mwenda's own publication provides a candid and critical approach.
BBC News: Mwenda on Africa aid and debt
In 2005, Mwenda wrote an article for the BBC entitled "Africans on Africa: Debt." Mwenda's thought-provoking piece argues that "[f]oreign aid does not help the poor out of their misery – it exacerbates their problems and prolongs their agony."