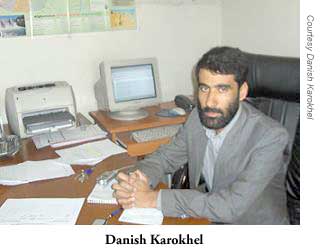 Karokhel and Nekzad are journalists and media rights activists in one of the world's most dangerous countries for the press. Karokhel is director and Nekzad is managing editor and deputy director of Pajhwok Afghan News. The agency provides continuous coverage from across the country, with eight provincial bureaus and a network of reporters writing in English, Pashto, and Dari for Afghan and international audiences.
Karokhel is an internationally recognized authority on the conflicts inherent in modernizing Afghanistan. In articles dating to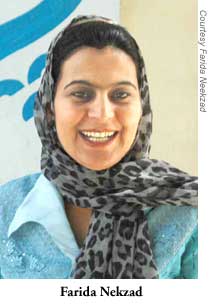 2003, he was one of the first reporters to address the sometimes-angry gap between traditional segments of society and those seeking to modernize–a defining issue in Afghanistan today.
Nekzad's career has been one of constant challenge, first under the Taliban regime and now in a country that teeters on the edge of disarray. As a female journalist, she faces tremendous pressure from traditional forces and has received repeated phone calls and text messages threatening her life. She has made a commitment to work for both press freedom and equality for female journalists.
Click here to watch Danish and Fardia's video from the 2008 IPFA dinner.

Here are some background links:
Danish Karokhel is director and Farida Nekzad is managing editor and deputy director of Pajhwok Afghan News, Afghanistan's leading independent news agency. Established in April 2004 with headquarters in Kabul, Pajhwok is staffed entirely with Afghan leaders in local media. The agency aims through its reporting to help citizens participate more broadly in public life, and to provide timely information that will help to ensure transparency and accountability in governance.
"Battle Lines" by Danish Karokhel (Dangerous Assignments, Fall 2003)
In the fall 2003 edition of CPJ's magazine Dangerous Assignments, Karokhel wrote on the state of press freedoms in Afghanistan.
In April 2007, Danish Karokhel was interviewed by Lettera22, an Italian association of professional journalists.
RAWA, the Revolutionary Association of the Women of Afghanistan, documented death threats that Farida Nekzad received on her cell phone in June 2007.
"Afghan media pin hopes on new law"
A BBC article on Farida Nekzad and press freedoms in Afghanistan published in June 2007.