CPJ is honored to present its inaugural Gwen Ifill Press Freedom Award to PBS journalist Judy Woodruff.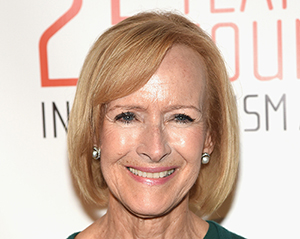 Broadcast journalist Judy Woodruff is the managing editor of "PBS NewsHour," a show she anchored since 2013 with her co-host, Gwen Ifill, the late veteran journalist and CPJ senior advisor.
Woodruff has covered politics and other news for more than three decades at CNN, NBC, and PBS. She is a founding co-chair of the International Women's Media Foundation, an organization dedicated to strengthening the role of women journalists worldwide. She is on the boards of trustee of the Newseum's Freedom Forum, the Duke Endowment, the Carnegie Corporation of New York, and the Urban Institute.
Samples of Judy Woodruff's work
Woodruff was White House correspondent at NBC News from 1977 to 1982. For a year after that, she served as the chief Washington correspondent for NBC's "Today Show." She was at PBS from 1983 to 1993, during which she was the chief Washington correspondent for "The MacNeil/Lehrer NewsHour." From 1984 until 1990, she also anchored PBS' award-winning weekly documentary series, "Frontline with Judy Woodruff."
In the early 1990s, Woodruff joined CNN where, for the next 12 years, she served as anchor and senior correspondent for CNN. Her duties included anchoring the weekday program "Inside Politics." She then returned to PBS as a senior correspondent for "The NewsHour with Jim Lehrer." In 2011, she was the principal reporter for the PBS documentary "Nancy Reagan: The Role of a Lifetime." And in 2007, she completed an extensive project on the views of young Americans called "Generation Next: Speak Up. Be Heard."
Woodruff is a graduate of Duke University, where she is a trustee emerita. She has received the Edward R. Murrow Lifetime Achievement Award in Broadcast Journalism/Television, Cine Lifetime Achievement Award, the University of Southern California Walter Cronkite Award for Excellence in Journalism, and the Gaylord Prize for Excellence in Journalism and Mass Communications from the University of Oklahoma.
She lives in Washington with her husband, journalist Al Hunt.
---
---
Ahmed Abba, Cameroon
Patricia Mayorga, Mexico
Pravit Rojanaphruk, Thailand
Afrah Nasser, Yemen