Imprisoned since March 2003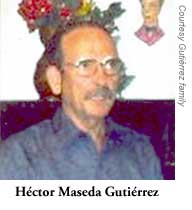 Maseda Gutiérrez, 65, is the oldest of 21 journalists behind bars in Cuba. Arrested in the government's March 2003 crackdown on the independent press, he was sentenced to 20 years in prison for acting against "the territorial integrity of the state."
Maseda Gutiérrez, an engineer with a degree in nuclear physics, was demoted from a high-level government job in 1992 because of his political views. He began working as an independent journalist in 1995. Four years later, working with veteran journalist and 2003 CPJ awardee Manuel Vázquez Portal, he helped found the independent news agency Grupo de Trabajo Decoro.
Maseda Gutiérrez wrote about social, economic, environmental, and historical issues that were ignored by the official Cuban press. His articles appeared in independent Cuban media based abroad, such as the newsmagazine Encuentro de la Cultura Cubana and the news Web sites Encuentro en la Red and CubaNet. Before being jailed, he worked on a series of articles exposing brutality in Cuban prisons.
While in prison himself, Maseda Gutiérrez managed to write a memoir, Enterrados Vivos (Buried Alive). The book was smuggled out of prison, one page at a time, and published in the United States in 2007.
Click here to view Hector's video from the 2008 IPFA dinner.

Here are some background links:
Before Héctor Maseda's arrest, he wrote for Cubanet. The site contains information on Maseda, letters and stories he has written from jail, and stories written about him on foreign-based Cuba news websites. The site contains an online copy of his memoir, Enterrados Vivos (Buried Alive) that he smuggled out of prison.
In March 2008, Héctor Maseda's book was sent to Fidel Castro. It was delivered by his wife, Laura Pollán.
From his cell in the maximum security Agüica Prison in western Matanzas province, imprisoned Cuban journalist Héctor Maseda Gutiérrez has written us a letter to accept CPJ's International Press Freedom Award. In his letter, Maseda Gutiérrez speaks out "for all those who suffer the horror that characterizes despotic and oligarchic government models."
Letters from prison