GALIMA BUKHARBAEVA
Forced to flee Uzbekistan after witnessing a massacre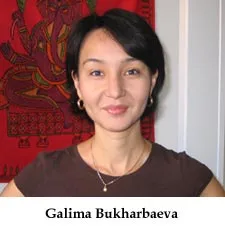 Galima Bukharbaeva has drawn international attention to the Uzbek government's authoritarian policies, earning a reputation as one of Central Asia's most outspoken journalists. Her work for the London-based Institute for War & Peace Reporting focused on sensitive issues such as police torture, repression of Islamic activists, and state-sponsored abuses against journalists and human rights activists. As a result, Bukharbaeva was placed under police surveillance, denied press accreditation, and threatened with prosecution. The government organized Soviet-style "protests" in the capital, Tashkent, denouncing her as a traitor.

Bukharbaeva was one of the few journalists to witness and report on the May 13 massacre in the northeastern Uzbek city of Andijan. A bullet tore through her backpack, piercing her notebook and press pass, when troops opened fire on demonstrators.

As a result of her reporting, state media accused her of "conducting open information warfare against the state." Facing government reprisals, she fled the country and lives in New York City, where she is studying at the Columbia University Graduate School of Journalism.

Acceptance remarks

Links to stories by Galima Bukharbaeva:

Op-ed in International Herald Tribune, September 21, 2005

"Witness to a Massacre" (from Dangerous Assignments, Fall/Winter 2005)

Following are transcribed excerpts from a videotaped interview with Bukharbaeva, airing as part of CPJ's International Press Freedom Awards Dinner:

Q: So the government has opened an investigation against you, is that correct?

A: When I was already in New York, they came to my mom in Tashkent and they said that they opened a criminal case against me and they charged that I had illegal activity because my office didn't have accreditation. They work like this–just because they didn't like what I'm doing.

Q: Why is your work important in Uzbekistan?

A: Now I realize how important journalism is in the society because the only thing people really need is just truth. And this is what journalists have to provide. Without the fairness, without the truth, society cannot operate. …

Take this example that was Andijan. Refugees and journalists who were there saw the Uzbek regime couldn't conceal this massacre. In the way were just five, six journalists. And now even people compare with Tiananmen Square, I think it's really, really important.

Q: This kind of work–you've had to leave the country twice. You've been intimidated and you've been shot at. What is the personal cost to you?

A: It's affected my health I can say. Especially after Andijan, I feel I'm a bit nervous and I'm stressed. And before this, too, of course, because you are not just a machine who is just writing. You are also human. But what to do? This is the life, like this is the struggle. I understand that if I struggle for something–the good things, like for truth–I think it's a cost what we have to pay. It's not expensive.
---
Acceptance remarks



Ladies and gentlemen, esteemed colleagues:

It is a great honor for me to accept this prestigious award tonight. I would like to thank CPJ for all your efforts in supporting and protecting journalists in Uzbekistan and other countries all over the world.

The massacre in the city of Andijan where the government opened fire against its own people showed the importance that journalism plays in a society.

Because of a few journalists who saw what happened and told the truth, one of the most repressive regimes in the world was not able to conceal this crime.

[President Islam] Karimov's repressive government realized that a free press is dangerous to their corrupt, brutal regime. And, so, journalists who reported truthfully were branded terrorists.

Many of these journalists were forced to leave the country. A few were thrown in jail. Those who dared to remain in Uzbekistan are threatened and beaten routinely. Because of this, we do not know what is going on in the country, how to act, how to react. An entire country has disappeared from the information map.

This, yet again, shows us how important it is to protect freedom of speech and of the press. And how important it is for the international community to support press freedom in countries where domestic laws fail to protect it–in countries like Uzbekistan where state institutions are used as tools of the repressive regime to crush independent journalists.

Ladies and gentlemen: I would like to share this award with my six colleagues who reported along with me from Andijan; with all the brave journalists who remain in Uzbekistan despite threats and harassment and continue to do their jobs; with 20 human rights defenders, who are now jailed for speaking with journalists.

I would like to share my award with a brave housewife from Andijan, Makhbuba Zakirova, who had the courage to testify before a court in Tashkent in October, and told the truth despite the possibility of grave personal consequences.

I would like to share this award with the refugees from Andijan, who in the repressive aftermath continued to talk to journalists and tell us what really happened.

I dedicate this award to the hundreds, possibly thousands, of innocent victims whose lost lives oblige us to continue to report the truth.

As an exile, I live with the hope that all of us who had to flee Uzbekistan will be able to go back home. I hope we will be able to grieve openly for those who died. But my greatest hope is that the lessons of Andijan will not be forgotten, and that Andijan will never be repeated.

Thank you, CPJ, for not leaving us alone in Uzbekistan.