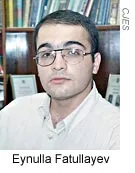 When Eynulla Fatullayev's friend and colleague Elmar Huseynov was murdered in 2005, the journalist set out to find the killers. After his reporting raised the possibility of government complicity in the killing, Fatullayev found himself in jail.
Fatullayev was working as an investigative reporter for Monitor magazine in 2005, when Huseynov, its founder and editor, was assassinated. Two years later, after founding the newspaper Realny Azerbaijan, Fatullayev wrote an in-depth article that charged Azerbaijani authorities with ignoring evidence in the murder and obstructing the investigation. The article, "Lead and Roses," published in Realny Azerbaijan, alleged that Huseynov's murder was ordered by high-ranking officials in Baku and carried out by a criminal group.
Within days of publishing the piece, Fatullayev began receiving death threats. Months later, he was convicted on charges of libeling Azerbaijanis in an Internet posting that was falsely attributed to him. His newspaper's offices were raided and shut down. He was then convicted on a number of other fabricated charges, including a "terrorism" count apparently based on his published analysis of Azerbaijan's policies toward Iran, and sentenced to an eight-year prison term. In 2009, he was hit with another trumped-up indictment that added two and a half years to his term.
In March 2010, the European Court of Human Rights ordered Fatullayev's immediate release, but Azerbaijani authorities continued to hold the journalist for more than a year. After intense international advocacy, he was freed in May 2011. In an interview with CPJ the day after his release, Fatullayev described his ordeal and thanked the international community for their sustained support during his four-year imprisonment.
To watch Eynulla Fatullayev's 2011 acceptance speech, click here.