(Courtesy ABC News)
Watch or read the remarks by dinner chairman Alberto Ibargüen as prepared for delivery.
---
---
---
Burton Benjamin Memorial Award
Anchor, Univision News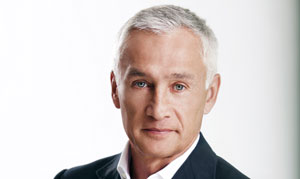 ---
Four journalists from Burma, Iran, Russia, and South Africa were honored on November 25, 2014 at the Committee to Protect Journalists' 24th annual International Press Freedom Awards for their work in defiance of imprisonment, repression, and censorship.
The dinner, at New York's Waldorf-Astoria hotel, raised a record $1.9 million for CPJ's worldwide press freedom advocacy. To show support for this year's honorees and reporters across the globe who confront the war on journalists daily, Alberto Ibargüen, president of the John S. and James L. Knight Foundation and dinner chairman, also announced a commitment of an additional $858,000 from the New Initiatives Fund, a newly created network of several funders including Knight Foundation. A special appeal during the evening raised $235,635. Those funds were matched one-to-one by the John S. and James L. Knight Foundation. The total amount raised for the event was more than $2.7 million.
Iranian freelance journalist Siamak Ghaderi, who was released in July after spending four years in prison, received his International Press Freedom Award from journalist Maziar Bahari, who was jailed in Iran in 2009. Ghaderi had previously been an editor and reporter for the Islamic Republic's official news agency IRNA. Rebecca MacKinnon, co-founder of Global Voices Online, presented an award to Burmese journalist Aung Zaw, founder and editor-in-chief of The Irrawaddy, which was branded an "enemy of the state" by the former military regime and still comes under pressure from the current Burmese government. Alan Rusbridger, editor of The Guardian, honored Mikhail Zygar, editor-in-chief for the Russian independent TV channel Dozhd, which provides a rare alternative to Kremlin-controlled federal stations. Clarence Page, a Pulitzer prize-winning columnist from the Chicago Tribune, presented Ferial Haffajee, editor-in-chief of City Press in South Africa, with her award. Haffajee has faced fierce criticism and threats of violence against herself and her staff for critical stories published under her leadership. Recently freed International Press Freedom Awardee Nguyen Van Hai, who was in prison when his award was presented in 2013, delivered a powerful speech calling for the release of journalists worldwide.
The newly announced New Initiatives Fund is supported by a network made up of the Knight Foundation, the Ford Foundation, the Robert R. McCormick Foundation, the Ethics and Excellence in Journalism Foundation, and the New Venture Fund, which is supported by the Bill & Melinda Gates Foundation. The fund will enable faster and better data and reports, and strengthen analysis and advocacy. CPJ will increase interventions and referrals on safety issues, particularly for reporters without institutional support, such as freelance or local journalists.
Read the announcement of the 2014 International Press Freedom Awardees in Arabic, English, Farsi, Russian and Spanish.
Media contact
Samantha Libby, Communications Associate
Tel: +1 212-300-9032
Email: [email protected]