CHRISTINE ANYANWU was publisher and editor in chief of the national news weekly The Sunday Magazine when she was arrested on May 31, 1995, because she had published articles reporting that there was no evidence of an alleged plot to overthrow Nigeria's military regime headed by General Sani Abacha.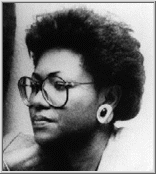 The regime had used the allegation to round up political opponents who challenged Abacha's annulment of the June 12, 1993, presidential elections. The Sunday Magazine also had published a list of people who had been wrongfully arrested at that time. Charged as an "accessory to a treasonable felony," Anyanwu was tried before a secret military tribunal and sentenced to life in prison. Three other journalists — George Mbah, assistant editor of Tell magazine; Ben Charles Obi, editor of Weekend Classique; and Kunle Ajibade, editor in chief of The NEWS — were also tried and sentenced with Anyanwu on the same charges. After an international protest and campaign for their release was initiated by CPJ, the sentence was commuted to 15 years.
Anyanwu, 46, a former state commissioner of information and a well-known energy correspondent and diplomatic/foreign correspondent on Nigerian television, is a member of Nigeria's vibrant independent press, which has been a strong opponent of military rule. The Sunday Magazine, founded by Anyanwu in 1990, was unable to survive without her editorial leadership and is no longer publishing.
Anyanwu, who received a master's degree in mass communication from Florida State University in 1979, is the mother of two children. She is in deteriorating health after more than two years in prison, much of that in dank solitary confinement and without needed medications. Reports indicate that Anyanwu is in danger of going blind if she does not receive specialized treatment available only in eye clinics abroad.
Background
---
March 15, 1995
Christine Anyanwu, The Sunday Magazine IMPRISONED


Anyanwu, publisher and editor in chief of the privately owned The Sunday Magazine, was arrested and held for one week on two criminal charges, conspiracy and publishing false news. The chief magistrate in Lagos alleged that Anyanwu conspired to cause fear and alarm to disturb the public peace with the March 19 articles "Coup Update: Bloodbath Soon" and "Echoes of Coup Rock the Nation." She was released on a bond of 50,000 naira (US$610).
---
May
Christine Anyanwu, The Sunday Magazine IMPRISONED


Anyanwu, publisher and editor in chief of The Sunday Magazine, was rearrested after having been held in detention for a week in March for her reports on the alleged March coup plot. She was secretly tried with Ben Charles Obi, editor of Weekend Classique, before a special military tribunal in July. Both were given life sentences. On Oct. 1, Nigeria's Independence Day, the Provisional Ruling Council commuted their sentences to 15 years in prison. Anyanwu and Obi have since been transferred to a prison in Bama, northeastern Nigeria, notorious for its poor conditions. On four occasions, CPJ protested the arrests in letters to the Abacha government and called for the journalists' immediate and unconditional release.
---
|CPJ home | Attacks Index | Awards 1997 |Report a Journalist in Trouble |
---