Madi Ceesay
Veteran journalist has served time in Gambia's jails
for his independent reporting
V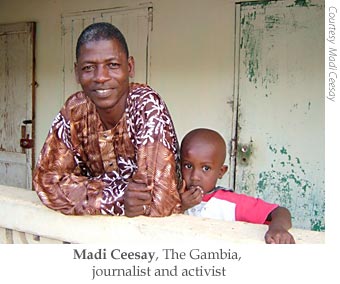 Video featuring this awardee
in QuickTime format

Madi Ceesay is a veteran independent journalist from the Gambia who has suffered attacks and imprisonment for his work. He is also a leading press freedom activist, serving as president of the Gambia Press Union, which has spearheaded efforts to fight impunity for attacks on the press, including the unsolved December 2004 murder of prominent newspaper editor Deyda Hydara. The tense national climate was laid bare when the Press Union organized an international conference to mark the first anniversary of Hydara's murder. Police barred journalists from the site of the murder, along a public road, and they assaulted a reporter.
In 2006, Ceesay took over as general manager of The Independent, a leading private paper that has suffered frequent official harassment and two unsolved arson attacks. In March, security forces sealed off The Independent's offices and detained staff after the paper published critical articles about a purported coup attempt. Ceesay and the paper's editor Musa Saidykhan were held for three weeks without charge by the National Intelligence Agency.
Before joining The Independent, Ceesay worked for 10 years for the respected independent weekly Gambia News and Report, first as a reporter and then as its deputy editor. He was jailed before, in 2000, while covering the opposition United Democratic Party. Ceesay's advocacy and leadership have been crucial in the Gambia, where frequent attacks, imprisonments, and other forms of harassment have made the nation one of the worst in Africa for the press.
Read Madi Ceesay's acceptance speech
Hear an interview with Madi Ceesay on The Leonard Lopate Show (WNYC–New York Public Radio)
"Underreported: Freedom of the Press in The Gambia"
Read a letter from Ceesay's colleague at the Gambia Press Union.
Read Coups: Mockery to Democracy, by Madi Ceesay
---
The following message of congratulations was sent by Demba Jawo, the immediate former president of the Gambia Press Union, who has also done important and courageous work for the independent press in the Gambia and is now based in Dakar, Senegal.

Congratulations,
I wish to take this opportunity to congratulate our colleague Madi Ceesay, president of the Gambia Press Union for the great honour being bestowed on him by the CPJ. There is absolutely no doubt that Madi deserves this CPJ International Press Freedom Award for various reasons.
In the first place, Madi has been quite resilient in the face of constant intimidation and harassment. While some of his colleagues have had enough and decided to leave the country no doubt to find some respite, he has chosen to stay put and carry on the struggle. That is certainly a sterling quality that he should be commended for. Therefore, on behalf of my colleagues in The Gambia and all over the world, I say 'Ndokaleku' Madi and I pray that this award would serve as a catalyst for more press freedom for us.
Of course, while the award is given to Madi as an individual, but it is no doubt a fitting recognition for the struggle of Gambian journalists for what we had been going through in the past several years, particularly since the enemies of press freedom resorted to violent tactics like the arson attacks on media houses and the targeting of individual journalists, culminating in the murder of our colleague Deyda Hydara in December 2004.
While I would have loved to be physically present at this award ceremony in order to give Madi all the moral support he needs, but I wish to assure him that I am here in spirit and I whole-heartedly endorse this magnanimous gesture by the CPJ. I would therefore also wish to take this opportunity to thank the CPJ for demonstrating to us that there are people outside The Gambia who are monitoring our plight and ready to render support at every available opportunity. While this award is a personal triumph for Madi, but it is also an encouragement and a clear message to all Gambian journalists that our struggle is not in vain. I have no doubt that it will also serve as an encouragement to those journalists who were on the verge of throwing in the towel.
Therefore, I would urge Madi to go back home and continue the struggle and we are all fully behind him.
Demba Jawo
Ex-GPU president
---
The Independent (Banjul)
OPINION
March 27, 2006
Posted to the web March 28, 2006
By Madi Ceesay
Banjul
Yet Gambians got up with the news of a foiled coup attempt on Tuesday the 21 of March 2006. It is indeed unfortunate. Coups should be things of the past now. They are nothing but mockery of democracy in Africa. Coups have contributed a lot to the retrogression of the continent of Africa.
The general populace in Africa should now stand on the way of coup makers. We have seen it happen several times and nine out of every ten turn out to do worst than the government they toppled.
July 1994 was a turning point in the life of The Gambia. It was this day that a thirty year rule of the PPP regime of Sir Dawda Jawara was toppled by young soldiers who justified their act with a simple statement that the president had not only overstayed but he was corrupt as well.
Our young soldiers at that point in time posed themselves as democrats who were willing to do-away with corruption, nepotism and flamboyant lifestyles and put in place non corrupt, transparent and accountable system of government. Eleven years later, one should access the early coup statements and see whether what were actually honoured. For instance, the high level corruption in our country today is not a hidden secret, as two prominent ruling party bigwigs are lingering in Mile II Central Prisons for economic crimes and other closed related corrupt practices.
The corruption level was so high that the government of Jammeh was forced to set up an anti-corruption commission. That is one of the good things the Jammeh regime had done. It shows that instead of denying the existence of corruption within his government he was bold enough to accept the fact. The anti-corruption commission tried several past and present secretaries of state, heads of department and so on but the most interesting thing about the commission is that it was very discriminatory in the way people were arraigned before it. With all the hues and cries, the commission seems to be a dead horse.
We have seen the appearance of the likes of the Vice President before the commission but what stopped the President from appearing doubts many a Gambian. I may not be a lawyer, but it is stated over and over that nobody is above the law. Unfortunately, that is not the case in our country where the President seems to be above the law. Jammeh should have been courageous enough to appear before the very commission he had set up because he also fell with those executives that served the government from 1994 to date.
It would have been good for the President because it will set light on things like how the Kanilai farm, the Zoo, the jet and other things that the opposition cast doubt in the minds of the people would have been cleared. But these questions were never answered since he did not stand before the commission.
The coup of 1994 for me is a mockery of democracy. This is because before the coup, chieftaincy and alikalorship were elective positions but these positions over the years were turned appointive. Is that not a set back for democracy? Our constitution of 1970 has ever been silent on a presidential term limit, which is another set back of democracy.
With the coming of the coup I was so much happy when I heard the young soldiers saying that Sir Dawda ruled for 30 years and that he had overstayed. What comes to my mind was that we have men who have changed the government in their own way and those are the people who are talking of overstay in office, no doubt a corrective measures will be taken to avoid another overstay in office. That can only come our way with a presidential term limit. But more than ten years in office our country is not on the list of countries with presidential term limits. That is an indication of a mockery of democracy? Along the line from 1994 to 2006, our constitution has been butchered several times to the point of making it a bull without a horn. The possibility of a second round of elections was amended to a simple majority, the type you hardly find in Africa today.
What in my opinion broke the back of the camel is the flamboyant life style condemned in 1994 by the military junta. For those who are still alive would bear me witness that the Mercedez Benz used by the PPP ministers at time as official cars were all packed at the then Public Works Department (PWD). The junta refused to use them on the pretext that those are luxurious cars. But they later gave them to civilian ministers to use them for official errands.
On the contrary, those soldiers who are with difference can today boast of acquiring a prestigious limousine saying such acquisition was a sign of progress for poor Gambia. The acquisition of a limousine means nobody can look low upon The Gambia and that everybody is talking about it.
Is it not a mockery of democracy if poor Gambia can spend so much on a single car while leaving majority of its citizens crippling with abject poverty? This is a time when most of our roads are not easily accessible. Yes, one acknowledges that some amount of development has taken place but we are not yet at a point where we have regular power supply to guarantee our manufacturing industry to flourish, our major road in very poor situations, our road networks within the capital are also horrible.
To sum up, it is hard to chew but the fact remains that Gambians are poorer today than eleven years ago. Poverty is biting citizens at a fast rate. It stands at 69%, which is worrying. More Gambians are jobless today than before. Our roads are worst today than twelve years back, a fact no truthful person can deny. The Kombo Coastal and Ferefenni Laminkoto Roads are not up to 10% of the road network.
The present regime can be commended for its timely intervention in the health and education sectors. However, it is my conviction that they add quality to quantity because the number does not matter.
---
Madi Ceesay's acceptance speech
I would first like to thank the Committee to Protect Journalists and all those who contributed to my nomination. I would also like to thank my family for all the support they have given me.
Today is a great day in my life as a journalist. I would like to accept this prestigious award in the name of all independent journalists in the Gambia who continue to work despite a very hostile media environment.
Ladies and gentlemen, let me describe to you the sad climate in which we work. In the past few years, we have seen repeated arson attacks on journalists and their media houses, without a single suspect being brought before the courts. Four media houses have been shut down by the government, including my own newspaper.
In 2004, our colleague Deyda Hydara, editor of The Point newspaper, was murdered in a drive-by shooting. It was a shock to all journalists in the Gambia, who felt a great loss and also a sense of fear that such a thing could happen in our country. Government investigators have not brought anyone to justice so far. They produced a report that seemed to blame Deyda for his own death–and did not address the question of who killed him.
After my newspaper was shut down and I was imprisoned in March this year, several other journalists were also detained, and one journalist has been missing for more than three months now. One of my colleagues from the Independent is being tried for publishing false information under a law which could bring a possible jail sentence.
Ladies and gentlemen, the Gambia is a small country, and some of you may not be familiar with it. But our problems are typical of many African countries, where the independent press is struggling to hold governments accountable … governments which may profess to be democratic but violate democratic principles such as press freedom.
Ladies and gentlemen, Gambia's embattled independent media desperately needs support. I call on you to help us by speaking up when abuses occur. We also need practical support to strengthen the Gambian media so that we will be better able to investigate abuses and report on issues of vital public interest.
Thank you all for your attention.