Burton Benjamin Memorial Award: JOHN F. BURNS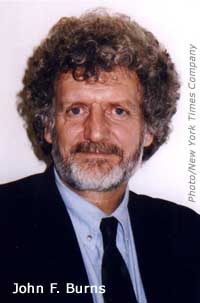 In an interview with the American Journalism Review last year, John F. Burns was asked, "Why do journalists risk their lives to cover a story?" His answer: "Journalists want to know; we are incessantly curious people. …There is a compulsion to bear witness, to tell the story of the afflicted. But we can't tell that story if we don't go down that road."

In his four decades in journalism, Burns has gone down many roads, in many parts of the world. Along the way, he's been honored with two Pulitzer Prizes for his work in war zones (in 1997 for reporting on the rise of the Taliban in Afghanistan and in 1993 for his coverage of the siege of Sarajevo) and two George Polk Awards (one as part of a team reporting on Africa in 1979 at the height of apartheid and one in 1996 for his Afghan coverage).

This last spring, Burns, 59, was in Baghdad during the war with Iraq. And after most U.S. television networks pulled out of the capital in the final days before the United States began bombing the city on March 19, Burns became the de facto eyes and ears for much of the American public, appearing on nightly news programs on CBS, NBC, and on PBS's "The NewsHour with Jim Lehrer."

Burns was appointed chief foreign correspondent of The New York Times in April 2003. He has served as the Times bureau chief in Kabul, New Delhi, Toronto, Beijing, Moscow, and Johannesburg. In July 1986, while in Beijing, the Chinese government arrested Burns after a motorcycle journey across the Chinese heartland and imprisoned him for six days on charges of espionage. A trial was avoided when the Chinese government deported him to Hong Kong.

Before joining The New York Times in October 1975 as a member of the metro desk, Burns worked at The Ottawa Journal, The Ottawa Citizen, and The Globe and Mail of Toronto.