CPJ TO PRESENT ANNUAL INTERNATIONAL PRESS FREEDOM AWARDS
Alexis Sinduhije | Aung Pwint and Thaung Tun | Svetlana Kalinkina | Paul Klebnikov | John Carroll

New York, October 14, 2004–The Committee to Protect Journalists will honor four journalists–from Belarus, Burma, Burundi, and the United States–with 2004 International Press Freedom Awards in November.

Svetlana Kalinkina (Belarus), Aung Pwint and Thaung Tun, also known as Nyein Thit (Burma), and Alexis Sinduhije (Burundi) have endured years of harassment, death threats, or imprisonment to report the news. CPJ will also posthumously honor Paul Klebnikov (United States) the slain editor-in-chief of Forbes Russia, who was gunned down in a contract-style killing in Moscow in July.

John Carroll, editor and executive vice president of the Los Angeles Times, will receive CPJ's Burton Benjamin Memorial Award for lifetime achievement.

The awards will be presented at a dinner ceremony at the Waldorf-Astoria Hotel in New York City on Tuesday, November 23. Tony Ridder, chairman and CEO of Knight Ridder, will chair the black-tie dinner, which PBS News anchor and CPJ board member Gwen Ifill will host.

2004 CPJ International Press Freedom Awardees:


Svetlana Kalinkina is the former editor-in-chief of the popular Minsk business daily Belorusskaya Delovaya Gazeta (BDG), which endured years of legal and bureaucratic harassment from Belarusian authorities because of its critical reporting on various government abuses. Officials filed several civil and criminal lawsuits against the paper, seized print runs, threatened and detained journalists, and conducted politically motivated tax inspections. In early 2004, the post office and national state-run press distributor broke their contracts with the newspaper and refused to distribute it. A journalist from the newspaper also received several death threats via telephone. In addition, the Information Ministry aggressively harassed any printer that worked with BDG, forcing the newspaper to print in neighboring Russia. In January, the Information Ministry issued its third official warning to BDG, leaving the newspaper vulnerable to court-ordered closure. By September, government restrictions had drastically cut the newspaper's circulation, with only a handful of private vendors distributing the daily amid police harassment.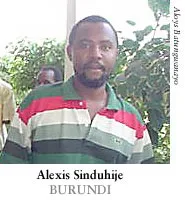 Alexis Sinduhije is the founder and director of Burundi's Radio Publique Africaine (RPA), which has defied government bans and intimidation to become one of war-torn Burundi's most popular radio stations. RPA was launched in early 2001 at a time when Burundi was seeking to end a devastating eight-year conflict between ethnic Hutus and Tutsis. The station has sought to promote peace by hiring both Hutus and Tutsis, including ex-combatants, to work on the editorial team. "I wanted to humanize relations between the ethnic groups in Burundi and set an example of former enemies working together to build peace," says Sinduhije. The station's courageous investigative reporting and grassroots approach to issues affecting ordinary Burundians has earned it the nickname "the People's Radio." RPA has achieved this in a region where many view private radio with suspicion because of the incendiary role that neighboring Rwanda's RTLM radio played in the 1994 genocide there.
In September 2003, authorities closed RPA, along with another private station, for airing an interview with a rebel spokesman. However, private stations announced that they would not broadcast any government news or statements for the duration of the ban, and this solidarity helped get the sanction lifted three days later. RPA's investigative reporting on sensitive issues such as human rights abuses and corruption has endangered Sinduhije and his staff. In February 2003, armed men broke into Sinduhije's house and murdered his security guard, but the journalist believes that the attackers meant to kill him. Despite the difficulties, RPA continues to delve into sensitive issues as it attempts to foster peace and reconciliation in a country racked by ethnic violence.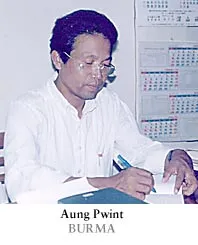 Aung Pwint, a documentary filmmaker, editor, and poet, and Thaung Tun, an editor, filmmaker, and poet better known by his pen name, Nyein Thit, were arrested separately in Burma in early October 1999 and have been imprisoned ever since. CPJ sources said they were arrested for filming independent video documentaries that portrayed the grim reality of everyday life in Burma, including footage of forced labor and hardship in rural areas. Aung Pwint worked at a private media company that produced videos for tourism and educational purposes, but he also worked with Thaung Tun on documentary-style projects. Their videotapes circulated through underground networks.
The ruling military junta had prohibited Aung Pwint from making videos in 1996 "because they were considered to show too negative a picture of Burmese society and living standards," according to Human Rights Watch. A notable poet, he has also written under the name Maung Aung Pwint.
The same year they were arrested, the two men were tried together, and each was sentenced to eight years in prison. Pwint was convicted of "illegal possession of a fax machine" and of "sending news" to banned Burmese newspapers. CPJ sources say that Pwint still plays an active role in defending press freedom from prison. Pwint's family has been severely impoverished as a result of his imprisonment, and Tun is reportedly suffering from a brain ailment as a result of his confinement.
Paul Klebnikov, an American journalist of Russian descent, was shot eight times by at least one assassin in a passing car when he stepped outside his office on July 9, 2004, in Moscow. He died shortly after arriving at a hospital, becoming the 11th journalist in Russia to be murdered in a contract-style killing since President Vladimir Putin took power in 2000. To date, no one has been brought to justice in any of the cases.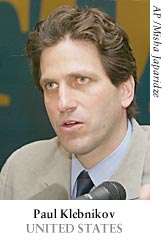 Klebnikov joined Forbes magazine in 1989 and rose to the position of senior editor specializing in Russian and Eastern European politics and economics before leaving the U.S.-based magazine to assume the editorship of Forbes Russia in 2004. Klebnikov launched the magazine in April 2004, believing that reforms were propelling the country toward greater transparency in business and politics. With his fluency in Russian and doctorate from the London School of Economics, Klebnikov was uniquely qualified to investigate Russia's business world. In his first editorial, Klebnikov wrote that Russian business had arrived at a "new, more civilized stage of development" and cited the launch of Forbes' Russian edition as evidence.
Forbes Russia attracted significant attention in May when it published a list of Russia's wealthiest people and reported that Moscow had 33 billionaires, more than any other city in the world. Publication of the list focused attention on Russia's richest people, many of whom are trying to keep a low profile. Klebnikov's book, Godfather of the Kremlin: Boris Berezovsky and the Looting of Russia, was published in August 2001 and outlined the rise of one of the country's most powerful oligarchs.
Burton Benjamin Memorial Award: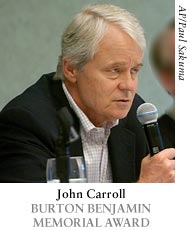 CPJ will honor John Carroll, editor and executive vice president of the Los Angeles Times, with the Burton Benjamin Memorial Award for lifetime achievement.

Throughout his four decades of newspaper work, John Carroll has been a respected leader, admired throughout the industry for his considerable journalistic talents, as well as for his integrity and deep commitment to press freedom and fairness. Carroll was a Nieman Fellow at Harvard University, served on the Pulitzer Prize board from 1994 to 2003, and was chairman of the Pulitzer Prize board in 2002.

The Tribune Company recruited Carroll in April 2000 to take over a distinguished but demoralized newsroom in Los Angeles. At the Times, hard hit by public criticism of an advertising arrangement, Carroll moved steadily to restore the newsroom's self-confidence. Placing a high priority on investigative journalism–occasionally even editing stories himself–Carroll revamped the newsroom management and the paper's design to include more prominent exposure for international coverage.
He has served as the newspaper's chief advocate–defending its Middle East coverage, for example, when readers organized a boycott–as well as its chief critic, reproving his publication for liberal bias in its coverage of an abortion story this spring. In 2004, five journalists at the Los Angeles Times won Pulitzer Prizes, prominently affirming the Times' place as a top U.S. newspaper.
Carroll began his reporting career at Rhode Island's Providence Journal-Bulletin before moving to The Baltimore Sun, where his beats included Vietnam, the Middle East, and the White House. In 1972, he joined The Philadelphia Inquirer as an editor. During the next 30 years, his name became synonymous with vibrant, investigative journalism and leadership that enlivened Kentucky's Lexington Herald-Leader, The Baltimore Sun, and the Los Angeles Times, as well as the communities they serve.
CPJ Board Chairman David Laventhol said, "The International Press Freedom Awards honor five courageous journalists from around the world who have been imprisoned, threatened, and even killed simply for reporting the truth. Their work reminds us that there are many places where journalists do not enjoy even the most basic press freedoms."
"Journalists everywhere take inspiration from the courageous work of these awardees," said CPJ Executive Director Ann Cooper. "In honoring them, CPJ seeks to bolster support for their work, and to win freedom and justice for these journalists."