CPJ HONORS FIVE BRAVE JOURNALISTS

Fighting Impunity, Targeting of Journalists Highlighted
New York, November 21, 2007–The Committee to Protect Journalists honored five journalists with its 2007 International Press Freedom Awards in a ceremony Tuesday night that highlighted the fight for justice in journalist murders, and an increase in the targeting of journalists in reprisal for their work.
More than 900 people attended the benefit dinner, which raised more than $1.4 million, a fund-raising record for the event. It was chaired by David Schlesinger, editor-in-chief of Reuters. Brian Williams, anchor and managing editor of NBC Nightly News and CPJ board member, hosted the dinner at the Waldorf-Astoria Hotel.
Schlesinger spoke about the death of 10 Reuters employees so far this decade. "The vast majority of journalists killed, injured, oppressed, tortured have no voice," he said. "They are local journalists, working for local press, trying simply to practice their craft, to tell the story, to shed light for their audience."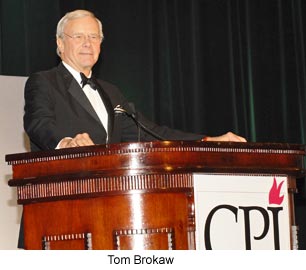 Three of the award winners–from Russia, Mexico, and Pakistan–highlighted the issue of impunity in their remarks. Dmitry Muratov, who has seen three reporters with his newspaper, Moscow-based Novaya Gazeta, murdered, said he had considered shutting down the paper but continued to publish, "Because our million readers share the values of democracy. Real democracy–not its imitation."
Award winner Gao Qinrong, who completed an eight-year prison sentence in China on trumped-up charges, was not able to attend because the Chinese authorities would not issue him a passport. Gao had reported on corruption in a irrigation project in Shanxi province. He sent a letter of appreciation to those attending the dinner. CPJ will hold Gao's award until he can attend a CPJ awards dinner and receive it in person.
CPJ Executive Director Joel Simon announced a global campaign against impunity that seeks to bring the killers of journalists to justice. Nearly 500 journalists have been murdered in the last 15 years, according to CPJ research, and nearly 85 percent of those crimes have gone unpunished. The effort, which will focus initially on the Philippines and Russia, is underwritten by a grant from the John S. and James L. Knight Foundation.
Paul Steiger, CPJ's board chairman, announced a $1 million challenge grant to help permanently endow CPJ's network of consultants around the world, known as the International Program Network. Already, nearly $750,000 has been raised toward the $1 million match.
Tom Brokaw, NBC News anchor, reporter and best-selling author, received CPJ's Burton Benjamin Memorial Award for lifetime achievement.
Presenters for the evening's awards included Katrina vanden Heuvel of The Nation, Scott Pelley of CBS News, Patricia Janiot of CNN En Español, Alan Johnston of BBC News, Cheryl Gould of NBC News, and Bill Wheatley, former executive vice president of NBC News.
2007 CPJ International Press Freedom Awardees:
Dmitry Muratov is editor-in-chief of Novaya Gazeta, the only truly critical newspaper with national influence in Russia today. He founded the paper in 1993 and is still its driving force. Novaya Gazeta, with a staff of 60, is known for its in-depth investigations on sensitive issues such as high-level corruption, human rights violations, and abuse of power. It has paid a heavy price for this pioneering work; three of its reporters have been killed. The most recent casualty was investigative journalist Anna Politkovskaya, who gained international recognition for her independent coverage of Chechnya and the North Caucasus.
In 1993, five years after leaving the popular daily Komsomolskaya Pravda, Muratov and some 50 colleagues started Novaya Gazeta with the goal of creating "an honest, independent, and rich" publication that would influence national policy. It was a lofty goal considering they began with two computers, one printer, two rooms, and no money for salaries. An initial boost came from former Soviet President Mikhail Gorbachev, who donated part of his 1990 Nobel Peace Prize award to pay for computers and salaries. By 1996, Novaya Gazeta's circulation had risen to 70,000 from its initial run of 10,000 copies.
Despite the Kremlin's success in marginalizing independent reporting, Novaya Gazeta continues to wield considerable influence with its uniquely uncompromising editorial line.Hear his remarks.
Mazhar Abbas is a well-known champion of press freedom in Pakistan who has worked as a journalist for 27 years and has endured repeated threats as a result of his work. He is deputy director of ARY One World Television, an Urdu and Hindi-language 24-hour news channel from Pakistan, and secretary-general of the Pakistan Federal Union of Journalists.
In May, he was one of three journalists who found bullets in white envelopes attached to their cars when they came out of a late-night meeting at the Karachi Press Club. He was on the hit list of the Mohajir Rabita Council, an ethnic political group in Pakistan's southern province of Sindh, which is allied with President Pervez Musharraf. Abbas was also charged by police earlier this year after protesting the closure of three independent TV channels for reporting on anti-Musharraf demonstrations.
At the union, Abbas is leading the opposition against the Musharraf administration's attempts to silence press criticism of the faltering military government. As an AFP correspondent in Karachi, he covered the kidnapping and murder of Wall Street Journal South Asia Bureau Chief Daniel Pearl in 2002, and the following investigations and trials.
Hear his remarks
Adela Navarro Bello, 39, is the general director of the weekly magazine Zeta in the border city of Tijuana, Mexico. Created in 1980, Zeta is one of the only publications to regularly run investigations on organized crime, drug trafficking, and corruption in Mexico's northern states, where self-censorship is rampant. The cost of Zeta's coverage of crime along the U.S.-Mexico border has been high: Héctor Félix Miranda, co-founder of the magazine, was killed in 1988, and co-editor Francisco Ortiz Franco was murdered in 2004.
In 1997, after an assassination attempt against J. Jesús Blancornelas, the founder and then director of Zeta, in which one of his bodyguards was killed, Mexican authorities provided Navarro with a bulletproof vest and two bodyguards. Blancornelas won this award in 1996 and passed away last year. Before becoming general director, Navarro worked as a writer, columnist, and a member of the editorial board. In 1994, she covered the Chiapas conflict for the magazine. Since then, she has interviewed presidents, ministers, governors, and leaders of Mexican political parties. Today, she writes the column "Sortilegioz." Hear her remarks
Gao Qinrong, who worked as a reporter for China's official Xinhua News Agency in the northern province of Shanxi, was released last year after spending eight years in prison. In 1998, the investigative reporter exposed a scam irrigation project in his home province; Xinhua didn't publish the report but it was circulated in the internal edition of People's Daily, which is distributed to Communist Party leaders. When the story went on to attract national media attention from other news outlets, local officials blamed Gao. He was charged with a laundry list of crimes, including embezzlement, fraud, and even pimping, and sentenced to a 12-year jail term. After his early release for good behavior–he ran a prison newspaper–Gao gave lengthy interviews to Chinese and international news organizations. Before it was shut down domestically, coverage of his case drew new attention to the issue of press freedom in China. Gao is struggling to get the charges against him dropped so he can return to working as a reporter. Hear Alan Johnston's remarks about Gao
Burton Benjamin Memorial Award:
Tom Brokaw, one of the most trusted and respected figures in broadcast journalism, received the Burton Benjamin Memorial Award given for a lifetime of distinguished achievement in the cause of press freedom. The Burton Benjamin Award is named for the late CBS News senior producer and former CPJ chairman, who died in 1988.
Brokaw stepped down as the anchor and managing editor of "NBC Nightly News" on December 1, 2004, after 21 years on the broadcast. Brokaw continues to work with NBC News, reporting and producing documentaries and providing expertise during breaking news events. He is also a longtime CPJ supporter who joined the Board of Directors in 1993.
In June 2004, Tom Brokaw traveled to Iraq to cover the handover of power, reporting for five days for all NBC News programs. He reported from Normandy, France, during the D-Day 60th anniversary ceremonies that same month. On March 19, 2003, he was the first American news anchor to report that the war with Iraq had begun, and in April 2003, he had the first television interview with President Bush after the end of major combat was declared.
Brokaw secured the first exclusive U.S. one-on-one interview with Russian President Mikhail Gorbachev, in 1987, earning him an Alfred I. duPont-Columbia University Award. He was the only anchor to report from the scene the night the Berlin Wall fell, and was the first American anchor to travel to Tibet to report on human-rights abuses and to conduct an interview with the Dalai Lama. In addition to "Nightly News," Brokaw's documentary reporting has been recognized with numerous awards, including two Peabody Awards and an Emmy.

Brokaw has covered every presidential election since 1968 and was NBC's White House correspondent during the Watergate scandal. In 1998, Brokaw became a bestselling author with the publication of The Greatest Generation. His fourth bestselling book, A Long Way from Home, a look at growing up in the American heartland, was released in November 2002. His latest book, Boom! Voices of the Sixties, is out this month. Hear his remarks.