CPJ is honored to present its 2020 Gwen Ifill Press Freedom Award, for extraordinary and sustained achievement in the cause of press freedom, to lawyer Amal Clooney.
Clooney specializes in public international law, international criminal law, and human rights. She has represented clients before courts such as the International Criminal Court, the International Court of Justice and the European Court of Human Rights. She also provides advice to governments and individuals on legal issues in her areas of expertise.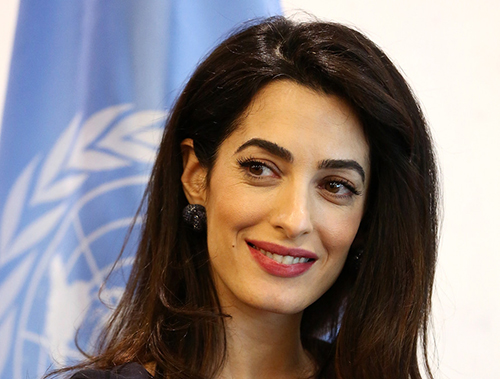 Clooney previously served as a senior adviser to Kofi Annan when he was the U.N.'s envoy on Syria. She also served as counsel to the U.N. inquiry on the use of armed drones. She is a member of the U.K.'s team of experts on preventing sexual violence in conflict zones, and she is on the U.K. attorney general's expert panel on public international law. In 2019 she was appointed the U.K.'s special envoy on media freedom and deputy chair of the independent High Level Panel of Legal Experts set up at the request of the governments of the U.K. and Canada to advise on legal issues relating to press freedom. CPJ advises the panel from time to time.
Clooney is a strong advocate for press freedom and the rights of journalists. She served as international counsel for Reuters and the media organization's journalists Wa Lone and Kyaw Soe Oo, who were arrested in Myanmar in December 2017 and sentenced to seven years in prison under the country's Official Secrets Act for their reporting on crimes committed against the Rohingya by Myanmar forces. Clooney worked with CPJ on the journalists' case and, together with Reuters and CPJ, advocated on behalf of the Reuters reporters and other journalists imprisoned around the world at the United Nations. In her remarks at the U.N., she called the journalists' convictions and sentence a "travesty of justice" and outlined their defense case. In May 2019, the two journalists were freed.
Prior to this, Clooney represented award-winning Azerbaijani journalist Khadija Ismayilova, who was persecuted by Azerbaijani authorities for years. Ismayilova was jailed in December 2014 and sentenced to seven and a half years in prison on charges of tax evasion and embezzlement, allegations that CPJ believed were in retaliation for her reporting. For years, CPJ, too, advocated for her freedom. Clooney represented Ismayilova before the European Court of Human Rights, securing a strong judgment in her favor. In May 2016, Ismayilova was released from prison. "Her release is a victory for all journalists who dare to speak truth to power," Clooney said at the time.
Clooney also represented Mohamad Fahmy, a Canadian journalist who was one of three Al-Jazeera journalists imprisoned in Egypt in 2013. Fahmy was sentenced to three years in prison on charges of terrorism and spreading false news. The charges spurred international condemnation, and CPJ repeatedly called for the journalists' release. In September 2015, Fahmy was freed and thanked his "remarkable and courageous" lawyer Amal Clooney.
Clooney also promotes freedom of speech and journalism through the Clooney Foundation for Justice, which she co-founded with her husband George Clooney. One of their flagship initiatives, TrialWatch, monitors the trials of journalists worldwide and provides free legal representation for those in greatest need. The initiative grades the fairness of each trial in order to rank judicial systems on a global justice index that will be used to push for systemic reform. CPJ works closely with TrialWatch on many of these cases and has supported Clooney's calls for legal and policy reform—including the use of sanctions against officials who silence reporters—to better protect a free press.
CPJ is deeply grateful to Clooney for her contributions to the cause of press freedom. Clooney has been a strong supporter of CPJ's advocacy in recent years and has taken up the call for governments to provide emergency visas to journalists in distress. She is currently representing Maria Ressa, CPJ's 2018 Gwen Ifill award winner, who has been convicted of cyber libel, a criminal offense, in the Philippines.
---
Shahidul Alam, Bangladesh >
Mohammad Mosaed, Iran >
Dapo Olorunyomi, Nigeria >
Svetlana Prokopyeva, Russia >