Erdoğan says response to "sleaze" of EU's press-freedom criticism beneath his dignity
"Providing an answer to this worthlessness and sleaze would not be very appropriate for the president of Turkey," Turkish President Recep Tayyip Erdoğan told reporters in Croatia yesterday, responding to EU Parliament President Martin Shulz's criticisms of Turkey's crackdown on the press, the daily newspaper Hürriyet reported.
"Whenever he meets me, [Shulz] talks about how respectable my leadership is, how powerful it is. What can be said about a person who speaks like this to my face, but now has a different attitude?" Erdoğan said, according to Hürriyet.
In an April 2 interview with the German newspaper Bild am Sonntag, Schulz said the European Union "must not be silent on violations of fundamental rights in Turkey just because we are cooperating on the refugee question. On the contrary, we must denounce these violations and permanently stay in discussions with Turkey on freedom of expression and human rights issues."
Erdoğan's crackdown on the press has complicated Turkish diplomacy in recent weeks.
European Commission Vice-President Frans Timmermans yesterday told European lawmakers that Turkey's crackdown on the media was pushing the country further from membership in the European Union. "If they want to come closer to Europe — that is what they state — they should improve the situation of the media, of human rights, of civil society," Timmermans said, according to The Associated Press.
On April 3 Erdoğan accused U.S. President Barack Obama of criticizing him behind his back for his record on press freedom.
"I was saddened to hear that statement made behind my back. During my talk with Obama, those issues did not come up," he told reporters then, adding that criticism of Turkey's crackdown on the press aims to "divide, shatter, and if they could, swallow up Turkey. This is what I mean by mastermind. A mastermind is playing games over Turkey."
Charges for security official alleged to have protected journalist's killers
Prosecutors will charge a former state inspector with "helping an armed terrorist organization" for allegedly protecting state officials accused of complicity in the January 2007 assassination of journalist Hrant Dink, CNNTurk reported today, citing the Doğan News Agency. The charge carries a penalty of up to 15 years in prison. Turkish prosecutors believe followers of exiled preacher Fethullah Gülen, whom the Turkish government accuses of maintaining a terrorist organization and "parallel state structure" within Turkey, assassinated the journalist, managing editor of the bilingual, Turkish-Armenian weekly Agos.
Lawyers for Dink's family, who are listed as a complainant in the case against the former official, will ask that the case be added to the ongoing trial of civil servants charged with neglecting their duties in failing to stop the assassination plot, CNNTurk reported.
Dink's family has repeatedly told reporters that they believe a variety of people and agencies were involved in the journalist's assassination, and that blaming only one while exonerating the other would not lead to justice.
[April 29, 2016]
Prison sentences for columnists who republished Charlie Hebdo cartoons
Istanbul's Second Criminal Court today sentenced Ceyda Karan and Hikmet Çetinkaya, columnists for the daily newspaper Cumhuriyet, to two years in prison each on charges of "insulting people's religious values," Cumhuriyet and and the privately owned daily newspaper Hürriyet reported. Both are free, pending appeal.
The columnists had republished cartoons of the Prophet Mohammed by the French satirical newspaper Charlie Hebdo with their columns after the January 2015 attacks on the weekly's offices in Paris.
Speaking after the verdict, Çetinkaya said the two would appeal the verdict to the Supreme Court, calling it a violation of their right to free expression.
Newspaper editors face terrorism charges
Prosecutors have charged Fatih Polat and Vural Nasuhbeyoğlu, the editor-in-chief and news editor, respectively, of the daily newspaper Evrensel, with "spreading propaganda for a terrorist organization" and "praising crime and criminals" for publishing a September 2015 report on Evrensel's website falsely reporting that Kurdish militants had taken a policeman captive, Evrensel reported today. The editors removed the story, which was based on a report from the Fırat News Agency (ANF), from Evrensel's website immediately after they learned it was not true, according to the newspaper. The Fırat News Agency (ANF)'s editorial direction is sympathetic to the Kurdistan Workers' Party (PKK), which the Turkish government has classed a terrorist organization.
Polat said the prosecutors were "drilling into the past," looking for crimes even in deleted stories, in comments published in Evrensel today. The editor added that the story was based on a news agency's reporting, that Evrensel reported it without comment, and vowed that the newspaper "would not bow to this pressure."
The two are scheduled to go on trial at Istanbul's 13th High Criminal Court on October 6, 2016, according to Evrensel.
Turkey's crackdown on media pushing it away from Europe, EU official says
European Commission Vice-President Frans Timmermans today told European lawmakers that Turkey's crackdown on the media was pushing the country further from membership in the European Union.
Timmermans, a former Dutch Foreign Minister and a negotiator of a recent EU-Turkish deal on migrants, today said, "The distance between us and Turkey is not decreasing, it is increasing," according to The Associated Press.
"If they want to come closer to Europe — that is what they state — they should improve the situation of the media, of human rights, of civil society," Timmermans said, the AP reported.
Opposition MP claims government plans to close eight TV channels
Member of parliament with the opposition Republican People Party's (CHP) Barış Yarkadaş claimed that the Turkish broadcast regulator, RTÜK, is preparing to cancel the licenses of eight television channels, in remarks broadcast on the Can Erzincan television channel Wednesday.
According to press accounts of the politician's televised remarks, Yarkadaş claimed regulators planned to cancel the licenses of Can Erzincan TV, Van TV, Özgür Gün TV, Jiyan TV, Hayat TV, Azadi TV, IMC TV, and Fox TV. The state-controlled satellite and cable television operator Türksat on February 26 dropped IMC TV's signal by order of an Ankara prosecutor, the Committee to Protect Journalists reported at the time.
Evrensel newspaper cited an anonymous source from RTÜK as confirming Yarkadaş' claims today.
[April 28, 2016]
No blacklist of foreign journalists, official says
A Turkish official, speaking anonymously to the German news agency Deutsche Presse-agentur (DPA), said Turkey does not maintain a "blacklist" of foreign journalists whom airport security officials should bar from entry, the German broadcaster Deutsche Welle's Turkish service reported today.
Airport security officials in Istanbul barred four journalists from entering the country last week.
"Some foreign journalists not being allowed into the country, but this does not stem from [their] ideas or journalistic activities," the anonymous official said, adding that some of the journalists recently barred from entry had previously crossed to Syria from Turkey illegally.
The unnamed official told DPA that some journalists had engaged in "suspicious" actions, including interviewing "extremist groups" without being accredited as journalists.
"Any kind of policy change on the part of the Turkish Government in this sense is out of the question," he told DPA.
Journalists among 21 detained in secret investigation
Istanbul police detained 21 people, including at least two journalists, from their homes Tuesday as part of a secret investigation, the leftist Etkin News Agency (ETHA) reported today.
Officials released seven of those detained today, ETHA reported, including Sevil Doğan, a journalist for the leftist, pro-Kurdish magazine Özgür Gelecek. Another journalist from the same magazine, Rahime Karvar, and Tufan Çiçek, who works in an administrative capacity in Özgür Gelecek's bureau in the northeastern province Erzincan, remain in custody, according to ETHA.
A judge has placed a gag order on the investigation, ETHA reported, citing Ezgi Duman, a lawyer representing the detainees. The reasons for the detentions were not immediately clear.
Online graphic showing charity's connections to government censored
The leftist newspaper Birgün today reported that authorities had blocked access to an online, interactive graphic published on its website on April 19, 2016, detailing the connections between Turkey's Justice and Development Party (AKP) government and the Ensar Foundation. The Ensar Foundation has for weeks been dogged by allegations that staff of dormitories run by the charity sexually abused children staying there. The Ensar Foundation has said it is investigating the reports and will take all necessary measures.
After reporting that access to the original graphic had been blocked via internet service providers Türk Telekom and UyduNet and mobile phone companies Turkcell and Vodafone, Birgün republished the graphic in a second news story today.
CPJ was unable to access the original story from Istanbul using the internet service provider Türk Telekom or the mobile phone company Turkcell.
[April 27, 2016]
Two more journalists turned away at Istanbul airport
Istanbul-based American freelance journalist David Lepeska today wrote on social media websites Instagram and Twitter that he had been denied entry to Turkey and put on a flight to Chicago. He was at least the fourth journalist turned away at the airport in a week.
"Was just hurried onto a flight to Chicago after being denied entry at Istanbul Ataturk," Lepeska wrote. "This is not the last I will see of you, Turkey. My love for you is deep, thanks mainly to the steady stream of lovely lively people I met here. Be well, Istanbul."
Later, the journalist asked on Twitter, "Once you're denied entry to a country is all your future writing on that place seen as suspect? I don't hold it against you, Turkey."
According to Lepeska's biography on Twitter, he wrote for The Atlantic, London's Guardian, Abu Dhabi's The National, and the Qatari broadcaster Al-Jazeera English's website.
Authorities at Istanbul's Atatürk airport on Saturday denied entry to Giorgos Moutafis, a Greek freelance photographer who was on assignment for Germany's Bild newspaper, the newspaper reported Sunday.
"I was told at passport control that my name was on a list and I was not allowed to enter Turkey," Moutafis, who was scheduled to continue to Libya from Istanbul, said in remarks published by Bild. "Then my passport was taken from me until the early morning and I had to spend the night in a room at the airport."
"I entered [Turkey] at Istanbul six months ago without any problem," Motafis continued. "I cannot explain what might have happened to me in the meantime."
Airport authorities on April 20 refused entry to Tural Kerimov, an Istanbul-based senior journalist for the Russian news website Sputnik, and on April 19 refused entry to Volker Schwenk, a Cairo-based journalist for the German broadcaster SWR, part of the ARD network.
Arrests targeting pro-Kurdish media continue
A court in the southeastern Turkish town of Mardin on Sunday formally ordered the arrest of Emrah Gülden, a reporter for the pro-Kurdish DİHA news agency previously detained from her home on charges of membership in a terrorist organization, the news agency reported.
Turkey classes the Kurdistan Workers' Party (PKK) as a terrorist organization.
According to DİHA, Bilal Güldem is the ninth of its journalists now in state custody. Authorities continued to hold Nedim Oruç, Nuri Akman, Nazım Daştan, Feyyaz İmrak, Mazlum Dolan, Ziya Ataman, Meltem Oktay, and Muhammed Doğru, the news agency reported.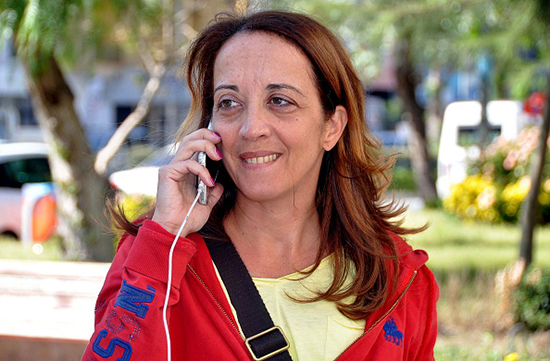 Dutch-Turkish journalist detained for insulting Erdoğan
Police on Sunday detained Ebru Umar, a Dutch-Turkish journalist, from her holiday home in the resort town of Kuşadası, according to media reports. A court in Kuşadası the same day ordered her released on probation and banned her from traveling, the daily newspaper Hürriyet reported, citing Doğan News Agency.
"Police at the door. No joke," Umar wrote on twitter at the time of her detention.
According to the BBC's Turkish service, Umar was detained following a complaint that she had insulted Turkish President Recep Tayyip Erdoğan in a column for the Dutch newspaper Metro criticizing calls from Turkey's consulate in Rotterdam asking Turks in The Netherlands to report on their compatriots abroad who criticize Erdoğan. Umar likened those who report on their compatriots to Nazis, called Erdoğan a "sultan" and "the most megalomaniac dictator since the foundation of the republic in 1923," BBC Turkish reported.
Editor fined for insulting Erdoğan
A court today fined Can Dündar, editor of the daily newspaper Cumhuriyet, 28,650 Turkish lira (US$10,056) on charges he insulted Erdoğan, his son Bilal, and seven other officials in a series of articles alleging corruption, according to press reports.
"If revealing the truth is a crime, we will keep on committing it," Dündar wrote after the trial, the daily newspaper Hürriyet reported.
"We didn't insult anybody. We just wrote what happened," the editor's lawyer, Akın Atalay told journalists outside the courthouse after today's sentencing. Atalay said Dündar would appeal today's verdict.
[April 25, 2016]