The militant group Islamic State swept through Iraq last summer, taking over city after city and leaving a wave of destruction of a scale only just being discovered. Even now it is difficult to understand how much damage was inflicted, including on the Iraqi journalist community, where rumors of missing or killed journalists are swirling and their families are afraid to speak out.
I had to flee Iraq for fear of my life last spring. But over the past few weeks, I conducted dozens of interviews with Iraqi journalists who worked inside the country, families of kidnapped journalists, and local human rights groups to better understand how much harm Islamic State wreaked on my colleagues still in the country.
What we know, from CPJ research in neighboring Syria, is that Islamic State is holding the majority of about 20 Syrian journalists who were reported by media groups and families to have been kidnapped. Last fall, the organization I used to lead, the Press Freedom Advocacy Association in Iraq, estimated that the group was holding five journalists in Iraq. The Metro Center to Defend Journalists, another press freedom group based in the Iraqi Kurdistan city of Sulaymaniyah, said the militants were holding nine journalists in Iraq.
From what I discovered in conversations last month, as of April 5 more than 20 Iraqi journalists and media workers were missing or currently held by Islamic State. A larger number of journalists who were reported by media groups and families to have been kidnapped last fall were later released, but I was unable to confirm those numbers. I also heard accounts of how the militant group abused journalists, including by flogging them, how it occupied media buildings to use as offices, and how it confiscated and sold media equipment from local TV channels.
After speaking with the families, colleagues, and press freedom groups I could confirm that out of 24 cases 18 journalists are still detained by the militant group. In three cases there were conflicting reports about whether the journalists had been killed by Islamic State. And there are three missing journalists unaccounted for. The families of those still being held asked me to refrain from publishing their names, in the hope that their relatives will be freed.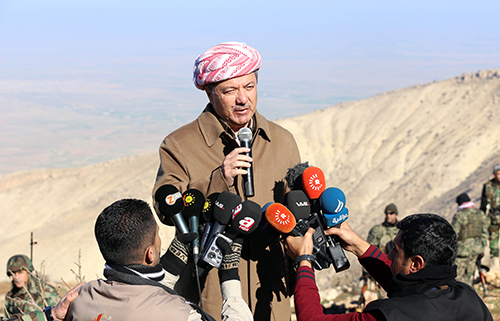 The majority were abducted in Mosul when Islamic State swiftly took control of the city, according to local journalists' networks and other sources. Most worked with privately owned television stations–some of which had ties with government officials–like Al-Mosuliya TV, Sama Mosul TV, and Sama Salaheddin TV, or for FM Shabab Radio, or local dailies.
Many couldn't escape in time or were confused about the identity of the militia, thinking that some of them belonged to the majority Sunni rebel tribes and therefore they would be protected. Others believed the Islamic State announcement that militants wouldn't go after journalists or take revenge on civilians, colleagues of the kidnapped journalists told me. However, a few days after taking the city, the armed group rounded up journalists during raids on homes and media outlets, their colleagues told me. During this time, Islamic State also cracked down on religious minorities including the Yazidis and Christians, and those who challenged the militants, according to news reports.
Another city where journalists were targeted was Tikrit, north of the capital, Baghdad. Here, the number of journalists was generally fewer in number and many of them, aware of Islamic State intentions, were able to flee. Only two channels–Salaheddin TV and Sama Salaheddin TV–were raided in the city.
According to reporters, witnesses, and local human rights groups I talked to, most of the kidnapped journalists from Iraq were transferred by Islamic State to its headquarters in the stronghold Syrian city of Raqqa more than three weeks ago. One local journalist, whose friend is among those taken, said the militant group warned families it would kill the kidnapped journalists if any information was released about them. The journalist I spoke to asked not to be named for fear of retribution against his family in Mosul.
Another journalist inside Mosul, who also asked not to be named for fear of retribution, said some of the journalists he knew, who were later released by Islamic State, told him they had been lashed 70 times before being questioned and were given a choice between being killed, imprisoned, or used for slave labor. Some of them who resisted labor during their ordeal said the Islamic State made threats against their family as well, so they kept working, the journalist added. Videographers, who were among this group, told him they were forced to produce content for Islamic State, the journalist added.
The same journalist pointed out that Islamic State exploits detained journalists for media publicity in some cases. When the group wants to divert public attention from a setback or defeat, it makes fake announcements saying it has killed a journalist, the source told me.
The resulting confusion was apparent during my research for this blog, with news outlets reporting that families were rejecting claims by Islamic State that it had killed their relatives. One such case is that of Muhannad al-Okaidi, who was kidnapped near his house in September, according to reports. Al-Okaidi worked as a freelancer for Mosul-based news agencies, including Sada al-Mosul, and used to be a presenter on Al-Mosuliya TV.
In October, al-Okaidi's death was announced by Islamic State through speakers at Mosul's mosque, according to residents I talked to at the time. According to various news reports citing a source "close" to al-Okaidi and a Kurdish official, and a Press Freedom Advocacy Association statement citing unnamed activists, al-Okaidi's body was returned to the family via a medical examiner. It showed signs of torture and had three gunshot wounds to the head. A family member and an unnamed source in the medical examiner's office denied to the Iraqi Press Agency that the reports were true. The Iraq Journalists Syndicate released a statement on October 14 calling on anyone who has information about al-Okaidi's whereabouts to reveal it.
Local journalists, families of those who have been abducted, and press freedom groups including the Press Freedom Advocacy Association, told me Islamic State puts pressure on families to force journalists inside Mosul to work for them. It also pressures those outside the city to not give comment or criticism of the militant group.
In Tikrit, which was recently liberated by Iraqi forces, the damage the militant group caused to media outlets was catastrophic. Sama Salaheddin TV director Marwan Naji Jabara told me that when it occupied the city, Islamic State used the station as its headquarters for more than seven months, from June to January. Jabara told me Islamic State stole radio and video equipment and media devices from his channel, resulting in $500,000 in losses.
Islamic State issued a fatwa ordering the death of Jabara and 12 other journalists when it took over the city last June, and bombed his house, Jabara told me.
Another journalist and former employee of Sama Mosul, who asked not to be identified for fear of retribution, said stations such as Sama Mosul, Al-Mosuliya, and other government-linked TV and radio stations have been burnt to the ground, and the equipment looted, sold as trophies in the so-called "spoils market," or sent to the militant group's headquarters in the Syrian city of Raqqa. The journalist told me witnesses to the destruction had described it to him, and that colleagues told him Islamic State militants gave accounts of it to try to scare them. Losses to Sama Mosul, which employed 130 journalists and other staff, add up to $2.3 million, the journalist added.
The story of Islamic State brutality against journalists in Syria–especially international journalists–is well known. This is my attempt to bring attention to the equally tragic plight of my colleagues in Iraq– however, much of it is still yet to be told.
EDITOR'S NOTE: Due to an editing error, the thirteenth paragraph has been updated to correct attribution of information. The fifteenth paragraph has been updated to clarify the details of Marwan Naji Jabara's comment. The spelling of TV stations Al-Mosuliya TV and Sama Salaheddin TV have been changed.