Mikhail Beketov is lucky to be alive, although I'm sure there are days when he doesn't think so. On November 13, 2008, the environmental reporter who campaigned against a highway that would have destroyed a forest in Khimki, a town outside Moscow, was beaten nearly to death by men with metal bars. The attackers made a special effort to destroy his hands and left him to die in the November cold. He would have if neighbors had not noticed him and called the police 24 hours after the attack.
Today, Beketov is confined to a wheelchair. He can no longer speak. He can no longer write. His mind appears intact, however, and he took great joy when we visited him at his Moscow hospital during a recent mission to Russia. CPJ board member Kati Marton described the afternoon we spent with him in a very moving blog. In a most outrageous development, while Beketov's attackers walk free, the disabled editor is being dragged to court by Khimki Mayor Vladimir Strelchenko–the official who sponsored the highway Beketov so sharply criticized. Strelchenko–whom Beketov's colleagues and friends suspect to be the man who ordered the November attack–filed a criminal defamation suit against the journalist. Reports tell us that despite serious health concerns, Beketov is being forced to appear in court, driven in an ambulance.
Through our Journalist Assistance program, CPJ has been providing Beketov with financial support since the attack. But it became clear to us during our visit that he will need care for the rest of his life. We pledged to help Beketov find the care he needs. We are currently researching options for underwriting long-term help, but in the interim CPJ will provide financial assistance.
We are seeking donations to CPJ's Journalists Assistance Fund, which will be used not only to support Beketov, but dozens of journalists around the world who are victims of violence and repression.
Here are a few examples:
CPJ helped Kalundi Robert Sserumaga, a well-known Ugandan journalist and author, with his medical bills and general support after local authorities detained him for four days on charges of sedition. While in state custody, Sserumaga was beaten, threatened with death, and denied medical attention.
Syrgak Abdyldayev, a Kyrgyz reporter, was stabbed and beaten in March 2009 by an unidentified attacker. Abdyldayev, a political reporter and commentator with the independent newspaper Reporter-Bishkek, was hospitalized with 21 stab wounds, two broken arms, and crushed shoulders. CPJ sent funds for medical treatment and general support.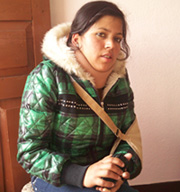 Tika Bista, a reporter for the Nepalese local daily Rajdhani, was critically injured in a knife attack in December 2009. CPJ sent funds for emergency medical treatment and also helped support her family during her recovery.
All contributions to CPJ's Journalist Assistance Fund will go directly to journalists in need. CPJ already covers the full cost of administering the Journalist Assistance program, including researching cases, delivering financial assistance, and providing non-financial support including help with resettlement.
What this means is that every dollar that you contribute–whether its $500, $100, or $10–will go directly to journalists in need. And the entire amount is tax deductible. Please make a donation now to support CPJ's vital work.
Your gift may be worth double. If this is your first donation to CPJ, or you give more now than you've given before, CPJ Chairman Paul Steiger will match your contribution up to $500.