The Torch is a weekly newsletter from the Committee to Protect Journalists that brings you the latest press freedom and journalist safety news from around the world. Subscribe here.
In a case with disturbing implications for press freedom globally, CPJ's Senior Africa Researcher Jonathan Rozen's latest investigation found that web hosting services received emails falsely claiming to be from journalists citing U.S. copyright law, in what appeared to be a move to force news websites to remove a report on Kenya's gambling industry. The strategy resembles other efforts to use the Digital Millennium Copyright Act to quash critical journalism online in other countries, from Nigeria to Nicaragua to Ecuador.
In a welcome move toward accountability in the case of slain Maltese journalist Daphne Caruana Galizia, one of the suspects, Vincent Muscat, was sentenced to 15 years behind bars for his role, and two additional suspects have been indicted. "Maltese authorities should take all measures to ensure that all the perpetrators of this crime, including its masterminds, are brought to justice," said Gulnoza Said, CPJ's Europe and Central Asia program coordinator.
Global press freedom updates
Spotlight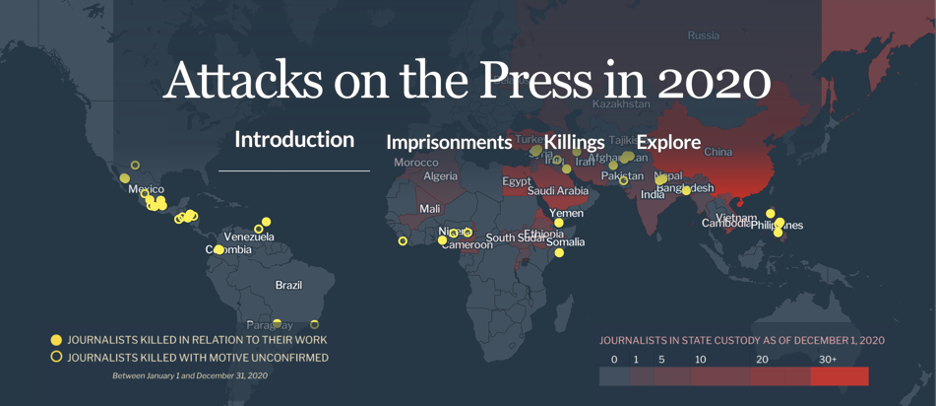 Last year, as the pandemic and civil unrest upended stability globally, CPJ documented one of the worst years for press freedom, with a record number of journalists behind bars and a sharp increase in murders of journalists. This week, CPJ published an interactive map highlighting these attacks in more detail; you can explore the data and stories of journalists imprisoned and killed around the world in 2020 here. And we published an accompanying safety note on ways journalists can help protect themselves when facing arrest or detention. Bookmark and share it here.
The journalist collaborative Forbidden Stories published a series of five videos about the Rappler stories that prompted the Philippines government crackdown on the outlet and its CEO and founder Maria Ressa. View the videos here and join our #HoldTheLine solidarity campaign.
A closer look | CPJ's most-read features in February
What we are reading
Do you have an Amazon Alexa-enabled device? Enable CPJ's flash briefing skill to stay up to date with the latest press freedom news from around the world.