Moisés Sánchez: Justice blocked by delays, errors
As he was dragged from his home and into a waiting car, José Moisés Sánchez Cerezo pleaded with his attackers, "Please don't hurt my family." His wife, who at the time was embracing her two young grandsons, could only gaze in horror as Sánchez, the 49-year-old editor of La Unión, was driven away. It was the last time his family saw him alive.
More in This Report
Multimedia
In Print
In other languages
"By the time I arrived home, all my mother could say was, 'They took him,'" his son, Jorge, 31, said. Sánchez's decapitated and dismembered body was found three weeks later on January 24, 2015, in a ditch in the town of Manlio Fabio Altamirano, about 25 kilometers east of Medellín de Bravo.
In a rarity for journalist murders in Mexico, authorities quickly arrested the suspected hitmen and identified an alleged mastermind: Medellín Mayor Omar Cruz Reyes who, the journalist's family and colleagues said, was angered by Sánchez's critical coverage.
However, a report by the independent government agency State Commission for the Care and Protection of Journalists (CEAPP), found that several lines of investigation were poorly explored, including the alleged involvement of then-state Governor Javier Duarte de Ochoa, and actions that could have secured the arrest of suspects were delayed or not taken. Agencies set up to investigate crimes against journalists, such as the federal Special Prosecutor for Crimes against Freedom of Expression (FEADLE), were not implemented quickly after a prosecutor's office twice said in statements it was unsure that Sánchez was a journalist, according to news reports. The result is that only one person was jailed for the murder and the suspected mastermind fled.
"My father always thought that, because he was a journalist for such a small publication, they wouldn't do anything against him, that there was no need for anyone to hurt him," said Jorge Sánchez. "He said, 'If they would do something to me, it'll be big news.' Unfortunately, that was ultimately what happened."
'Living with fear is not an option'
Few tourists visit Medellín de Bravo, despite it being only a 30-minute drive from the busy harbor and picturesque colonial center of Puerto de Veracruz, and the swanky beach resorts of Boca del Río.
Located in a flood plain near the crossing of two rivers and next to one of the state's major expressways, the municipality of about 70,000 inhabitants is one of many smaller communities in Veracruz, Mexico's third most populous state. An unassuming town, Medellín's economy mostly consists of agriculture and commerce, with shops and simple restaurants lining the busy and noisy main avenue.
The Sánchez family lives in Gutiérrez Rosas, a working-class neighborhood on the outskirts of town. The fallout from Moisés Sánchez's murder was immediately visible when CPJ visited their modest, two-story residence next to a dirt road in January. A police patrol car was parked by the entrance and a recently erected fence covered the exterior walls of the house in an apparent attempt to prevent intruders from climbing over. Several cameras, placed strategically inside and outside the premises, connect to a makeshift security center in the living room that is operated by Jorge Sánchez and his mother. The measures are all provided by Mexico's protection mechanism for journalists.
Jorge Sánchez, a graphic designer and journalist, sat at a table covered in recent editions of La Unión, the small newspaper that his father founded. With financial assistance from Mexican press freedom organizations, he continues to publish it on a monthly basis.
Even after his murder, La Unión is still very much Moisés Sánchez's newspaper. The top right corner of every front page, reads "Living with fear is not an option," a quote attributed to its founder. Jorge Sánchez steers the paper according to how he says his father would have wanted him to, with stories denouncing crime, corruption, and a lack of basic services in Medellín and its surrounding communities, and criticism of Veracruz state politics.
La Unión is a far cry from the paper Moisés Sánchez began publishing in the late 1980s, when he was barely 17. Jorge Sánchez said his father had no formal education beyond high school, but was a self-taught intellectual. He read voraciously and had a determination to denounce corruption and abuse of power by authorities, and decry a lack of public services.
"My father used to say that all change comes with a cost, and that if you don't denounce, if you don't write about authorities or anyone else who causes you harm, nothing will happen," Jorge Sánchez said. "He wanted to exercise his right to inform."
Jorge Sánchez and journalists who knew his father well said that La Unión began as leaflet, with handwritten articles, photos and political cartoons carefully glued together on pages that Moisés Sánchez copied and distributed personally, a practice he continued when he moved from the city of Veracruz to Medellín.
La Unión was always free and financed entirely by its owner. Over the years, Sánchez held many different jobs to make a living and to keep his newspaper running, his son said. Sánchez was, at various times, a butcher, a newspaper vendor, a fruit and vegetables salesman, and a scrap collector. In later years, he worked as a taxi driver.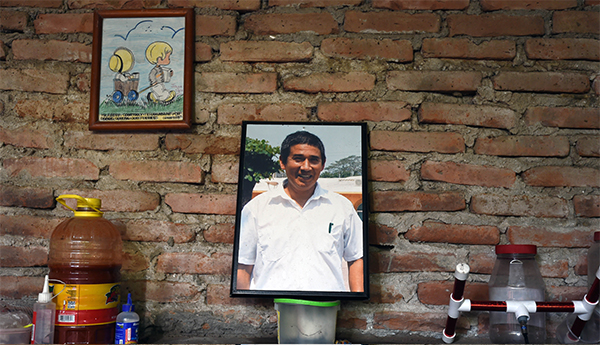 La Unión was meant to appear every 10 to 15 days, but lack of resources sometimes hampered circulation: the paper would simply appear when there was money for copies and would sometimes stop circulating for months. It was for that reason, Jorge Sánchez said, that the print version had been out of circulation in the months leading up to his father's death. Despite these gaps, Moisés Sánchez was always visible: when he wasn't writing, he would join and organize protests at city hall.
Two journalists based in the nearby city of Veracruz, who spoke with CPJ on condition of anonymity because of the sensitivity of the case, said Sánchez often gave them tips about local events and would help by passing on contacts and photos free of charge. "He never left Medellín and his coverage was very local, but he was a real journalist and incredibly helpful," one of the reporters said.
Until the last few years of his life, Sánchez's articles focused almost exclusively on public services, such as lack of sewer drainage and street lighting. "In a small community such as Medellín, my father's articles would often pressure mayors into doing the things they had promised," said Jorge Sánchez. "The people here would be made aware of things through La Unión, of problems they normally didn't even realize were there."
A sudden rise in violent crime caused by a gang turf war led to Moisés Sánchez extending the paper's coverage—a move that family and colleagues say may have put him in direct confrontation with the mayor accused of ordering his murder.
Veracruz, a hub for important highways connecting the north, south, and Mexico City, has traditionally been a strategic and lucrative turf for organized crime groups conducting drug and human trafficking operations. When the relationship between the Gulf Cartel and its former armed wing, Los Zetas, ruptured in 2010, the state became the scene for some of the worst violence in the country. Medellin was no exception.
The violence has severely affected journalism in the state. At least six reporters from the state have been murdered in relation to their work between 2010—when Duarte came to power—and 2016, according to CPJ research. Most of the cases never led to arrests or convictions and remain mired in impunity.
In response to the violence, Sánchez expanded his coverage. Although no print copies of La Unión from that period are still available, one article on its website, dated December 10, 2013, denounced kidnappings and extortion allegedly carried out by policemen in league with a gang. In another article, dated January 8, 2014, Sánchez reported how he confronted the mayor over his refusal to request military assistance to combat crime in the city.
"In earlier years, my father didn't cover crime," Jorge Sánchez said. "He knew how dangerous that could be. Medellín is a bastion for organized crime, because we're so close to the city of Veracruz. But as we began to see this battle between the cartels, dead bodies began to show up. My father began to cover [the issue]."
Around the same time that La Unión started to cover crime, Cruz became mayor of Medellín. At first, his relationship with Moisés Sánchez was amicable, said Jorge Sánchez. The journalist even supported Cruz, a member of the conservative National Action Party, during his election campaign. Soon after Cruz assumed office in 2013 however, the relationship soured.
According to the March 2015 report authored by then CEAPP-commissioner Jorge Morales Vázquez and based on the official case file, Moisés Sánchez became disillusioned by the mayor who, the journalist believed, was not keeping campaign promises. Sánchez was also using his paper and role as an outspoken citizen to demand that the mayor allow the navy to take charge of security in the town as part of the so-called Veracruz Seguro operation, a statewide initiative to involve the military in combating organized crime, according to Sánchez's son, several journalists with whom CPJ spoke, and the CEAPP-report.
In the weeks leading up to his murder, Sánchez had been actively involved in the formation of a self-defense group and on December 14, 2014, he uploaded a video to Facebook of a group of residents who said they were organizing the group.
"Moisés at that point presented himself as someone who, apart from being a journalist, was involved in civil action," said Morales, who is now executive secretary of CEAPP. "That caused discomfort among politicians on a state and municipal level, and also among organized crime."
The rise of self-defense groups was a sensitive issue in Mexico in 2013 and 2014, when groups formed in Michoacán and Guerrero took control of entire areas and directly challenged federal authority. According to Jorge Sánchez, Morales, and other journalists with whom CPJ spoke, both Cruz and then-Governor Duarte were shocked to hear of such a group being organized in their territory. The journalists said that the presence of self-defense groups was embarrassing to local and state officials because they revealed shortcomings of law enforcement or could expose links between law enforcement and organized crime.
After Moisés Sánchez uploaded the video, state and municipal authorities organized a meeting with the self-defense group. According to the CEAPP report, Sánchez repeated his demand at the meeting that Medellín become part of the Veracruz Seguro program and demanded that state and municipal authorities recognize the group's existence. Authorities promised more presence in the Gutiérrez Rosas neighborhood and better cooperation with its inhabitants, according to a statement given by Cruz to the state attorney general, which CEAPP cited in its report.
Jorge Sánchez said that Cruz had threatened his father on several occasions over his reporting and activism. He said his father also told him that Duarte had allegedly derided Cruz for his inability to silence Moisés Sánchez.
At a meeting between the mayor and governor in the state capital of Xalapa, Duarte asked Cruz why he "hadn't been able to shut Sánchez up." Jorge Sánchez said a person whom the journalist did not identify but who was at the meeting, told his father about the comment. Jorge Sánchez said that in response, "[Cruz] supposedly told the governor that it was impossible and that my father could not be silenced or bought."
Jorge Sánchez said that the mayor had also on at least one occasion offered his father a job in his municipal government for 30,000 pesos (US$1,500 in today's money) per month, which Moisés Sánchez turned down as an attempt to bribe him. Jorge Sánchez said the offer would have been a substantial increase in income for his father.
Despite the threats, Moisés Sánchez continued to publish news on his Facebook page. His last post, on January 2, 2015, accused Cruz of unjustly charging residents for garbage disposal. He was kidnapped the same day.
A critical voice silenced
Maria Ordóñez Gómez still can't speak without breaking down in tears about the events of January 2, 2015, when assailants abducted her husband. Jorge Sánchez maintained his composure as he monotonously recounted what his mother witnessed: six men, armed with rifles and pistols, forced themselves into the family home at approximately 7 p.m. His father was sleeping after a long day of driving his taxi. The kidnappers forced Moisés Sánchez downstairs, took his laptop, camera, tablet, and several cell phones, pushed him in one of the cars waiting outside and drove off.
According to Jorge Sánchez, authorities failed to respond adequately from the moment the family reported it. He said it took police two hours to respond to the emergency call and that the investigation took off only because of the nationwide media attention. Jorge Sánchez said he made immediate phone calls to a journalist he knew was friendly to his father to try to publicize the case. The son added that witnesses, who he did not name, told him they saw two policemen parked nearby in a patrol car who must have seen the suspects driving away with his father, but did nothing.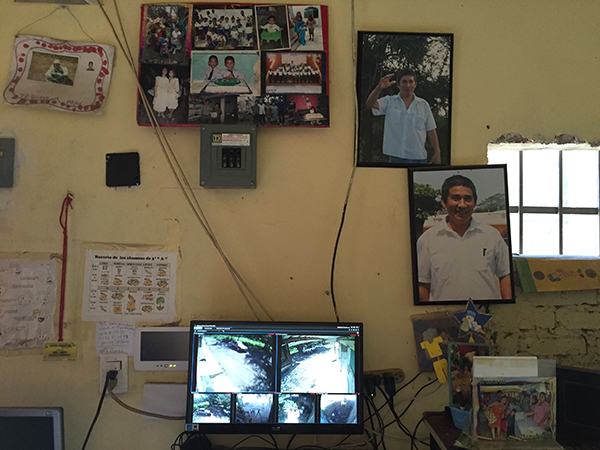 Even in a state where killings of journalists have become so common in recent years that their mortality rate makes Veracruz the deadliest region for the press in the Western hemisphere, the murder of Moisés Sánchez stands out for its brutality. His death became a rallying call for Veracruz's and indeed Mexico's embattled press, capturing international headlines and fueling outrage across the country. Despite their demands, justice has not been achieved.
Sánchez's murder exemplifies the climate of fear, impunity, violence, and contempt against reporters in Veracruz. The indifference to reporters extends to both regional and national gremio (the Guild), a term Mexican journalists often proudly use to refer to themselves. State and federal authorities for instance showed little inclination to provide CPJ with comment or documents to support this investigation.
In the days following his abduction, the family met with the then-state authorities in Xalapa, including state Attorney General Luis Ángel Bravo and Governor Duarte. The governor provoked anger among Veracruz journalists by at first referring to Sánchez as a "taxi driver and neighborhood activist." Bravo also refused at first to acknowledge that Sánchez was a journalist, and told media that the priority was to find the victim "regardless of his activities," according to news reports.
Jorge Sánchez said that Bravo told the family they "already had a person" and that finding his father was a "matter of hours." Several days passed and no arrests were made. On January 7, Jorge Sánchez traveled with several Mexican press freedom organizations to Xalapa to look at the case file in which, he told CPJ, they found several anomalies in the investigation, a view the CEAPP report later reiterated.
"There are several cameras in the area that should have registered the moment they took my father, the cars, and the suspects that were involved. We told the attorney general that there were cameras, that there must have been video images," Jorge Sánchez said. "But when we looked at the case file, we saw that the authorities had not even requested the videotapes."
According to the family, it wasn't until January 9 that a request was made to C4, the law enforcement agency that manages the statewide video surveillance network. By then, any images had been erased. The footage is preserved for only three days unless the agency receives a request from law enforcement.
The federal special prosecutor for freedom of expression (FEADLE) also initially refused to acknowledge that Sánchez was a journalist: it took Sánchez's family a two-year legal battle to force the latter to agree to take over the case from Veracruz's state authorities, the family said.
"The authorities never looked for justice. They tried to wash their hands of it," Jorge Sánchez said. "They are only here to perpetuate impunity."
Ricardo Nájera Herrera, who heads FEADLE, told CPJ that the principal reason the agency initially didn't take the case was not because of questions of Sánchez's profession but because the state authorities had already made arrests. If FEADLE became involved it could lead to "duplicidad"—the Mexican equivalent to double jeopardy—and could complicate the investigation.
Anomalies and delays
Despite apparent progress with initial arrests and the alleged mastermind being identified, so far, none of Bravo's promises were kept and key suspects are in hiding.
Then-Mayor Cruz was implicated in the murder by Clemente Noé Rodríguez, a former police officer turned drug trafficker, according to the case file cited in the CEAPP report. Police arrested Rodríguez at a checkpoint near the town of Alvarado on January 23. The CEAPP report said that an unnamed witness to the journalist's abduction identified him. He confessed the same day to being involved in the murder and, based on his testimony, Moisés Sánchez's dismembered and decapitated body was found near the town of Manlio Fabio Altamirano. The remains were so badly decomposed that, according to Jorge Sánchez and a statement by Bravo at the time, they ultimately had to be identified through a DNA test.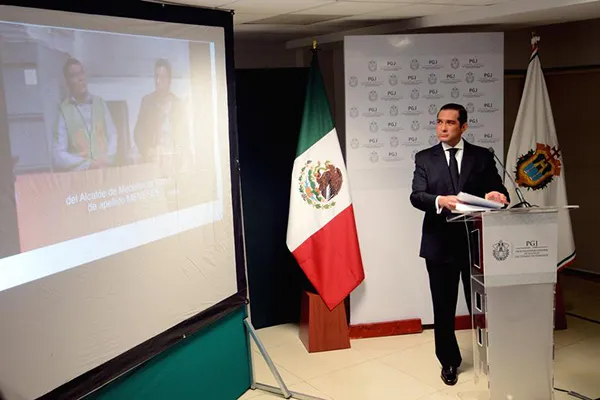 According to the CEAPP report, Rodríguez confessed to being part of a group that abducted Moisés Sánchez. He named five other suspects, but only by their nicknames. All are allegedly former policemen who formed a drug trafficking gang. One of them, "El Harry," allegedly decapitated and dismembered Sánchez's body. According to Rodríguez, the order to abduct and kill the victim was given by Martín López Meneses, deputy police chief of Medellín, who worked as Cruz's bodyguard and driver. Meneses, in turn was given the order to kill by the mayor who, according to the testimony cited in the CEAPP report, wanted Sánchez killed because his crime reporting in La Unión "interfered" with the mayor.
In a statement to the press two days after Sánchez's body was found, Bravo confirmed that Cruz was under investigation as the mastermind and was the prime suspect in the murder.
Cruz, in a statement to the state attorney general's office on January 12, 2015, denied any involvement in the crime.
Veracruz's state congress was asked to strip the mayor of immunity from prosecution afforded to elected officials. But it wasn't until more than a month later that congress voted to do so. By then, the mayor had disappeared, Bravo told journalists. Meneses, who was put in preventive detention but not charged, was released in November 2015 after a federal judge accepted his appeal that there was not enough evidence to keep him in jail. He later absconded, according to news reports.
To this day only Rodríguez remains in jail. None of the other suspects he named have been identified.
Empty promises
Morales, CEAPP-commissioner at the time, is critical of the police investigation and said it was botched from the start. "It has been full of anomalies and omissions," he said. "There still hasn't been a professional investigation."
Among the problems Morales cited was the assumption that three vehicles and six people were involved in the kidnapping, even though some witness testimonies suggest up to nine people and four vehicles. He said that police never determined the identity of the five other suspects. With the exception of one suspect, no composition sketches were made, the video material of the C4 cameras wasn't requested in time, and the homes of the suspects weren't searched for evidence. Moreover, the alleged comments of former Governor Duarte to Cruz about "shutting up" Sánchez were never explored by the authorities.
Duarte stepped down from office in October last year over corruption charges, which he denied, according to reports. The former governor then went missing. He was arrested in Guatemala on April 15, 2017, in a joint Interpol and Guatemalan police operation that used intelligence provided by the Mexican authorities, according to reports.
"There's also an unwillingness by the authorities to even share the case file with us," said Morales. "They place obstacles, give excuses. We still don't even have the case file here at the commission."
One of the issues complicating the investigation is a change in state government. Miguel Ángel Yunes Linares, of the conservative National Action Party, was elected governor in June 2016 and assumed office on December 1. As is common in Mexico, an incoming administration can often imply changes to institutions that can ground existing investigations to a halt.
Attempts by CPJ to locate and speak to former Veracruz state Attorney General Bravo were unsuccessful and requests for comment from his successor, Jorge Winckler, were not immediately answered. Jaime Cisneros, the special state prosecutor handling attacks against journalists, agreed to an interview in January, but later declined, citing rules by the incoming administration that prohibit state officials other than those in the social communications department from commenting on existing cases.
Jorge Sánchez said the family is waiting for the FEADLE in Mexico City, which received the case file in December 2016, to continue the investigation and bring Moisés Sánchez's murderers to justice. But, he said, he has little hope the case will be solved anytime soon.
"I believe that there is no desire to really continue the investigation, because a former governor might be involved," he said.
He showed one of La Unión's recent copies. "The goal of this newspaper was to make people aware of what was going on in their surroundings," he said, with a sigh. "[My father's] motto was always, 'Above all, the truth, even if it hurts.'"