Early moves by Thein Sein to ease Internet censorship are viewed as a limited concession to press freedom, since Burma has one of the lowest Internet penetration rates in the world. Now, planned foreign investments in mobile infrastructure promise to expand access, but a draft telecommunications law would leave intact many of the vague legal restrictions used to curb online freedoms in the past. By Shawn W. Crispin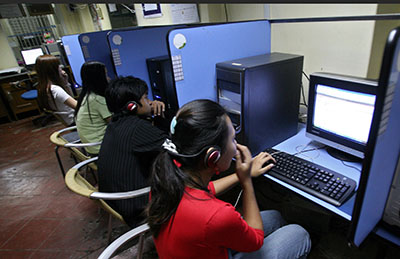 When police officers first arrested Nay Phone Latt in 2008, they were initially unaware that the former activist was an active blogger. Later that year, after interrogations in pre-trial detention, he was sentenced to 20 years in prison for blog entries he wrote about anti-government street protests held in 2007 and for posting online a poem he wrote that insinuated in a hidden message that then-junta leader Senior Gen. Than Shwe was "foolish with power."
"At that time, we thought we could write whatever we wanted on our blog. There was no [Internet] censorship and no editor. I was my own editor," said Nay Phone Latt, who then also served as co-editor of the unsanctioned online Burmese-language magazine Thanlwin Ainmat. "At that time, [police] didn't know about blogs or what a blogger was. But after I was arrested, many bloggers stopped because of me."
No longer. Upon his early release as part of a 2012 presidential pardon, Nay Phone Latt established the independent Myanmar Bloggers Society and a nongovernmental organization, Myanmar ICT for Development Organization (MIDO), which disseminates information about the Internet and holds training sessions on how to blog for the grassroots population. MIDO is also collecting his and other Burmese bloggers' past entries for a published book.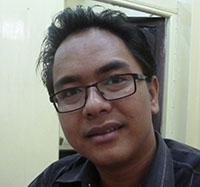 "In the past, nobody criticized the government and used their own names," said Nay Phone Latt, whose previous pseudonymous personal blog translated into English as "The City that I Have Dropped." "Now we can see so many people on the Internet and on Facebook who criticize the government very freely and use their true names."
In one of Thein Sein's first media-related reforms, the government in September 2011 began to lift censorship of the Internet, including blocks on foreign and exile-run new sites. Because Burma has one of the lowest Internet penetration rates in the world, with less than 1 percent of the national population online, according to the International Telecommunication Union, the loosening was viewed widely at the time as a limited concession to press freedom.
Despite the country's lack of connectivity, the previous military regime imposed severe online restrictions, including heavy surveillance of public Internet cafés, extensive blocks on critical websites and foreign-hosted email services, and the threat of imprisonment for posting or sending unsanctioned news, images, or videos over the Internet. In 2007, military authorities temporarily unplugged the Internet altogether to stifle undercover reporting of its lethal suppression of anti-government street protests.
Now, planned foreign investments in mobile telecommunications infrastructure promise to rapidly expand Internet access through smart phones and other mobile devices. Authorities have claimed the investments will boost mobile penetration rates to 50 percent by 2016, up from the current estimated level of 7 percent, according to a Ministry of Communications and Information Technology statement released in May and cited by local media. A draft telecommunications law, which includes provisions for governing the Internet, however, would leave intact many of the same vague legal restrictions used in the past to curb online freedoms.
Those include the draconian 2004 Electronics Act, which allows for prison sentences of seven to 15 years for sending over the Internet materials deemed by officials as sensitive or a threat to security. The unreformed laws have raised concerns among journalists, rights advocates, and global technology companies about whether an expanded Internet in Burma will be allowed to foster more online reporting, blogging, and debate—or be used by authorities to build a more sophisticated system of government surveillance and censorship.
Online reporting and social media commentary about recent clashes between Buddhist and Muslim communities have tested the government's new tolerance for criticism and free expression. Ministry of Information officials told journalist members of the Myanmar Press Council in March that new censorship guidelines included in a draft printing and publishing law were motivated in part by monitoring and analysis of news and commentary they claimed veered toward hate speech and incitement.
"What will happen when the Internet arrives in Myanmar? As the police state has withdrawn, always present religious tensions have erupted with burning of homes and some murders," Google Executive Chairman Eric Schmidt wrote on his blog after a March visit to the country. "With popular support, the government then responded with the Army to restore order. In the same way, we are entering a dangerous period for the Internet in Myanmar. What happens when a religious group falsely claims damages from others … will the Army be sent in too?"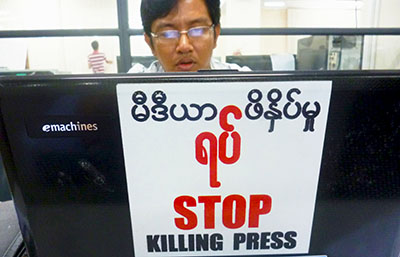 Local journalists told CPJ they work under the assumption that government authorities monitor their email and other online communications. All said they were uncertain about the extent of the surveillance, though some suggested government capabilities have recently improved, citing news reports that Ministry of Information officials had received unspecified technical computer training in Russia. Previous distributed denial-of-service (DDOS) attacks launched anonymously against exile-run media sites at crucial news junctures have been traced back to Russia, according to the exile media groups affected.
In February, local and foreign journalists who regularly cover Burma received warning messages from Google that their email accounts may have been hacked by "state-sponsored attackers." Burma-based Associated Press reporter Aye Aye Win, Irrawaddy reporter Saw Yan Naing, and Weekly Eleven Executive Editor Nay Htun Naing—all known for their critical news reporting—were among those who received the warnings, according to CPJ interviews. Government spokesman Ye Htut denied that the government was behind any cyberattacks and claimed that he, too, had received the Google warning.
In other cases, officials have openly admitted their attempts to track down and punish critical bloggers. In February, Parliament established a commission to "investigate and take actions against" pseudonymous blogger Dr. Seik Phwa, who in one stinging local-language posting accused the legislature of "acting above the law." It is unclear under what law the elusive blogger, who also writes for the military-linked Myanmar Express website, would be charged if identified.
Still, Parliament's vigorous pursuit of an individual blogger has raised red flags across Burma's blogosphere. "The government is not taking action because we are in a transition period, but most people on the Internet and using Facebook don't know their legal danger," said Nay Phone Latt, referring to security-related provisions in the 2004 Electronics Act that carry penalties of imprisonment. "We have an extent of freedom of expression, but we are not safe because rules and regulations made by the military government are still valid."
[Reporting from Rangoon]