Press Freedom Accountability Project
On May 26, 2020, the day after George Floyd was killed, two reporters covering a demonstration in Minneapolis were struck by projectiles.
Since then, the number of press freedom violations during Black Lives Matter protests has risen dramatically. More than 850 violations have been reported to the U.S. Press Freedom Tracker—which CPJ helped launch in 2017—since late May, including cases of journalists being assaulted, arrested, tear gassed, and hit with rubber bullets. One reported being partially blinded, while at least one other was attacked with a crowbar. According to the Tracker's preliminary data, law enforcement was responsible for a vast majority of these physical attacks.
"We immediately began thinking about what we could do with this data," said CPJ Program Director Carlos Martinez de la Serna. "We want to empower the press to act as investigators—and help hold to account those who violated press freedom in their communities. There has to be accountability."
So, in early September, CPJ together with the News Leaders Association launched the "U.S. Press Freedom Accountability Project," which aims to support local reporting—particularly from small newsrooms, freelancers, and underrepresented groups—and ensure investigations into press freedom violations. The project, which is funded by CPJ, will provide grants for newsrooms and journalists to investigate violations against journalists in their local communities and publish their findings. We plan for the first few of these to be published before the elections.
We are still seeking applications. Submissions are being reviewed on a rolling basis, and grants have been awarded since October 1. A panel of experts organized by NLA and CPJ are reviewing applications.
Questions? Email [email protected].  
---
Journalists released from prison
In late March, after recognizing that contracting COVID-19 could be a death sentence to imprisoned journalists, who languish in overcrowded and unsanitary jails, CPJ launched its #FreethePress campaign, calling for the release of all jailed journalists. Since CPJ launched the campaign, at least 31 journalists have been freed. They include:
Turkish journalist Rawin Sterk, a reporter at the Iraqi-Kurdish news outlet Rudaw, who was in prison since February on charges of being a member of a terrorist organization. CPJ condemned his imprisonment and the charges against him. On September 2, he was released pending trial.
Uzbek journalist Bobomurod Abdullaev, who was detained in Kyrgyzstan on August 9 and extradited to Uzbekistan on August 22, despite CPJ's calls for Kyrgyz officials to deny the request. We advocated with Uzbek authorities and welcomed the journalist's release from Uzbek detention the next day.
Egyptian journalist Islam Gomaa, a freelance photojournalist, who was in custody since 2018 despite a court ordering his release. CPJ condemned his imprisonment and called on authorities to release him. On August 31, he was freed.
---
CPJ launches #MissingNotForgotten campaign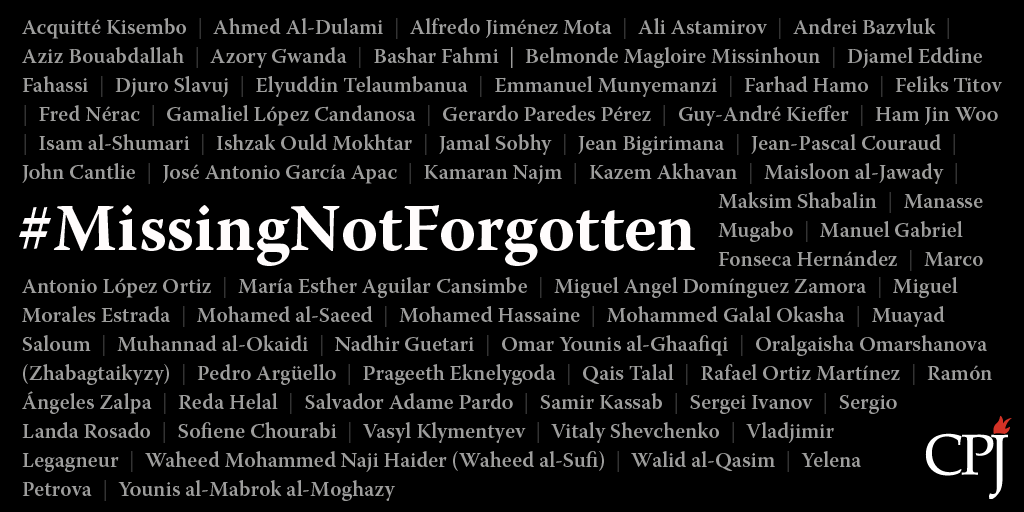 Jamal Sobhy was a presenter and broadcaster for a local channel in Iraq, funded by the U.S. government. In July 2014, he was kidnapped from his home in Mosul by militants affiliated with the Islamic State. He has not been heard from since.
Sobhy is one of at least 64 journalists CPJ has documented as missing around the world. Those who disappeared in Iraq, Syria, and Lebanon during the regional conflict account for nearly a third of that number.
In late August, to mark the International Day of the Disappeared, CPJ launched the #MissingNotForgotten campaign to pressure authorities to investigate the cases of these missing journalists around the world. We published an interactive map featuring each of the journalists missing in the Middle East and, on each day of the 19-day campaign, we highlighted one of their stories. In mid-September, as part of the Washington Post Press Freedom Partnership, the Post published a full-page ad in its print edition on our campaign.
You can help. Share these journalists' stories. Speak up for them. Demand answers.
---
Must-reads
CPJ Emergencies Research Associate Lucy Westcott interviewed four journalists in Beirut who reported on the devastating blast in August—and spoke about its impact on their lives. The blast killed at least 200 people and injured thousands of others.
Two employees of a TV production company were stabbed outside the former offices of Charlie Hebdo in Paris on September 25. Here, former CPJ EU Representative Jean-Paul Marthoz discusses how the attack is a stark reminder that the threats to journalists have not abated in the five years since the 2015 deadly attack on the Charlie Hebdo cartoonists.
In a joint feature in September, CPJ points out how journalists are facing a hostile reporting environment in the United States—especially when police patrol demonstrations wearing military gear.
---
CPJ announces its 2020 International Press Freedom Award winners
On Thursday, November 19, 2020, we will host our 30th annual International Press Freedom Awards ceremony. There are no better representatives of CPJ's mission than the four journalists we are honoring this year.
CPJ's 2020 honorees (clockwise from top left) are Russian correspondent Svetlana Prokopyeva, who has been convicted on terrorism charges in relation to her reporting; editor Dapo Olorunyomi, who for decades has defended press freedom in Nigeria; Bangladeshi photographer Shahidul Alam, who reported being tortured in prison; and Mohammad Mosaed, who has been sentenced to prison in Iran for his reporting on COVID-19 and other issues.
CPJ's 2020 Gwen Ifill Press Freedom Award will be presented to Amal Clooney, a human rights lawyer and press freedom advocate who has spent years defending journalists under legal threat. She served as international counsel for Reuters and the media organization's journalists Wa Lone and Kyaw Soe Oo, who were imprisoned in Myanmar for nearly two years for their reporting. She also represented Azerbaijani journalist Khadija Ismayilova, who was persecuted by Azerbaijani authorities for years, and Mohamad Fahmy, a Canadian journalist who was one of three Al-Jazeera journalists imprisoned in Egypt in 2013. She is currently representing Maria Ressa, CPJ's 2018 Gwen Ifill award winner, who has been convicted of cyber libel, a criminal offense, in the Philippines.
CPJ's 2020 awards ceremony will be streamed digitally around the world and will feature moving speeches from our 2020 honorees, inspiring profile videos about press freedom, and messages of hope from leading journalists and others. The ceremony will be hosted by NBC "Nightly News" anchor and CPJ board member Lester Holt, and will be chaired by Patrick Gaspard, president of the Open Society Foundations.
For questions about the event, contact Buckley Hall Events at [email protected].
---
Thank you to our supporters!
A huge thank you to our friends at SeaVees, who have launched a new collection of shoes—titled the "Words Matter Collection"—and are donating a portion of the proceeds to CPJ!
We know many of you are supporters of press freedom—some of you have donated directly to CPJ and some of you are hosting fundraisers for us. We hope you know how grateful we are. To make it easier, we've signed up for a new tool—JustGiving—that should make it easier for you to host a fundraiser and notifies us immediately. Thank you again for all that you do for us and for journalists!
To read more about what we've been up to, check out the latest edition of our Annual Report!
---
CPJ op-eds and columns
"Two years after Khashoggi's murder, the fight for justice isn't over," World Politics Review
"Pandemic and a free press," The Hindu
"10 questions for the Trump ally who runs US-funded media," Columbia Journalism Review
---
CPJ in the News
"The Press Freedom Accountability Project is providing grants of up to $5,000 for coverage of threats to journalists in the United States," Poynter
"These 10 journalists are missing, and COVID is impeding investigations," Fortune
"Police hit 'troubling new threshold' for violence against journalists, new UN report finds," The Independent
"Buhari, Atiku, U.S. embassy congratulate Premium Times publisher for winning press freedom award," Premium Times
"Kyrgyzstan cannot paper over death of Azimjon Askarov," EU Observer