A sense of optimism seems to be filling the streets of Jakarta after the election of President Joko Widodo, who took office a few weeks ago. Against this backdrop of hope, the Committee to Protect Journalists joined other press freedom and freedom of expression groups for a series of meetings in Indonesia's capital and Bali last week to meet journalists, media advocates, and government ministers.
Widodo, whose election win was described as the "improbable ascent from child of the slums to leader of the world's fourth-most populous nation" by The New York Times, has raised expectations among many that Indonesia will head in a positive direction. Before taking office, he pledged to allow international journalists and organizations access to Papua and West Papua, where there has been a low-level insurgency against Indonesian rule, according to the Jakarta Post.
However during the mission, conversations with media groups and ministers made it clear that problems continue for Indonesia's journalists, despite significant progress made since the end of Suharto's authoritarian 32-year rule in 1998. Impunity for crimes against journalists persists. At least 10 have been killed in direct relation to their work in Indonesia since CPJ began keeping records in 1992, most of whom were murdered, research shows. Many of these cases remain unsolved, including the emblematic case of Fuad Muhammad Syafruddin. Also known as the "Udin case" after the journalist's pen name, the 1996 murder has yet to be thoroughly investigated, and no convictions have been made.
Udin's case was among those highlighted on the trip, which was hosted by Indonesian civil society group Yayasan TIFA and included meetings with groups from across the country, including the restive province of Papua. CPJ joined delegates from Article 19, Freedom House, the International Federation of Journalists, International Media Support, the Southeast Asian Press Alliance, the Centre for Law and Democracy, and the Open Society Foundations Program on Independent Journalism.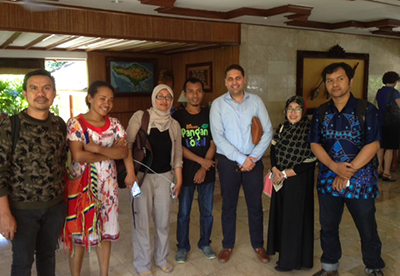 Local journalists told the delegation they and their colleagues frequently fall prey to a host of hostile actors–from politicians and the military to religious hardliners and business owners. Shortly before our arrival, police were accused of assaulting at least four journalists during student demonstrations in Makassar, according to news reports and footage we viewed during the visit. Police impeded the media from covering the demonstrations and confiscated their equipment, journalists told us. Despite the journalists filing police reports, no one has yet been held accountable.
Local newspaper journalists also said they have to tread carefully while reporting on sensitive topics such as Islam, minorities, and smuggling. Reporting on these issues can often lead to threats and harassment, they said. Local journalists who cover regions such as Papua face stigmatization from local authorities, who accuse them of working for the separatist movement.
Meanwhile, to cover regions such as Papua and West Papua, international journalists must choose between official channels–an opaque process involving an array of government offices–to try to obtain permits, or entering the country illegally on a tourist visa. Official permits are seldom approved, but those who manage to obtain them are shadowed by government minders, who restrict movement and limit what can be reported on, according to Eko Maryadi, former president of the Alliance of Independent Journalists (AJI). If journalists enter on a tourist visa–as French documentary filmmakers Thomas Dandois and Valentine Bourrat did earlier this year–they risk arrest, detention, and deportation. Dandois and Bourrat were detained for almost three months, before being expelled from the country after their conviction on charges of breaking immigration laws.
It seems even high-ranking members of the government may not have a clear understanding of the process around obtaining these permits. When Communications and Information Technology Minister Rudiantara (who goes by only one name) was asked during our meeting on December 2 what his government would do to ensure better access for journalists, he said his ministry was not involved in granting permits. "I have no authority on this," he said. When a journalist from AJI interjected that it was his understanding that Ministry of Information approval was needed, Rudiantara responded that his mandate was not the same as that of his predecessor. The minister, who took over the post in October, said he would have to look into the matter. "I owe you this one. I cannot speak [on] something that I do not know," he added. The delegation looks forward to hearing from him on this matter.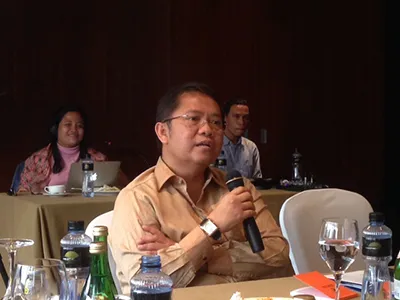 When asked about indications by Widodo that access to restive regions would be expanded, Rudiantara, who had been invited as a government representative, said he was not there representing the president. But he emphasized that the president was open in his approach to these issues.
Journalists in the country have been grappling with troubling legislation. The Electronic Information and Transactions Law (ITE) threatens web commentators with up to six years in prison, and an IDR 1 billion ($80,800) fine. In comparison, criminal defamation cases carry a nine-month jail term and IDR 4,500 fine, according to reports. While the press has some protection under the country's media laws, sources quoted in articles have been targeted through the ITE, in what is seen by watchdogs as a worrying trend for press freedom. Between 2008, when the law was passed, and October 14, 2014, 71 people had been charged under it. Forty of those cases were brought in 2014, according to news reports and accounts we heard.
When asked about the law, Rudiantara told the delegation there had been only 40 cases brought under the law this year "but there are also millions of people that are protected by that law: internet banking, e-wallet used by civil subscribers."
He said the government was reviewing the law and added: "One option is to revise the sentence to below five years, but we have to go to parliament for that… and the second option is to keep the law as is, but improve the process of the execution."
An equally worrying development, according to journalists we spoke to, is a move to resume deliberations on a state secrets bill–similar to the one that has come into effect in Japan and the national security legislation that passed in Australia.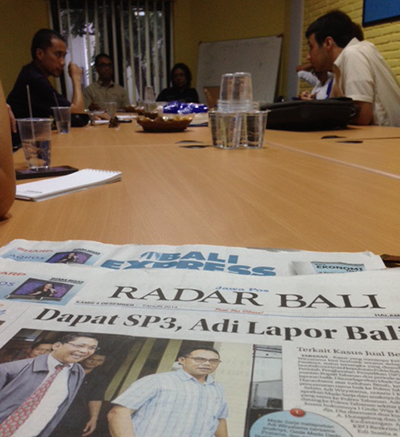 During our visit, Ahmad Suwandi of iLab, which promotes open data and transparency, said that more than 10 million websites have been blocked over the past three years by Indonesia's filtering system. Content deemed negative or culturally inappropriate, including sites about breastfeeding, have been blocked, he told the delegation. In addition, if a post on the popular site Blogspot is labeled blasphemous, authorities block the entire site instead of the single post, we learned. Similar wholesale bans have occurred on video-sharing site Vimeo. In a country with fast-growing Internet and social media use, and a strong blogging community, this is deeply concerning. When questioned about this, Rudiantara told our delegation: "Yes we do filtering. Are we going to stop filtering? No. No."
On the blocking of Vimeo, Rudiantara said he has been in discussion with company representatives, but said he believed the video sharing site needed to conform to policies that respect Indonesian culture. Arguing that Indonesians are not as literate on the Internet as Americans, he said: "There is a younger generation we have to protect from the culture that [does] not fit." He argued that online filtering would continue as long as there was content that went against the country's culture, such as pornography.
Another concern local journalists raised with the delegation was how ownership of news outlets is concentrated among a handful of media moguls, mostly in Jakarta, which hampers the flow of differing viewpoints and opinions in a country that is home to hundreds of languages, ethnicities, and several major religions.
As the climate for press freedom deteriorates in much of Asia–where China is on track to become the world's leading jailer of journalists; Vietnam continues its crackdown on bloggers; and Burma is backsliding in reforms–a new administration in Indonesia presents a unique window of opportunity. Maryadi told me: "I believe Indonesia can play a significant role by serving as a model for democracy and media freedom in the region." However, if journalists continue to be threatened, censored, or obstructed from doing their work, Indonesia risks being held back.
[Reporting from Jakarta]
UPDATE: Further to the joint mission to Indonesia, CPJ and the other delegates released a joint press release and set of recommendations on how to improve conditions for the press.