The Torch is a weekly newsletter from the Committee to Protect Journalists that brings you the latest press freedom and journalist safety news from around the world. Subscribe here.
Murder is the ultimate form of censorship, yet the perpetrators are seldom held to account. CPJ's 2021 Impunity Index, released Thursday, reveals that in more than eight out of 10 cases, the murderers of journalists go unpunished. The 2021 report shows little change from last year as conflict, political instability, and weak judicial mechanisms perpetuate a cycle of violence against journalists, with 226 murdered with full impunity in the last decade. Read the full report here, available in 12 languages.
CPJ calls for accountability in all cases of journalists killed for their work. But achieving justice for slain journalists can be slow. In some cases, steps toward justice only come after decades of advocacy. In others, disappointing court decisions hamper progress. Such has been the case in the quest for justice for murdered journalist Jamal Khashoggi, as CPJ's executive director Joel Simon explains in a new piece in the Columbia Journalism Review.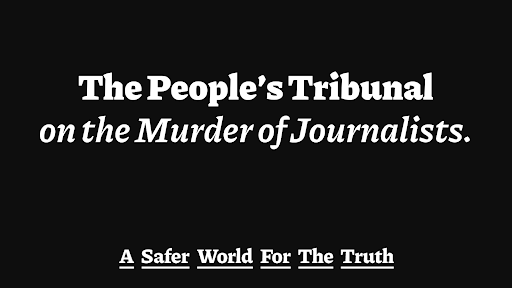 On November 2, the People's Tribunal on the Murder of Journalists will deliver indictments to Mexico, Sri Lanka, and Syria to hold them accountable for the murders of individual journalists. The opening hearing is this Tuesday, which marks the International Day to End Impunity for Crimes Against Journalists, at 3 a.m. EDT/9 a.m. CET. Join us at this important event in helping seek justice for journalists, and be part of a transformative project holding power to account. The Tribunal is organized by Free Press Unlimited, CPJ, and Reporters without Borders (RSF), as part of the initiative A Safer World for the Truth. Check out the full program here.
---
CPJ is excited to be a co-sponsor, with The Freedom Initiative, of "Egypt Advocacy Day," on November 2. The virtual event will include training on advocacy with the U.S. government. Participants will learn about how they can encourage policymakers to use U.S. influence to improve respect for human rights in Egypt and will also hear from CPJ's Middle East and North Africa Program Coordinator Sherif Mansour on tools and best practices for advocacy. Register here.
A closer look | CPJ's most-read features in October
Do you have an Amazon Alexa-enabled device? Enable CPJ's flash briefing skill to stay up to date with the latest press freedom news from around the world.