The Torch is a weekly newsletter from the Committee to Protect Journalists that brings you the latest press freedom and journalist safety news from around the world. Subscribe here.
Burkina Faso was the site of tragedy this week as Spanish journalists David Beriain and Roberto Fraile were killed after being abducted Monday from a wildlife reserve. The pair were working on a documentary about poaching when unidentified gunmen ambushed the group they were traveling with. CPJ called on authorities to thoroughly investigate the killings and ensure that those responsible are brought to justice. Learn more here.
In central Guatemala, Indigenous journalist Anastasia Mejía was imprisoned without trial for 37 days for her reporting. Today, five months after being released, her work has been severely limited. Still, she vows to keep reporting, she told CPJ.
Today, CPJ Executive Director Joel Simon and Board Chair Kathleen Carroll, along with colleagues from other leading press freedom groups, met with U.S. Secretary of State Anthony Blinken to discuss concerns about press freedom worldwide. CPJ published a white paper in November on restoring U.S. press freedom leadership.
Global press freedom updates
Upcoming Events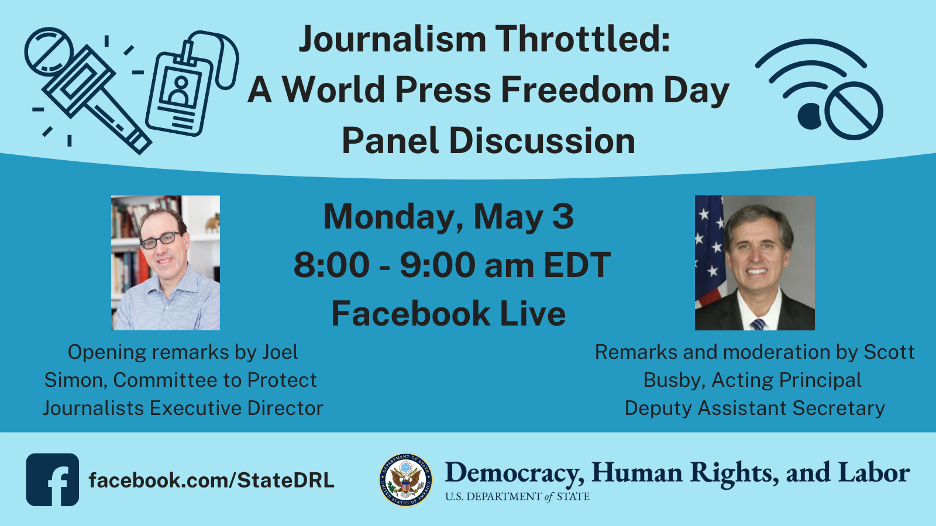 CPJ has an exciting slate of events to mark World Press Freedom Day, May 3. Join the conversation on Instagram ahead of time on May 2, where we'll be asking why journalism matters to you.
On Saturday, CPJ is co-hosting and moderating a virtual panel, "Creating champions: cultivating and capacity-building public defenders of press freedom," at the official UNESCO World Press Freedom Day conference.
On Monday, tune in first to a livestreamed conversation hosted by Amnesty Africa at 7 a.m. EDT (2 p.m. Nairobi time) titled, "Journalism in Africa: Reflecting on challenges and opportunities for change," featuring CPJ Africa Representative Muthoki Mumo.
At 8 a.m. EDT, CPJ Executive Director Joel Simon will deliver opening remarks at a panel discussion on global press freedom, hosted by the U.S. Department of State Bureau of Democracy, Human Rights, and Labor, and featuring journalists from around the world. Catch the livestream here.
At 9 a.m. EDT (3 p.m. CET), CPJ's deputy executive director, Robert Mahoney, will join a round table on global journalist safety at the UNESCO conference hosted by News Decoder.
At 1 p.m. EDT (6 p.m. BST), CPJ's Europe and Central Asia program coordinator, Gulnoza Said, will join a discussion hosted by the Centre for Turkey Studies, "How the Turkish media has been immersed into the quagmire of oppression, self-censorship, corruption and polarisation."
Rounding out the day, CPJ Board Chair Kathleen Carroll will join Forbes Chief Content Officer Randall Lane for a live Instagram "Ask the expert" Q&A on protecting press freedom at 2:30 p.m. EDT.
On Tuesday, Mumo will join an event hosted by the National Press Club, "Conversations with Correspondents: Journalism in Africa – Perils, Pitfalls, and Opportunities," 9 a.m. EDT. RSVP here.
At 11 a.m. EDT, turning the conversation to Europe, Said will join a panel discussion titled,  "When Journalism is Considered a Crime: The Risks of Covering Protest Movements in Eastern Europe and Eurasia." 
And wrapping up the week, next Friday CPJ Emergencies Director Maria Salazar Ferro will lead a virtual conversation on reporting on the frontlines of COVID-19, and issues around personal safety and well-being. RSVP by May 5 or join the livestream on Facebook.
A closer look | CPJ's most-read features in April
What we are reading
Do you have an Amazon Alexa-enabled device? Enable CPJ's flash briefing skill to stay up to date with the latest press freedom news from around the world.