The Torch is a weekly newsletter from the Committee to Protect Journalists that brings you the latest press freedom and journalist safety news from around the world. Subscribe here.
Ahead of Human Rights Day, CPJ Advocacy Director Courtney Radsch delivered powerful testimony to Congress, calling for the U.S. government to redouble its efforts to defend press freedom. In a year marked by grave human rights abuses, Radsch underscored the wide scope of threats confronting journalists, which the global pandemic has compounded. She reminded viewers: "Humans have a right to engage in journalism, and a right to access and exchange news and information, a right that has life and death consequences during a global health pandemic." Watch the full hearing here.
For war correspondents, risk comes with the job. This has certainly been the case for journalists on the ground covering the recent six-week war in Nagorno-Karabakh. CPJ's Europe and Central Asia researcher, Elena Rodina, spoke with a BBC Russia correspondent about working in war zones, the difficulty of planning ahead, and safety tips for press covering the conflict. Journalists can find resources and safety information on our website.
Global press freedom updates
Spotlight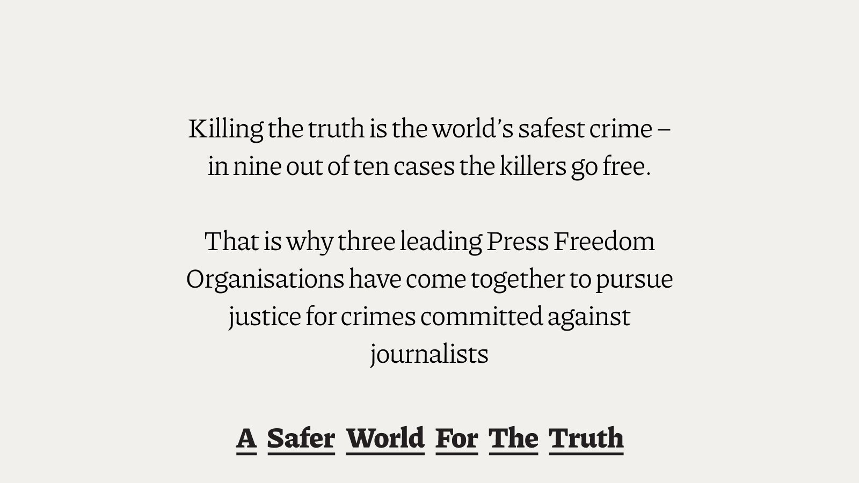 For the families of murdered journalists, the prospect of justice can seem dim. Year after year, journalists are killed with impunity — in many cases without even a single arrest. This week, Free Press Unlimited, Reporters Without Borders, and CPJ launched A Safer World For The Truth, acampaign intended to reverse this. The project aims to reinvigorate investigations into cold cases and erect a "digital monument" to slain journalists.
The investigations will be used to prepare cases to go to court while the "living" monument will be updated regularly with stories about the lives of these journalists.
Learn more about the project here, and join us in the fight against impunity on Twitter and Facebook. Explore CPJ's Campaign Against Impunity to learn more about the long fight for justice for journalists.
---
In another exciting project bringing together journalists from around the world, Forbidden Stories published a new investigation into the murder of Mexican journalist Regina Martínez. The report, one of a five-part series about the killings of reporters in Mexico named "The Cartel Project," lays bare serious flaws in the investigation in a context of violence and political corruption. The project is part of Forbidden Stories' mission to continue the work of reporters who are threatened, censored, or killed.
What we are reading
Do you have an Amazon Alexa-enabled device? Enable CPJ's flash briefing skill to stay up to date with the latest press freedom news from around the world.