Syria is the world's deadliest country for journalists for the third year in a row. International journalists were killed at a higher rate in 2014 than in recent years. A CPJ special report by Shazdeh Omari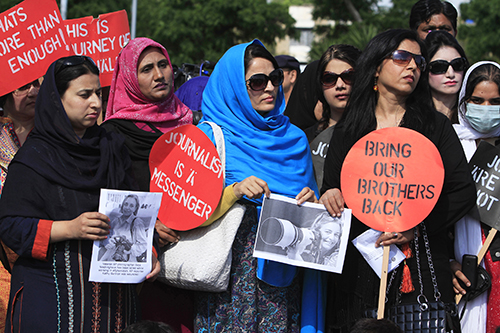 Published December 23, 2014
An unusually high proportion of journalists killed in relation to their work in 2014 were international journalists, as correspondents crossed borders to cover conflict and dangerous situations in the Middle East, Ukraine, and Afghanistan, the Committee to Protect Journalists found in its annual analysis.
More in This Report
In Other Languages
Reflecting in part the increasingly volatile nature of conflict zones in which Westerners are often deliberately targeted, nearly one quarter of the journalists killed this year were members of the international press, about double the proportion CPJ has documented in recent years. Over time, according to CPJ research, about nine out of every 10 journalists killed are local people covering local stories.
In total, at least 60 journalists were killed globally in 2014 in relation to their work, compared with 70 who died in 2013. CPJ is investigating the deaths in 2014 of at least 18 more journalists to determine whether they were work-related.
The danger of working as an international correspondent gained renewed attention in April this year as Anja Niedringhaus, a German photographer for The Associated Press, was shot dead by a police officer in Afghanistan while covering elections. In August, U.S. freelance journalist James Foley was executed by members of militant group Islamic State, which published an online video of the murder. Foley had been kidnapped in Syria in November 2012, but his whereabouts were unknown. Two weeks after his murder, Islamic State published another video showing the beheading of U.S.-Israeli freelance journalist Steven Sotloff, who had been abducted in August 2013.
Despite increased risks to Western journalists working in conflict zones, the overwhelming majority of journalists under threat for their work continue to be local. For example, of the approximately 20 journalists CPJ estimates to be currently missing in Syria—many of whom are believed to be held by Islamic State—most are local.
In total, the Syrian conflict led to the deaths of at least 17 journalists in 2014, bringing to 79 the overall number of journalists killed in the country since the conflict began in 2011. The growing death toll led Syria to replace the Philippines as the second deadliest place for journalists since CPJ began documenting journalist killings in 1992.
In Iraq, at least five journalists were killed this year, three of whom were covering clashes between the Iraqi government and its allies against the Islamic State-led insurgency. One of them, Khalid Ali Hamada, a cameraman for Al-Ahad TV, was killed in June 2014 while covering clashes in Diyala province between Iraqi security forces and Islamic State gunmen, according to news reports.
At least four journalists and three media workers were killed while covering the 50 days of conflict in July and August in Israel and the Occupied Palestinian Territories, in which more than 2,100 Palestinians, most of them civilians, and 73 Israelis were killed. On July 9, a driver for the local agency Media 24 was killed when his car, marked "Press," was hit by an Israeli strike.
The deaths of at least five journalists and two media workers in Ukraine this year were the first journalism-related killings CPJ has confirmed in Ukraine since 2001. All but one of those killed were international journalists. CPJ documented frequent press freedom violations in the country in 2014, including attacks, the detention and abduction of journalists, and blocked broadcasts.
In Pakistan, which ranks among the most dangerous places for the press over time, three journalists were killed for their work, a decline from previous years. Yet violence against journalists continued: In April, Geo News senior anchor Hamid Mir was shot six times as he was leaving Karachi's main airport, but survived. In March, gunmen shot at the car of TV anchor Raza Rumi, who escaped serious injury. His driver was killed.
At least three journalists were killed in Paraguay in 2014, the first time since 2007 that CPJ confirmed a media-related death in the country. Two of the journalists were radio hosts. In the northern city of Concepción in June, Edgar Pantaleón Fernández Fleitas was shot dead after hosting a radio program in which he accused local judges, lawyers, and officials in the Attorney General's office of corruption.
Some journalists were caught on the frontlines of reporting on the outbreak of the deadly Ebola virus. In Guinea, the bodies of a radio journalist and two media workers were found dumped in a sewer in the village of Womé, where they had traveled to cover a delegation's public health awareness campaign.
Turkey saw its first media-related killing in many years. On October 14, Kadir Bağdu was on his bicycle delivering issues of the pro-Kurdish daily Azadiya Welat in the city of Adana when he was shot by two men on a motorcycle. An editor at the daily told CPJ that the publication frequently receives threats via phone and email. Authorities claim that the pro-Kurdish media are aligned with the banned Kurdistan Workers Party, or PKK, and the KCK, an umbrella group of pro-Kurdish organizations, according to CPJ research.
In Burma, the military said in October it had shot and killed a Burmese freelance reporter while holding him in custody in southeastern Mon state. The killing was the first journalism-related death CPJ has documented in Burma since 2007. Press freedom conditions in the country deteriorated in 2014, with at least 10 journalists imprisoned on anti-state charges.
Some other trends that emerged from CPJ's research:
The total number of deaths in 2014 demonstrates the sustained level of risk to journalists over the past decade. The past three years are the most deadly period CPJ has recorded.
Almost half of the journalists killed in 2014 died in the Middle East. Around 38 percent of the total died in combat or crossfire.
CPJ documented its first-ever journalist killing in Central African Republic, where clashes between various rebel groups and government forces led to deadly violence.
At least one journalist was killed in the Philippines, a country that now ranks third among the world's deadliest for the press. Another witness in the 2009 Maguindanao massacre, in which 32 journalists and media workers were killed, was shot dead in November, bringing to four the number of witnesses killed, according to CPJ research. Not one person has been convicted in the massacre.
More than 40 percent of the journalists killed in 2014 were targeted for murder. About 31 percent of journalists murdered reported receiving threats first.
Eight of the countries that saw a journalist murdered during 2014 are listed on CPJ's 2014 Impunity Index, which spotlights countries where journalists are regularly murdered and the killers go free.
The most common job held by journalists killed in 2014 was broadcast reporter, at 35 percent, followed by photographer and camera operator, at 27 percent.
About 68 percent of the journalists killed in 2014 covered politics, with the next deadliest beat for reporters being war, at 60 percent, followed by human rights, at 55 percent.
CPJ began compiling detailed records on all journalist deaths in 1992. CPJ staff members independently investigate and verify the circumstances behind each death. CPJ considers a case work-related only when its staff is reasonably certain that a journalist was killed in direct reprisal for his or her work; in combat-related crossfire; or while carrying out a dangerous assignment.
If the motives in a killing are unclear, but it is possible that a journalist died in relation to his or her work, CPJ classifies the case as "unconfirmed" and continues to investigate. CPJ's list does not include journalists who died of illness or were killed in car or plane accidents unless the crash was caused by hostile action. Other press organizations using different criteria cite higher numbers of deaths than CPJ.
CPJ's database of journalists killed for their work in 2014 includes capsule reports on each victim and a statistical analysis. CPJ also maintains a database of all journalists killed since 1992.
Shazdeh Omari is CPJ's news editor. She is the former copy chief of The Village Voice and has worked as a reporter and editor in the United States and Greece.