1. In the government's hands
By Carlos Lauría
Since June 2013, Brazil has been the scene of sporadic but huge anti-government demonstrations that have brought millions to the streets to protest an array of grievances, from fare increases for public transport to corruption and the use of public funds to host the coming soccer World Cup. The protests sometimes turned violent; a cameraman was killed in February 2014. Throughout the demonstrations, dozens of journalists have been detained, harassed, and attacked by law enforcement and by protesters irked by some media treatment of the demonstrations.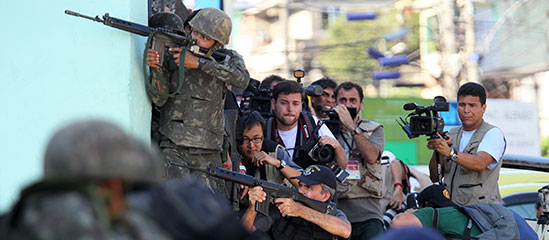 As the world focuses on Brazil for the World Cup this summer, the possibility of intensified street protests is just one of several challenges facing the government of President Dilma Rousseff. Brazil's troubled press freedom record is another. In recent years, a number of journalists have been killed with impunity, while legal harassment has resulted in persistent censorship, including online.
With presidential elections scheduled for October, the government is wary that violence and censorship have eroded human rights. Scrutiny from media industry groups and press freedom advocates, both domestic and international, has prompted Rousseff's administration to take action, primarily by forming a working group in late 2012 to investigate attacks on the press and issue recommendations to the federal government.
Now that the group has issued its report, the question is whether the government will implement its recommendations, and if it does, how it will, and how quickly. "The government has acknowledged that the media face serious problems while doing their work," said Mauri König, an investigative journalist for the daily Gazeta do Povo in Curitiba and a winner of CPJ's 2012 International Press Freedom Awards. "Decisive measures must be adopted in a timely manner as any serious incident would have a negative impact on the country's international image."
The working group—consisting of several civil society organizations, presidential advisers, and the communications and justice ministries, and aimed at discussing violence against the press— issued a report in early March 2014, with a detailed account of attacks against the press in the period 2009-2014. Based on statistics provided by domestic press groups, including the Association of Brazilian Investigative Journalism (ABRAJI) and the U.K.-based international freedom-of-expression group Article 19, the report tallied 321 cases of murder, kidnapping, assault, death threats, arbitrary detention, and harassment.
In addition to statistics, which are in line with CPJ research on Brazil, the report included extensive recommendations to the executive, legislative, and judicial branches of the federal government. The group proposed the expansion of the existing national protection program for human rights defenders to journalists under threat, stressing the significance of including civil society in coordinating this initiative. That program provides assistance, including relocation and police protection, for those who have received serious threats or feel under attack for their work.
"The idea is that the protection mechanism will not force journalists to abandon their profession but rather continue with their work provided certain safety guarantees," said Tarciso Dal Maso Jardim, a member of the working group and an independent legislative consultant for the Brazilian Senate.
With at least 12 journalists killed in direct relation to their work since Rousseff took office in 2011, and five others killed in unclear circumstances, Brazil has become one of the world's most dangerous countries for reporters. König, the investigative journalist and CPJ awardee, who himself has been beaten, threatened, and forced to flee his home, said the expansion of such a program would be an important step toward preventing anti-press attacks.
A similar protection program in Colombia is frequently cited as helping to reduce violence against journalists there since 2000. In Colombia, a committee of government officials and civil society representatives meets frequently to assess the security needs of journalists under threat. Despite some deficiencies, the program has assisted numerous journalists under threat and prevented physical attacks against Colombian reporters, according to CPJ research.
Brazil's former federal minister for human rights, Maria do Rosário Nunes, has said she believes that such a mechanism would "reduce impunity in crimes against journalists" and provide protection for reporters under imminent threat, according to news reports. Also important, said do Rosário, is the proposal to create protocols for law enforcement officials to ensure that the press can cover demonstrations without fear of reprisal.
Do Rosário left the ministry at the end of March 2014 to run for federal deputy in the October 5 general elections. On April 1, during the swearing-in ceremony of Do Rosário's successor, Ideli Salvatti, Rousseff said the new official "will have to sustain a program of great relevance."
Though the level of violence is unacceptably high, Brazil has recently made significant progress in the fight against impunity. In 2013, convictions were reached in the killing of journalists in three different cases: radio reporter Francisco Gomes de Medeiros; Edinaldo Filgueira of Jornal o Serrano; and Domingos Sávio Brandão de Lima Júnior, owner, publisher, and columnist of the daily Folha do Estado. Although these convictions represent a major step toward reversing the country's record of impunity in journalist murders, in 2013 Brazil appeared for the third consecutive year on CPJ's Impunity Index, which calls attention to countries where journalists are frequently murdered and the killers go free.
The working group also recommended that the Human Rights Ministry and the Ministry of Justice cooperate with the United Nations—both through UNESCO and the Rio de Janeiro-based U.N. Information Center—to establish a national Observatory on Violence Against Journalists. The observatory would be responsible for recording press violations, and creating a system of investigations and resolution. It would have the ability to refer cases to the national protection mechanism when a need to take preventive measures was determined. The group supported the active participation of freedom of expression and press organizations in the formation and management of the observatory.
The working group also urged Congress to provide for major federal police involvement in investigations of crimes against freedom of expression, particularly in cases when there is evidence of omission, lapses, or complicity by local authorities. Local journalists, legislators, and government officials say a bill under consideration by Congress would speed cases through the judiciary.
Two of the largest Brazilian press groups, the National Federation of Journalists, or FENAJ, and the Brazilian Press Association, known as ABI, have supported the project. Still, Article 19's South America director, Paula Martins, notes that a new bill should not be necessary, because a constitutional amendment approved in 2004 addresses grave human rights abuses. Amendment 45 reformed more than 20 provisions of the Brazilian Constitution, establishing better judicial mechanisms to protect human rights. The reforms amended Article 109, granting the Attorney General's Office the power to transfer a case to federal jurisdiction when grave human rights violations are suspected. Though no cases have been transferred to federal jurisdiction under this amendment, in theory federal prosecutors can already invoke it to investigate journalist murder cases.
With protest groups vowing to use the World Cup as a venue to air dissent, a few recommendations from the working group called on the Justice Ministry to create elaborate protocols for security forces during demonstrations to ensure that the press can cover them without fear of physical harm. The working group urged law enforcement officials not to confiscate equipment or memory cards belonging to journalists, and also called for security training for reporters.
ABRAJI documented 163 press freedom violations, involving 152 journalists, from May 2013 through late March 2014. In more than 100 cases, reporters said they were deliberately attacked after identifying themselves as members of the press. Law enforcement officials were responsible for more than 80 of these deliberate abuses, while protesters accounted for 22 of them.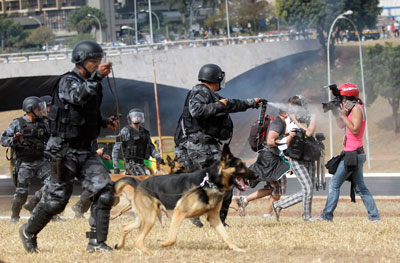 In February, Santiago Ilídio Andrade, a cameraman with Bandeirantes television network, was filming a confrontation in Rio de Janeiro between police officers and demonstrators protesting a public transportation fare increase when a flare hit him in the head, according to news reports. He died after several days in a coma. The authorities released video footage that appeared to show protesters launching the device, and alleged that the protesters had meant to target police officers, not the journalist. Two suspects were identified, arrested and placed in preventive detention. Both have been charged with murder. (One suspect has admitted to holding the flare. The police say the other suspect admitted to lighting it but denied intending to hurt anyone. The lawyer of the latter suspect says his client was "bullied into confessing," according to press reports.)
"It is inadmissible that democratic protests be twisted by those that don't have respect for human rights," Rousseff wrote on her official Twitter account.
A group of local human rights groups held a March hearing before the Inter-American Commission on Human Rights to draw attention to abuses by security forces during street protests. Natália Damázio, a lawyer with the local NGO Justiça Global, said police repression during demonstrations was one of the main issues in the hearing, but not the only one. "Brazil is creating mechanisms to violate freedom of expression and association using mass arbitrary detentions, and the irregular use of nonlethal weapons," said Damázio, according to press reports.
Assigned only to submit concrete recommendations, the working group ended its effort in March. José Roberto de Toledo, ABRAJI's president, said that while there are no clear deadlines for the implementation of the proposals, the government will be compelled to show progress from words to actions. "If some of these recommendations are finally executed, authorities will be able to show tangible outcomes during the political campaign," said Toledo, who is a commentator at RedeTV!, a columnist, blogger, and coordinator for Estadão Dados (a project to disseminate data journalism) at the national daily O Estado de S. Paulo.
Free press advocates say implementation of the recommendations will depend on how much pressure civil society groups can exert on the government. If deadly violence continues to rise, officials may be forced that take decisive measures and act promptly when public pressure is at its peak. But many say the national election in October, with Rousseff seeking re-election, may also result in some delays.
Laura Tresca, freedom of information officer in Brazil for Article 19, is optimistic about the implementation of some recommendations this year, since they require administrative action and not legislation. She cited the expansion of the national protection mechanism for human rights defenders. "The government must show results," she said, "and some of these recommendations can be simply adopted if there is political will."
However, the general elections may hinder the approval of legislative measures. "Those proposals that were sent to Congress will likely be delayed," said Dal Maso, the legislative consultant and member of the working group.
The FIFA World Cup will put the domestic challenges of the Rousseff administration in the spotlight. The government's goal will be to get through the countrywide soccer event, expected to attract more than half a million foreigners, without a major setback. But press freedom advocates say that they take heart because their concerns have become part of the national debate.
CPJ Senior Americas Program Coordinator Carlos Lauría, a native of Buenos Aires, is a widely published journalist who has written extensively for Noticias, the leading Spanish-language newsmagazine. Follow him on Facebook @ CPJ en Español.