The Five Most Murderous Countries for Journalists

New York, May 2, 2005—Murder is the leading cause of job-related deaths among journalists worldwide, and the Philippines is the most murderous country of all, a new analysis by the Committee to Protect Journalists has found. Iraq, Colombia, Bangladesh, and Russia round out CPJ's list of the "Most Murderous Countries for Journalists."
In issuing its analysis to mark World Press Freedom Day, May 3, CPJ called murder with impunity the most urgent threat facing journalists worldwide. CPJ studied more than five years of death records beginning January 1, 2000, and found that the vast majority of journalists killed on duty did not die in crossfire or while covering dangerous assignments. Instead, 121 of the 190 journalists who died on duty worldwide since 2000 were hunted down and murdered in retaliation for their work.

---
Facts at a glance
The Five Most Murderous Countries:
1. Philippines 2. Iraq 3. Colombia
4. Bangladesh 5. Russia
Murders worldwide since January 1, 2000: 121
Deaths overall since January 1, 2000: 190
Percentage of deaths that are murders: 64
Slayings in the Most Murderous Countries: 58
Percentage of slayings worldwide that occurred in the Most Murderous Countries: 48
Percentage of murders solved worldwide: 14
Murders solved in the Most Murderous Countries: 0
---
In more than 85 percent of these slayings, CPJ found, the killers have gone unpunished. The five Most Murderous Countries have the worst records. Of the 58 murders in those nations, all have been committed with impunity. Alleged gunmen have been arrested and charged in a small handful of cases, but no charges have ever been brought against those who directed the killings.
"By failing to investigate and punish the killers, the governments in these five countries embolden all those who seek to silence the press through violence," CPJ Executive Director Ann Cooper said. "The violence becomes self-perpetuating and the free flow of information is cut off."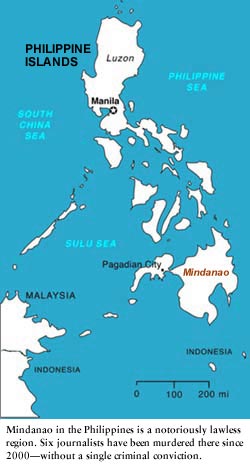 Other patterns emerged in CPJ's analysis:
In most cases, journalists were murdered in retaliation for reporting on government corruption, crime, drug trafficking, or the activities of rebel groups.
Time and again, murders were reported in the same lawless regions—such as Mindanao in the Philippines and Khulna in Bangladesh.
Even in war zones such as Iraq, journalists were frequently targeted in reprisal for their work.
Many of the slain journalists were overtly threatened beforehand, illustrating the brazen nature of their killers.
And the five Most Murderous Countries stand well apart from the rest of the world. Together, they account for nearly half of the murder toll since 2000. (See "Facts at a Glance," above.)
"The problem is enormous, but not intractable," Cooper said. "Governments must recognize what's at stake is not only justice for those murdered but also the collective right of society to be informed. Journalists cannot do their jobs in a climate of violence and impunity. Governments, particularly those in the five most murderous countries, must devote the resources and exercise the will to solve these crimes."
Here are summaries of the Most Murderous Countries:
Philippines
In the Philippines, 18 journalists have been slain for their work since 2000. All had reported on government and police corruption, drug dealing, and the activities of crime syndicates.
Many were rural radio commentators or reporters who were ambushed in drive-by assassinations. Philippine journalists attribute the violence to a nationwide breakdown in law and order, the wide circulation of illegal arms, and the failure to convict a single person in the murders.
The Philippine victims include Edgar Damalerio, the managing editor of the weekly newspaper Zamboanga Scribe and a commentator on DXKP radio station in Pagadian City—a violent port on the southern island of Mindanao. Damalerio, who was known for denouncing corruption, was gunned down on a crowded street across from the local police station in May 2002. The trial of one suspect, a former police officer, could begin this year. Damalerio is among six journalists murdered since 2000 in Mindanao, a region rife with crime and lawlessness.
Iraq
In Iraq, crossfire is the leading cause of death among journalists. But even in this war zone, 13 of the 41 work-related deaths were murders, CPJ found. More than half of those murdered were Iraqi journalists who were targeted by insurgents because of their affiliation—real or perceived—with coalition forces, foreign organizations, or political entities.
Several of the slain journalists had been threatened beforehand. Dina Mohammed Hassan, an Iraqi reporter for the local Arabic-language television station Al-Hurriya, had received three letters warning her to stop working for the broadcaster. In October 2004, she was killed in a drive-by shooting in front of her Baghdad residence.
Two of the victims had been held hostage by armed groups. Italian journalist Enzo Baldoni was murdered in August 2004 by kidnappers from a militant group calling itself the Islamic Army in Iraq.
Colombia
Eleven journalists have been murdered since 2000 in Colombia, where reporting on drugs, paramilitary organizations, and local corruption has placed reporters at great risk.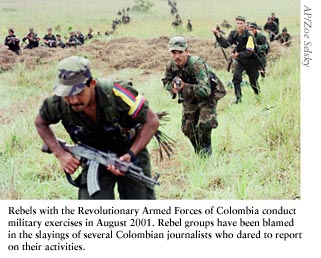 All of the journalists murdered in the last five years reported on at least one of these topics; at least eight received death threats and warnings before being gunned down. Here, too, these murders took place in regions of extreme lawlessness, with competing groups fighting for territorial control.
Radio Meridiano-70 in the town of Arauca lost two journalists in less than a year to assassination. Gunmen killed host Luis Eduardo Alfonso as he arrived at work one morning in March 2003, just weeks after he had been threatened by members of a right-wing paramilitary army. The previous June, paramilitary gunmen shot and killed the owner of Radio Meridiano-70, Efraín Varela Noriega. Varela had alerted listeners to the presence of paramilitary fighters in the region days before he was killed.
Bangladesh
Nine journalists have been slain in Bangladesh since 2000—eight in the lawless southwestern Khulna district, which is rife with criminal gangs, outlawed political groups, and drug traffickers. Seven received death threats beforehand.
Bangladesh has long been a violent place for journalists; they are routinely beaten, harassed, and threatened while carrying out their work. A CPJ delegation traveled to Bangladesh last year to urge the government to prosecute those responsible.
Manik Saha, a veteran correspondent with the daily New Age and a contributor to the BBC's Bengali-language service, was brutally murdered in January 2004 when assailants threw a bomb at his rickshaw in Khulna. The underground leftist group Janajuddha claimed responsibility for the killing. Saha, who had received several death threats, was known for his bold reporting on the Khulna region's criminal gangs, drug traffickers, and Maoist insurgents.
Russia
In Russia, contract-style killings pose a grave threat to journalists. CPJ found that at least seven journalists died in contract-style slayings in direct reprisal for their work; it continues to investigate the motives in four other contract killings that may have been related to the victims' journalism.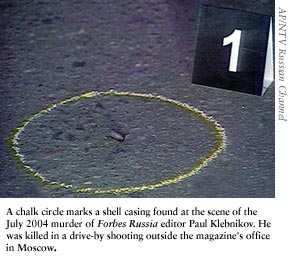 Most of the victims were print journalists investigating organized crime and government corruption, while a few were broadcast journalists who had criticized the policies of influential local politicians. A politicized criminal justice system, crippled by corruption and mismanagement, has perpetuated a climate of impunity in Russia.
Paul Klebnikov, the editor of Forbes Russia, was gunned down on a Moscow street outside his office in July 2004. An American of Russian descent, Klebnikov had written a number of books and articles on Russia's shadowy business tycoons, organized crime, and the conflict in Chechnya. In February, Belarusian authorities extradited two ethnic Chechens—identified as suspects in the murder—to Russia.
See below for a list of journalists slain in the five Most Murderous Countries.
BANGLADESH
Mir Illias Hossain, Dainik Bir Darpan, January 15, 2000, Jhenaidah
Shamsur Rahman, Janakantha, July 16, 2000, Jessore
Nahar Ali, Anirban, April 21, 2001, Khulna
Harunur Rashid, Dainik Purbanchal, March 2, 2002, Khulna

Shukur Hossain, Anirban, July 5, 2002, Ula
Manik Saha, New Age, January 15, 2004, Khulna
Humayun Kabir, Janmabhumi, June 27, 2004, Khulna
Kamal Hossain, Ajker Kagoj, August 22, 2004, Manikcchari
Sheikh Belaluddin, Sangram,February 11, 2005, Dhaka
COLOMBIA

Juan Camilo Restrepo Guerra, Radio Galaxia Estéreo, October 31, 2000, Sevilla
Gustavo Rafael Ruiz Cantillo, Radio Galeón, November 15, 2000, Pivijay

Alfredo Abad López, La Voz de la Selva, December 13, 2000, Florencia
Flavio Bedoya, Voz, April 27, 2001, Tumaco
José Duviel Vásquez Arias, La Voz de la Selva, July 6, 2001, Florencia
Jorge Enrique Urbano Sánchez, radio and television journalist, July 8, 2001, Buenaventura

Orlando Sierra Hernández, La Patria, February 1, 2002, Manizales
Efraín Varela Noriega, Radio Meridiano-70, June 28, 2002, Arauca
Luis Eduardo Alfonso Parada, Radio Meridiano-70, March 18, 2003, Arauca
Guillermo Bravo Vega, Alpevisión Radio, April 28, 2003, Neiva
Jaime Rengifo Revero, Olímpica Radio, April 29, 2003, Maicao

IRAQ

Richard Wild,freelance, July 5, 2003, Baghdad

Ahmed Shawkat, Bilah Ittijah, October 28, 2003, Mosul
.
Duraid Isa Mohammed, CNN, January 27, 2004, outside Baghdad

Nadia Nasrat, Iraq Media Network/Diyala TV, March 18, 2004, Baqouba

Mounir Bouamrane and Waldemar Milewicz, TVP, May 7, 2004, Mahmoudiya

Shinsuke Hashida and Kotaro Ogawa, freelance, May 27, 2004, near Mahmoudiya

Enzo Baldoni, freelance, August 26, 2004, near Najaf
Karam Hussein, European Pressphoto Agency, October 14, 2004, Mosul
Dina Mohammed Hassan, Al-Hurriya, October 14, 2004 Baghdad
Raeda Wazzan, Al-Iraqiya, February 25, 2005, Mosul
Saman Abdullah Izzedine, Kirkuk TV, April 15, 2005, Kirkuk

PHILIPPINES
Olimpio Jalapit Jr., DXPR Radio, November 17, 2000, Pagadian City
Roland Ureta, DYKR Radio, January 3, 2001, Aklan Province
Candelario Cayona, DXLL Radio , May 30, 2001, Zamboanga City
Edgar Damalerio, Zamboanga Scribe and DXKP Radio, May 13, 2002, Pagadian City

Noel Villarante, DZJV Radio and Laguna Score, August 19, 2003, Santa Cruz, Laguna Province

Rico Ramirez, DXSF Radio, August 20, 2003, Agusan del Sur
Sonny Alcantara, "Quo Vadis San Pablo" and Kokus, August 22, 2002, San Pablo

Apolinario Pobeda, DWTI-AM Radio, May 17, 2003, Lucena City, Quezon
Bonifacio Gregorio, Dyaryo Banat, July 8, 2003, La Paz, Tarlac

Jun Pala, DXGO Radio, September 6, 2003, Davao City
Rowell Endrinal, DZRC, February 11, 2004, Legazpi City
Elpidio Binoya, Radyo Natin, June 17, 2004, General Santos
Roger Mariano, Radyo Natin-Aksyon Radyo, July 31, 2004, Laoag City
Arnnel Manalo, Bulgar and DZRH Radio, August 5, 2004, Bauan
Romy Binungcal, Remate and Bulgar, September 29, 2004, Bataan Provinc

Eldy Sablas, DXJR-FM Radio, October 19, 2004, Tandag
Gene Boyd Lumawag, MindaNews, November 12, 2004, Jolo
Herson Hinolan, Bombo Radyo, November 13, 2004, Kalibo
RUSSIA
Vladimir Yatsina, ITAR-TASS, February 20, 2000, Chechnya
Igor Domnikov, Novaya Gazeta, July 16, 2000, Moscow
Eduard Markevich, Novy Reft, September 18, 2001, Reftinsky, Sverdlovsk Region
Natalya Skryl, Nashe Vremya, March 9, 2002, Rostov-on-Don
Valery Ivanov, Tolyattinskoye Obozreniye, April 29, 2002, Togliatti
Aleksei Sidorov, Tolyattinskoye Obozreniye, October 9, 2003, Togliatti
Paul Klebnikov, Forbes Russia, July 9, 2004, Moscow