Search for "Al-Jazeera" on Snapchat, and the first result that comes up is a ubiquitous publisher channel in the app's famed vertical layout. That is, unless you are in Saudi Arabia, the United Arab Emirates (UAE), or Bahrain. Users in these counties are instead offered a list of stores and restaurants that bear a similar name to the broadcaster.
A clue to what happened to Al-Jazeera's Discover channel can be found in Snapchat's latest transparency report, released in May. The report reveals how in the second part of 2017 the company received–and complied with–its first governmental removal requests, all of which came from those countries. A spokesperson for Snap Inc., the parent company of the app, later confirmed to CPJ via email that the requests all related to Al-Jazeera Arabic Discover Publisher Story, and that the company removed the channel "to comply with local laws."
"When we believe it is necessary to restrict content that is deemed unlawful in a particular country, but does not otherwise violate our policies, we seek to restrict access to it geographically when possible, rather than remove it globally," the Snap spokesperson told CPJ.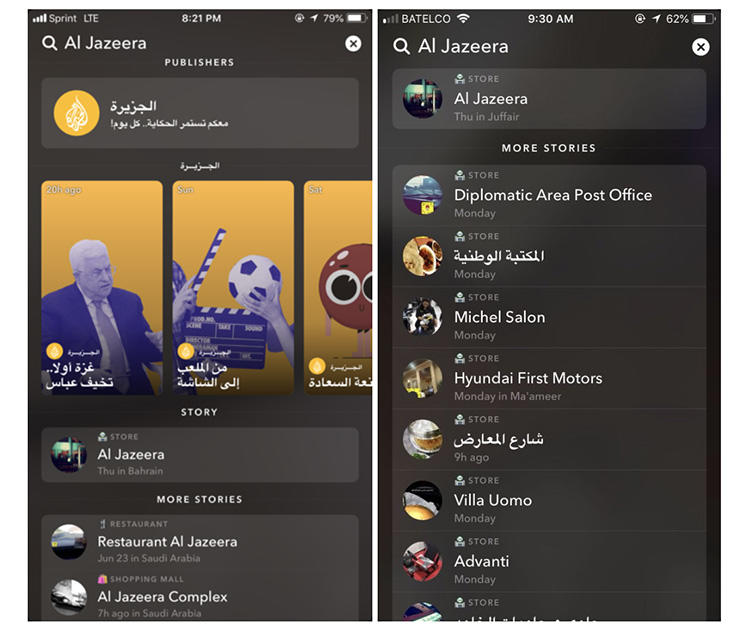 In September last year, only the Saudi censorship had been widely reported. Mashable wrote at the time that Saudi authorities asked Snap to remove the channel because it violated laws pertaining to publication and cybercrime. The Snapchat spokesperson did not respond to CPJ's question about whether specific laws were cited in the removal requests. And as of this month, the channel remains blocked in the three countries.
Telecommunications regulators and the relevant authorities in Saudi Arabia, the UAE, and Bahrain did not respond to CPJ's requests for comment sent via email and through their websites.
Yaser Bishr, Al-Jazeera's executive director of digital, told CPJ, "It is unfortunate that a renowned global social media platform like Snapchat would submit to pressure and censorship request[s]." He said, "Such action has detrimental consequences to media industry as well as freedom of expression and independent journalism in the region."
Bishr added, "The fundamental question is, how could a U.S. company which is publicly traded and stands for freedom of speech where access to social media is a constitutional right, deny these rights to others?"
Saudi Arabia is home to one of the largest Snapchat audiences outside the U.S. with over 9 million daily active users (over a quarter of the country's population), according to news reports. Last month, Saudi Prince Alwaleed bin Talal announced he had invested $250 million in exchange for a 2.3 percent stake in Snap Inc. Snap has said previously that its shareholders do not have voting rights, according to reports.
Before the channel was blocked, 69 percent of its viewers came from Saudi Arabia and 7 percent came from the UAE, where the app has over 1 million users. In 2017, Snap opened its first Middle East office in Dubai, according to news reports, and Al-Jazeera launched its Arabic publisher channel in May of that year, in partnership with Snapchat. But just a few months later its channel was blocked: by Saudi Arabia on September 17, the UAE on September 19, and Bahrain on September 21.
Figures provided to CPJ by Al-Jazeera showed that after the block, unique daily views of the broadcaster's Discover stories decreased by over 86 percent. Bishr said that in response, Al-Jazeera re-allocated resources to Instagram Stories, a Snapchat Stories clone. Instagram Stories grew rapidly and now has twice as many daily users as Snapchat's service, according to news reports.
Content removal requests enable authoritarian countries to use social media companies' withholding policies to weed out critical journalists and media outlets, while eschewing the international scrutiny of blocking an app or a website entirely. CPJ has documented how government removal requests on major social media platforms increased significantly between 2014 and 2017; with a 15-fold increase on Twitter alone.
The timing of the Snapchat removal requests came amid the diplomatic dispute between Qatar, which funds Al-Jazeera, and its fellow members of the Gulf Cooperation Council (GCC).
CPJ documented last year how the Saudi-led bloc blocked access to at least eight Qatari-funded news websites, including those of Al-Jazeera. Saudi authorities ordered the office of Al-Jazeera to be closed and revoked its license; the UAE threatened to jail anyone criticizing its approach to the dispute; and Bahrain announced that anyone publishing support or sympathy for Qatar could face up to five years in prison.
CPJ sent a letter to heads of states of the three countries, in addition to Egypt, in June 2017 urging them to drop their demand that news outlets directly or indirectly funded by Qatar be closed as a condition for restoring diplomatic relations.
[Editor's Note: Al-Jazeera Arabic host Mhamed Krichen serves on CPJ's board.]
"The governments of [these three countries] are intolerant to criticism. Any content deemed critical to the state or related to human rights would be censored," said Bahraini journalist Adel Marzooq.
"Leading tech companies should be held accountable for their collaboration with repressive governments," said Ali Abdulemam, a prominent Bahraini blogger and human rights defender whose citizenship was revoked in 2015 for his online activities and whose website Bahrain Online was censored in Bahrain as early as 1999.
David Sullivan, the director of learning and development at the Global Network Initiative (GNI), told CPJ that companies should scrutinize government requests to ensure "they are consistent with international standards." The GNI, a consortium of corporations and human rights organizations of which CPJ is a founding member, provides a framework, rooted in international human rights law, for companies to minimize the negative impacts of government restrictions on freedom of expression.
"It's easy for the companies to justify because they have to comply with the laws of those countries in which they operate, no matter how authoritarian," said Marc Owen Jones, a lecturer in history of the Gulf and the Arabian Peninsula at the University of Exeter in the U.K. and researcher at the research and analysis collective, Bahrain Watch. "Social media companies are far more concerned about access to markets than they are about problematic issues such as facilitating censorship."
Matt Schruers, an adjunct law professor and vice president for law and policy at the Computer and Communications Industry Association, in Washington, D.C., said that balancing market access with protecting freedom of speech online has always been a problem for internet companies. Schruers added, "The problem of locally restricted content is now metastasizing into countries attempting to block the same content worldwide. Some governments now demand online services suppress particular criticism online anywhere on the planet, and have blocked entire platforms domestically if they can't have their will manifested worldwide."
Snapchat did not respond to multiple follow up requests for comment from CPJ.
Sarah Leah Whitson, the director of the Middle East and North Africa division of Human Rights Watch, said that Snapchat's compliance with the removal demands "is a disservice to residents in those countries who are deprived of news." She added that Snapchat's actions could "open the floodgates of demands from autocratic states to censor news they don't like from their citizenry."